Class of 2023
Alyson Walker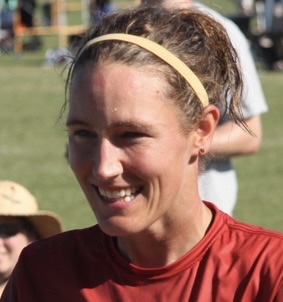 Alyson Walker
Hometown: Toronto, Ontario
Alyson Walker, fondly known as "Walker," is an ultimate frisbee icon whose influence goes beyond the playing field. A driving force behind Eastern Canada's team, the Capitals (team name retired in 2016), her leadership and skills propelled the team to the USAU finals in 2010 and tied for bronze in 2009 and 2011, marking the team's peak years.

In addition to the Capitals, Walker represented Canada internationally. On Team Canada, her dedication and athleticism shone while simultaneously in the roles of team leader, captain, and distinguished competitor.  Her top three accomplishments highlight her competitive prowess; dominating for Team Canada on the international stage at the 2004 WUCC (gold), 2008 WUCC (bronze) and 2009 World Games (4th), leading the Capitals' 2010 USAU tie for 3rd, and crucially contributing to their 2011 USAU Finals appearance. Additionally, Alyson was recognized as the Canadian Ultimate Athlete of the Year in 2009 and was inducted to the Ultimate Canada Hall of Fame in 2021.

Her legacy isn't just about her exceptional abilities; it's her leadership that sets her apart. Walker gave her all in practices and games, leading by example to inspire her teammates. Her charisma and belief in her team were unparalleled, transforming their mindset to that of champions. Her huddles and strategic planning inspired confidence and cultivated a winning spirit. Her ability to excel on the field and lead, with unwavering determination during critical moments, makes her worthiness for the Hall of Fame undeniable.
Alyson's legacy is one of exceptional leadership and skill. Her influence on the Capitals and Team Canada is immeasurable. As an exemplary team leader, motivator, and player, she epitomizes the values of the Hall of Fame. Outside of ultimate, Walker is an accomplished sports executive who lives in the Toronto area with her husband and son.