Class of 2007
Brian "Murph" Murphy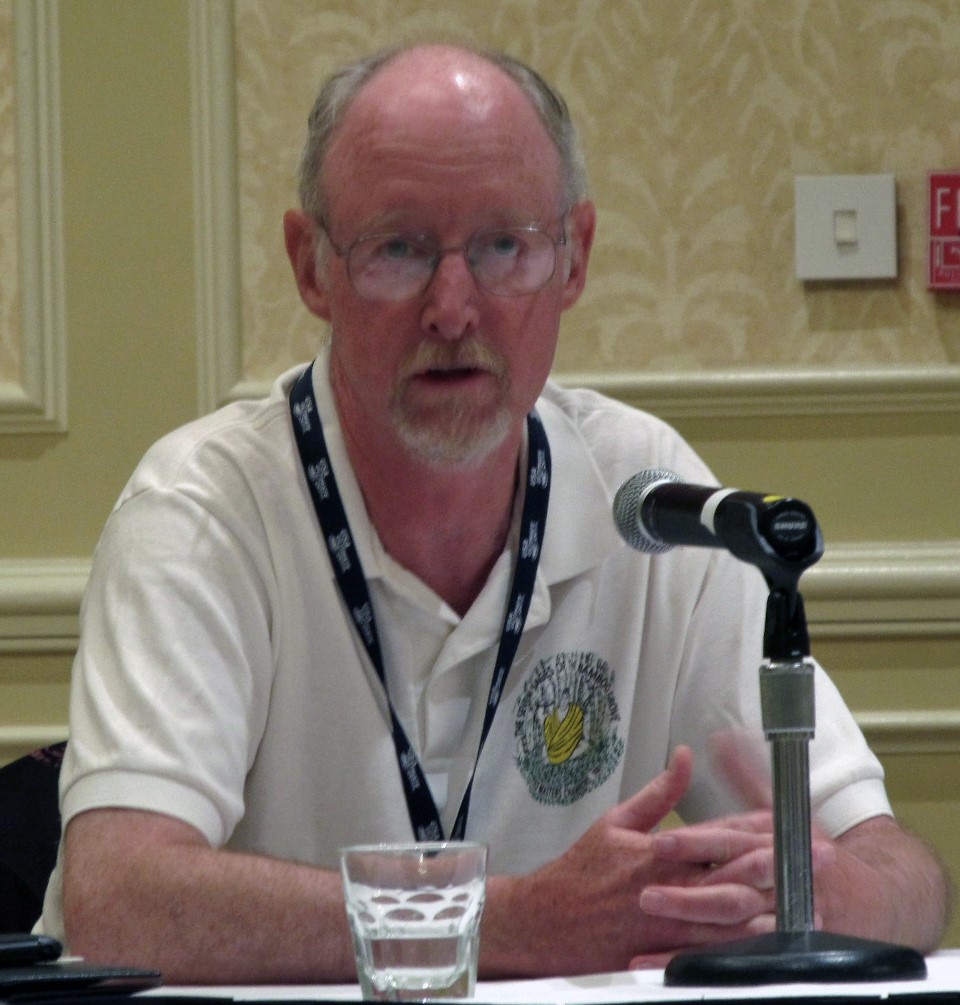 Brian "Murph" Murphy
Hometown: Manitou Springs, CO
Born: September 1, 1955 (Age 67)
U.S. National Championships
1x U.S. Club Runner Up (1998)
World Championships
3x World Champion (1983, 1991, 1993)
Brian Murphy served as the second National Director of the UPA, taking over from Tom Kennedy. At that time, the UPA was still struggling to convince players that it was worth $7.00 to join the UPA. As National Director, "Murph" was a genial, articulate, and well known East Coast player, with West Coast experience, who provided both East and West Coast players with confidence that the UPA had something to offer. Murph started the process of 'professionalizing' the UPA as UPA Director and throughout his long association with Ultimate.
He also contributed to the organization as Co-chair Eighth Edition Rules Committee with Irv Kalb, chosen by captains at the annual East Coast Captains meeting, Tournament Director for Open/Women's Nationals (1983-85, 1988), College Sectional Coordinator (1989-91 Rocky Mountain), College Nationals TD (1991), and pro bono Legal Advisor to the UPA and the WFDF.
As a practicing lawyer, Murph rewrote the UPA's bylaws, reincorporated both the UPA and WFDF, and secured 501(c)(3)(tax exempt) status for both organizations. Murph proudly maintains that his efforts helped to solidify the Spirit of the Game as a founding principle of our sport; a principle distinguishing Ultimate from all other sports.
Contributions & Service
1982:

Served as Co-chair (with Irv Kalb) – Eighth Edition Rules Committee

1983-1985:

Served as UPA National Director

1989-2001:

Served as Legal Counsel for Ultimate Players Association

1989-1991:

Served as College Sectional Coordinator (Rocky Mountain Section

1993-96:

Served as Legal counsel for World Flying Disc Federation

2000-present:

Legal Counsel for Professional Disc Golf Association

2001-present:

Legal Counsel for Disc Golf Foundation

2002-present:

Legal Counsel and Founding Board Member – Peter Farricker Foundation

2008:

Member of WFDF Bylaws Revision Task Force
Interview
Describe your major contributions to the growth and development of Ultimate?
Eighth Edition Rules. Significant contributor to the Eighth Edition, which was the first major restructuring of the rules since the birth of Ultimate. Chosen by East Coast captains to co-chair Rules Committee with Irv Kalb, and worked with Irv and others to integrate East and West coast rule variations into one cohesive document. The Eighth Edition served as the Rules of Ultimate for many years.
UPA Director. Took over management of the UPA from founder Tom Kennedy and incorporated the UPA and obtained tax exempt status. I started the process of the institutionalization of the UPA, separate from the TK persona, and helped entrench it in the minds of Ultimate players. The UPA was essentially insolvent when I took over, and there was some doubt that the organization could endure. Thus, my first job was to negotiate and close a sponsorship deal with Seagram, which put the UPA on solid ground financially.  I worked to 'institutionalize' the UPA by making membership mandatory for participation in UPA championship events. This increased membership significantly. I overhauled the Newsletter, established ties with disc sports organizations in Europe and elsewhere around the world, and established the College Division.
UPA Legal Advisor. Under the directorship of Robert "Nob" Rauch, I performed significant legal and other advisory services for many years. I re-incorporated UPA in Colorado and re-established its tax exempt status which had been allowed to lapse. I also prepared UPA Bylaws and worked with Nob to overhaul the UPA structure establishing the Board of Directors format of today. I handled all legal services for the UPA pro bono for over a decade and assisted the UPA with the establishment of its first permanent office in Colorado Springs.
Spirit of the Game. I have been a big proponent of the "Spirit of the Game" throughout my career, and I will take some measure of credit for institutionalizing the "Spirit of the Game" as a fundamental guiding principle of our sport.
How did your contributions impact the sport and/or its organization?
I believe my efforts helped to establish the UPA as the unchallenged governing body for the sport of Ultimate, which in turn, has played a major role in the growth and acceptance of Ultimate in the United States and internationally. During my primary years of activity, the UPA was a fledgling organization and it was never entirely certain that the UPA (or Ultimate) would endure. Now, over 20 years after I served as director, the UPA is firmly established as the sport's governing body, with a permanent headquarters and a paid staff. I also believe that my efforts have helped to institutionalize the Spirit of the Game as a founding principle of the sport, which is virtually unique in the sports world, and distinguishes Ultimate from all other sports.
How do you think the sport or its organization would be different if you hadn't made your contributions?
I believe that, without my contribution, the UPA may not have survived the 1980s. Also, that the sport itself would be considerably less organized and accepted than it is today.
Why did you do what you did for UPA?
I wanted to contribute to something that would outlive me.
During which years did you make your principal contributions? How much time did you typically spend in making your contributions during your peak years?
During my term as UPA Director, it was virtually a full-time job. Fortunately, I had an extremely low standard of living and no dependents at the time.
Have you organized Ultimate tournaments, leagues, teams, etc.? Describe role and dates served.
Captain – Dukes of Disc, 1982-84
Coach – Colorado College Ultimate (College), 1988-91
Player/coach – 7 Sages of the Bamboo Grove (Masters), 1991, 1993, 1997
Player/coach – Pira Haku (Mixed), 1998
Tournament Director – CARE Affair (SUNY-Purchase), 1983
Tournament Director – Open/Women's Nationals, New Orleans, 1983
Santa Barbara, 1984
Washington, D.C., 1985
San Diego, 1988
Tournament Director – College Nationals, Ft. Collins, 1991
Have you made other contributions to the development of Ultimate?
During my term as UPA Director, I acted as a "roving ambassador" for Ultimate and the UPA, traveling extensively throughout the U.S. and Europe. During this time I arranged numerous special edition disc productions (working with both Wham-O and Discraft) for various tournaments and teams. I prepared program development and arranged demonstrations for schools, scout troops and other youth organizations, and handled travel arrangements for touring Ultimate teams in Europe and the U.S. Upon moving to Colorado in 1988, I stepped into a leadership vacuum in the Rocky Mountain section, particularly in the College division. In that capacity, I assisted in the organization of college teams in Colorado, Wyoming, Utah and New Mexico, and organized and ran the first UPA College Sectional Tournament for the Rocky Mountain Section in Laramie, Wyo. Finally I accompanied the first Rocky Mountain teams to participate in UPA College Regionals, at UC Davis (1990).
Why do you believe you are worthy of being inducted into the Ultimate Hall of Fame?
Although I am proud of my playing career, I certainly do not deserve election to the Hall of Fame as a player. However, to the extent that the Hall will honor "contributors" as well as players, I believe (with all due modesty) that I stand with only a handful of individuals who have contributed as much to the growth and development of Ultimate and the UPA, particularly during the formative years of the 1980s and 1990s.