Class of 2022
Cara Crouch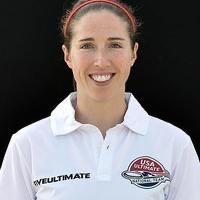 Cara Crouch
Born: July 30, 1982 (Age 41)
According to her teammates, Cara Crouch "doesn't know how to take it easy; she only knows top speed." This attitude, combined with her work ethic and focused determination, led Cara to become one of the top women's players of her generation while helping the teams she led reach national and international success. 
On the field, Cara was dominant and multifaceted; cutting short or deep, placing the disc anywhere on the field, and playing shutdown defense with equally punishing ability. Her ultimate career began at the University of Texas at Austin, where she helped build the fledgling program into a semi finals team and won the 2005 Callahan Award. She appeared at 11 Club Nationals Championships, culminating in semi-finals appearances with Showdown in 2012 & 2013 and also won a Master's Nationals championship in 2019. She competed in three World Championships, resulting in two semi-finals appearances. Cara was selected to represent the United States in World Games 2009 and 2013, winning gold both times. She relished the challenge of a challenging match-up while playing with integrity and respect for the game and her opponents.
Cara's belief that ultimate can drive important social change has inspired her to coach youth ultimate for the past 15 years at the middle and high school level in Texas and at coaching camps and tournaments all over the U.S.A. and world, including Ultimate Peace camp in 2017. 
Cara lives in Austin, Texas with her husband and two daughters.