Class of 2021
Jennifer "JD" Donnelly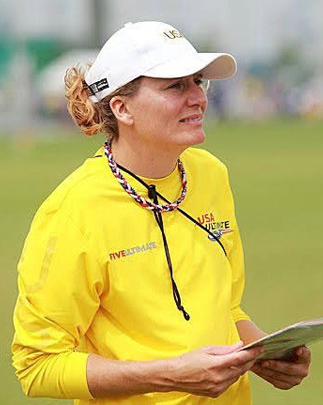 Jennifer "JD" Donnelly
Born: August 29, 1969 (Age 53)
U.S. National Championships
3x U.S. Club Champion (1993, 1999, 2003)
1x U.S. Club Runner Up (2002)
Jennifer "JD" Donnelly was one of the early coaches who provided a template for college coaching that would become ubiquitous in the sport of ultimate by the time she stepped down. Jen was the coach of the Stanford Women's Team from 1995 to 2001, with her team qualifying for Nationals in 6 of 7 years and winning in a three peat in 1997-1999. In those championship years, her team was undefeated with a 106-game win streak and produced two Callahan Award winners. She had been an NCAA basketball player and brought the team mindset, focus on technique, and athletic commitment to her teams. After stepping down as the Stanford coach, JD continued to assist various teams with clinics from 2002-2005 and she was called back to be the coach of the gold medal winning USA Women's Master's team for WUGC 2012 in Japan. Jen also served as a UPA board member from 2000 to 2002. In her playing career, she played with the national and WUCC world champion Maine-iacs in 1993 and, having helped found Fury in 1997, won two more National Championships in 1999 and 2003.
Contributions & Service
1995-2001:

Coach, Stanford Women's Ultimate team

1997:

Co-founded Fury with Gloria Lust-Phillips (HoF '08) and Nicole "Sprout" Beck (HoF '16)

1999-2002:

UPA Board of Directors

2012:

Coach, USA Women's Masters team at Sakai, Japan
Championship Tournaments
U.S. National Championships
Interview
What roles did you hold in an official capacity as a volunteer or staff member for the UPA or other disc organizations, or as an event organizer, or other roles in which you made your contributions to the development and growth of Ultimate. Outline positions and dates served.
As the coach for the Stanford women's team, I coached three consecutive undefeated seasons for three National championships in a row. The team had a 106 game win streak that spanned four years over that time.
Stanford Women's Ultimate Team 1995  –  2nd Place at College Nationals
Stanford Women's Ultimate Team 1996  – 2nd Place at College Nationals
Stanford Women's Ultimate Team 1997  – College National Champion
Stanford Women's Ultimate Team 1998  – College National Champion
Stanford Women's Ultimate Team 1999  – College National Champion
Stanford Women's Ultimate Team 2000  – 3rd at College Regionals
Stanford Women's Ultimate Team 2001  – 2nd Place at College Nationals
I assisted various teams with clinics from 2002 to 2005 (college and club women) and organized many tournaments with Stanford ultimate, including the Stanford Invite and Fool's Fest (at Stanford and at UCSC).
I was a member of the UPA Board of Directors from 1999-2002.
In 2012, I coached the USA Women's Masters team to a gold over Team Canada in Sakai, Japan.
Please describe your major contributions to the growth and development of Ultimate. How did your contributions impact the sport and/or its organization?
In retrospect, I think the Stanford Women's Ultimate team of my era had a tremendous impact on the growth and development of the college and club women's game. As the coach I helped shepherd this by:
● Creating a college program template for teaching the sport to athletes
● Raising the bar for the women's division, establishing credibility and excitement for the division.
● Inspiring a new group of women to coach, teach and continue with the sport.
At the time I started coaching, there were few coaches in the game and practices/programs had very loose structure in place. Since I had played basketball in college, I understood what an NCAA program demands and expects and I set up a similar program for our ultimate team using that experience and also a large amount of research on successful programs in other sports (very influenced by Anson Dorrance, Phil Jackson, John Wooden). This was virtually unheard of at the time. The program focused on the complete development of the student-athlete.
The program is based on these main tenants:
● Teaching the fundamentals of the sport (10,000 hours throwing, catching) with proper technique.
● Recruiting and retaining top athletes (sprints on day 1 to attract athletes who want to work hard)
● Fostering a love of the sport and also a love of intense competition (adversity games)
● Teamwork always. The strength of the pack is the wolf and the strength of the wolf is the pack.
● Individual growth of the person. Cultivating confidence through hard work and positive self-talk. (push ups for saying I can't, recognizing and rewarding individual's progression as athlete as compared to their former selves, not compared to their teammate)
The program I created really came together after a couple years. We experienced quite a bit of success and wins through the program's attention to every detail. The level of intensity and skill that the team demonstrated was beyond what was previously seen or imagined in the Women's College division. The resulted in a 106 game win streak that spanned over four years. The team also produced two Callahan Award winners during that time.
I believe that our competitors were inspired to match our skill and that other coaches also became more interested in the Women's College division once they saw the level of athleticism and teamwork we displayed. By the time I left Stanford, a team could not win the Women's College division without having a good coach with a solid structure in place. We raised the bar and pushed our competition to be better.
One goal of mine was to establish our processes into a more permanent (but flexible) framework so the program's success would persist without me. I wanted to create something that would last after I left, something that would not be dependent on having me as the leader. I had seen other college teams struggle after their strong coaches left the programs and I wanted to avoid that with a proper succession plan. Thus, I spent some of my coaching time focused on this goal by trying to teach the team my program – why we do what we do, etc.
The results were favorable; Stanford Women's ultimate success continued after I left and I feel really great about that. But something even better happened! The women I coached didn't just keep it at Stanford. They loved their experience on the team and many became coaches themselves for other colleges and clubs across the US and even other countries/continents. As a result, the program I started expanded and was shared with the community across the globe. Some of these players/programs include Gwen Ambler in Seattle, Alicia Barr in Davis, Jamie Neuwer at UCLA, Kate Arnold at OSU, Lindsay Holley in Africa, Delia Chiu in Germany, and of course, Robin Knowler at Stanford. I think this is a really tremendous outcome for the sport; I believe the women's game was very positively impacted by this effect.
********
Fury Women's Ultimate:
● Founded Fury Ultimate in 1997 with Gloria Lust-Phillips (HoF '08) and Nicole Beck (HoF '16). We had an idea to create a team with young athletes and seasoned vets with the focus on excellence and winning in a positive club-level environment. Team members were chosen not just by talent but also by athletic potential, positivity, team focus, etc. This was actually a novel approach at the time.
● Nurtured the growth of Fury for 8 years; although we officially had Bob Pallares as a coach for many of the years, I continued to shape the growth and direction of Fury through leadership meetings with Nicole and other team leaders. We became a competitive force that helped push the envelope of club level Women's ultimate.
● Led the strategy for the team closely with Nicole and together we drove a number of novel and unique initiatives:
○ Using analytics to make game-time decisions for strategy and subbing. I extensively studied Dean Oliver's blog and we used many of these concepts to drive wins. We created a markov chain model to drive subbing decisions (based on turnover rates of O and D teams).
○ Used the horizontal stack in 1997 (5-person) for the entire season; a truly novel approach at the time. Teams laughed at us as nearly everything was vertical stack at the time. The next few years, we used both offenses based on personnel fit and competitive climate at the tournaments.
○ Revitalized and revamped 4-person zone defense which drove the 2003 Fury National Championship.
○ Created eggbeater zone offense to respond to aggressive zone cup strategy. I taught this to the 2012 USA Women's Masters team at WUGC and it was pivotal to win against Japan in the semifinals. This is truly a great offense and an innovation that is easy to teach and execute but hard to defend.
*****
Performing under pressure:
In 1996, Stanford played in the finals of College Nationals and entered the game an undefeated team. The opponent, UNCW, was formidable and matched up well. The team struggled with the only pressure they faced all season and lost the match. My take was that they showed a lack of resilience under pressure when confronted with unexpected challenges. Upon returning in the Fall, I decided to implement many challenges to develop the mental toughness of the team. I called these "adversity games". Sometimes the adversity would be a travel that becomes a turnover, sometimes we played 8 or 9 vs 7. I would end many practices with the "Championship of the Universe". We'd be scrimmaging and have time for one more point. Of course, one team would be losing by a few points by then, but I'd wipe away their deficit. For dramatic effect, I'd run out to the middle of the field and make a big crazy deal about the next point being the "Championship of the Universe, score is TIED, NEXT POINT WINS!" The team that was down now had life! The team that was up now had to perform under pressure to secure the win! Fun!
In the 1998 College Nationals final, we ended up with "Championship of the Universe" tied score, next point wins the National Championship! And, to make matters more interesting, our "adversity" was to score upwind in a very upwind/downwind game. Only a handful of upwind scores happened but the last point was one of them. Result; National Championship #2.
Another time was in Western Regionals, in an elimination game for both teams, the opponent, UBC, was down by 1 point and Stanford was at game point. When UBC scored and tied it up, setting up double game point, I knew we needed to embrace the moment. I ran out to the middle of the field and with all the drama and lunacy I could muster, I announced "Championship of the Universe". The whole Stanford sideline lit up with cheers. Win or lose, we were going to have fun with it.
In addition to your coaching credentials and success, what were your playing career highlights?
I played at Stanford for two years while obtaining my Master's degree and then graduated and had the good fortune to play on the Maine-iacs and it was on that team that I learn how to win.
I started coaching in 1994-1995 after taking a year break from playing at Stanford.
From 1993 to 1996, I played on a variety of Bay Area teams until Glo, Sprout and I formed Fury. Then it was Fury forever after that.
I am proud of my competitive playing career over the12 years I competed at the college, club, and international levels.