Class of 2023
Josh Markette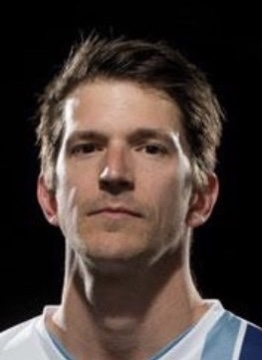 Josh Markette
Some players attain a level of play in their career that puts them among the elite. Some players are both dedicated and fortunate enough to play for a really long time. And in rare situations, a player has a really long career at a sustained elite level. Such is the case with Josh Markette aka Cricket.
Josh has been one of the best players in the Open Division for more than 2 decades. During that time, he had a run of 19 straight Open Nationals appearances; tied with the legendary Steve Mooney for the longest streak in the history of the sport. His teams had an incredible 8-year run of semi-finals or better from 2009-2016 and he is a two-time National Champion (2009 with Chain Lightning and 2016 with Ironside). On each of those teams, Cricket's contributions were critical to the team's success. 
Through a combination of intelligence, exceptional throwing repertoire, and endless stamina, Josh has been an extremely versatile offensive star for his entire career. Some of his more unique throws earned the name "Crickshots" as a nod to the idea that only "Cricket" could produce them. Josh has been equally comfortable and effective quarterbacking the offense or cutting downfield in a hybrid role. He was very often the engine that drove the offense on both his Atlanta and Boston teams and was difficult to contain due to his multifaceted offensive skillset.  Despite it being obvious that Josh was going to be around the disc a lot, attempts to limit his effectiveness were difficult due to his quickness, conditioning and incredible field sense. And once he had the frisbee in his hands, he had an almost unmatched ability to distribute it with consistent accuracy.
In addition to being an exceptional player, Josh is also known for playing "the right way". He is both highly spirited and a great teammate; part of his longevity is due to his genuine love for playing. For a career that is almost unmatched in terms of excellence and has continued for over 2+ decades, Josh Markette is a deserving member of the Ultimate Hall of Fame.