Class of 2023
Kendra Frederick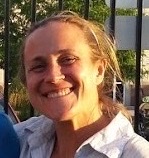 Kendra Frederick
A loyal teammate and fierce competitor, Kendra Frederick was as approachable and easy going off the field as she was unmatched on it; she was an absolute force in mixed ultimate for nearly fifteen years. Competing with a variety of teams throughout New England (Chinstrap, Slow White, District 5, and Metro North), Kendra was both a tenacious defender and relentless cutter who combined athleticism, endurance, and field sense in a devastating package.
As a defender, she consistently took the toughest downfield matchups, forcing opponents to have to look elsewhere as she guarded their most potent offensive options. On offense, Kendra was a relentless, ankle-breaking cutter who would turn defenders inside out and possessed impeccable timing for continuation, whether under, break-side, or deep. Her incredible hands made for a huge catching radius; she came down with nearly anything thrown her way. Her exceptional footwork, body control, positional awareness, and a complete lack of fear with her highlight producing layouts made her a reliable contributor on both sides of the disc. Kendra made the most of her height and natural athleticism through an intensity and seriousness in training that pushed herself to be the best. She was a strong leader on and off the field, whether serving as captain or setting the bar for focus and effort.
Wherever she played, success followed. Kendra competed in 4 National finals across 3 different teams between 2006 and 2016, along with 6 other appearances in the Mixed division at the National Championships. She also earned bronze at WUCC 2006 with Slow White and in the Women's Masters division with Loose Cannon.
In addition to her club contributions to the Mixed division, Kendra has always been a strong advocate for mixed competition locally. As a prominent club player, she set the standard in the Connecticut Ultimate Club's summer, fall, and winter leagues, mentoring newer players and leading by example with her hard work and worldly perspective. She served for five years on the board of Connecticut Ultimate and was a College Regional Coordinator in the Northeast for three seasons.
Kendra is a Data Scientist who lives in Boise, ID with her partner. She enjoys spending time outdoors hiking, running, biking, and playing disc golf.