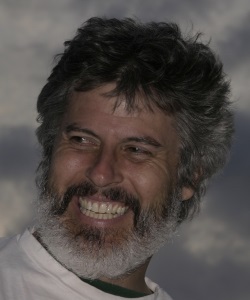 Stu Downs
Born: February 16, 1961 (Age 62)
World Championships
1x World Runner Up (1998)
As the cornerstone of Atlanta's Chain Lightning, Stu Downs was the face of southeast ultimate from the late '80s through the late '90s. Big, lightning quick, with solid hands and an arsenal of creative throws, Stu could play any position on offense or defense. With a mind as nimble as his reflexes, Stu locked down the middle of zone defenses with strategic baiting and huge layouts. He was, arguably, the best middle-middle of his era.
After achieving initial success on Boston club teams in the mid '80s, Stu came to Atlanta, where he fortified Chain Lightning and led them to 10 appearances at Nationals. In addition to his high level of play, Stu was widely acknowledged as the embodiment of Spirit of the Game. His iconic sportsmanship is legendary. Stu influenced and inspired thousands of ultimate players of all ages throughout his long career; his impact continues today as a global ambassador, coaching for Ultimate Peace each summer in the Middle East. Stu always showed the utmost respect for his opponents and, in turn, earned a reputation as one of the most exemplary players to ever take the ultimate field.
Championship Tournaments
U.S. National Championships
Interview
What position(s) (e.g., handler, deep cutter, middle middle) did you usually play?
On offense, I played downfield, employed mostly to catch goals. While my throwing and speed seldom concerned anyone, I was tall enough, quick enough and had great desire for a disc thrown in the air. On defense, I covered big men and played middle middle in the zone. It was in this role (mid-mid) that I carved a decent reputation for a few years.
Please describe your major accomplishments - both as a teammate and individual.
Chain Lightning was a solid contender annually at regionals, making Nationals 10 of my first 12 years on the team. At Nationals, however, we typically got one win, and players moved on as Atlanta could be a transient city. Then, in the mid 1990s, I captained a team that had greater talent and commitment from its players. Our team elevated to compete well with several of the top teams, produce a pair of winning records at Nationals and bring Chain within two points of semifinals in 1996.
Individually, I did my part as a leader on both sides of the field during this time, being part of a motivated, successful and well-spirited bunch. I likely scored more personal glory in the early 1990's when the team was less talented and a few of us shouldered the burden of advancing in the series. These moments, however, pale when viewed against the later success & subsequent camaraderie of Chain during the Clinton years.
Please explain why you stood out among the elite players of your time. What was it that you did best, or were known for?
As an athlete, I was gifted with large hands and a quickness that players often underestimated. When discs went up in the air, I treated them as mine to be stolen away if anyone dared. People knew I benefitted from having good hands, a big frame and the aforementioned level of determination. On defense, I scored the occasional poach block but, as time passed and the sport got faster, I became adept at playing in the middle of the zone. The truth is I had teammates in other positions who presented such difficulties that unfamiliar opposing throwers tended to try me out first. Thanks to the great play of my wings and markers, I collected plenty of blocks against quality players. Later in my career, I worked on marking and began stuffing guys; I wish I had figured that out earlier! Last, but not least, I think teammates and opponents alike would state that I played ultimate with the concept of Spirit of the Game paramount in my thinking. The aggressive battles I had against some of the great big men in my region and beyond were always done with respect, integrity and in a style that allowed each of us to recall such moments fondly and without regret.
What role did you play on the best (or most overachieving) team that you played on?
As Chain's captain for most of 1991 through 1997, we had a run of consistent regional success and ever-improving play at the national level. I made catches, occasional key blocks and navigated the group as best I could toward improvement as a unified team with respect for Ultimate's guiding principle. In 1993, I played on an overachieving squad with many of my talented friends from Vicious Cycle and a couple of unknown Alabama stars. Together, we pulled off a most unlikely upset of the then National Champion New York at the World Championships in Madison, Wis. My role, while undefined, was clearly to make plays and I, among others, made just enough to eke past the champions in a game we had to win to advance.
What year was the peak of your career? During which years were you playing as the "stud" of your team? If you continued playing after your peak years, how did your role change? In what year did you stop playing at the top competitive level?
This answer is multi-fold: From 1988 through 1994, I was a major contributor in many of Chain's victories, though I honestly never thought I was the stud of my team. In 1993, I had a number of personal successes, including an impressive run at Worlds with a southern team, a trip to Japan with several greats of the game and a stunning regional tournament. At Nationals, I fared well but we lost all of our games. As captain and dedicated Chain Lightning member, I fail to see how I can call that a peak year. By 1995, I remained a key situational player on a well-balanced team. I focused on leadership as we approached big games, with the big blocks being distributed among more of our players. My contribution shifted to inspiring the masses, modeling good spirit and getting the most out of our talent. In 1996, we placed sixth at the Show while earning the Spirit award. The women's team, Ozone, finished second with the same award. I am proud of our city's ultimate excellence achieved in the manner in which the game is supposed to be played. (Addtionally, I performed pretty well for most of nationals!) I played in the open division until I was 41 – a little too long to be effective. I played five happy years of Masters and can peacefully say I retired at the correct moment.
Have you served in an official capacity as an officer, committee member, coordinator, or volunteer for USA Ultimate/UPA or other recognized ultimate or disc sports organization, or as a coach of a team? Describe role, dates served, accomplishments:
I began as a sectional coordinator (SC) sometime in 1995 or so, became an open & mixed SC for a few years, then a mixed regional coordinator (RC) in about 1998 and, lastly, an open RC until 2008. I served on small committees from time to time, selecting participants for the U.S. National Team in the early part of this millenium. In 2005 and 2006 I coached Georgia to their highest ever performance at Nationals. Presently, I coach at Waldorf High School, a small, private in Decatur, GA. In Atlanta, I was active in the local club executive positions for 15 years and continued to exert my influence for anyone who would listen until my kids were born. Even today, I still won't be quiet!
Have you made other contributions to the development of ultimate?
I have conducted occasional clinics in my hometown to promote the sport with city parks and refugee programs through the Atlanta Flying Disc Club. I also recently began involvement with Ultimate Peace.
Why do you believe you are worthy of being inducted into the Ultimate Hall of Fame?
I have had a long, enjoyable and somewhat admirable career. I have realized a certain level of success as described above, coached and contributed to the sport in a number of ways and practiced Spirit of the Game at every level. I have integrated more than most with many incredible people of the sport, sharing respect and friendship with a huge number of teammates and opposing players. Also, I believe that recent national success for Chain Lightning can be traced back to the efforts that I (along with others) made to create a picture of what it means to represent one's self as a competitive ultimate player from Atlanta. The truth is, I do not know whether these credentials are worthy of the Ultimate Hall of Fame, for the existing members are an amazing cast. I am extraordinarily pleased with my accomplishments and what transpired during my days as a competitor. Still, I must leave the question open, for I respect the level of exclusivity that such a place should maintain.