Class of 2016
Tiina Booth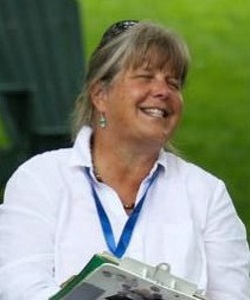 Tiina Booth
Born: February 26, 1954 (Age 69)
Tiina Booth is noted for her contributions to creating and implementing the template for the development and support of youth ultimate. From the Amherst Invitational to school clinics to the National Ultimate Training Camp (NUTC), Tiina built the foundation of youth ultimate in the Northeast that has been replicated throughout the U.S.A.
After helping to found the women's division and serving as a women's regional coordinator in the Northeast in early 1980s, Tiina became the coach of the Amherst Regional High School (ARHS) ultimate team beginning in 1989. She co-founded the Junior National Championships in 1998 and coached her ARHS boys' team to national championships in 1998, 2003 and 2004. In 2001, she founded NUTC, the first overnight high school ultimate camp. Over the years, the NUTC experience trained the next generation of ultimate stars and attracted players from across the U.S. and internationally, with many NUTC alumni returning as NUTC coaches. She was a coach of the U.S. Boys' National Ultimate team in 1998, 2000 and 2004; these teams won the World Championship in 1998 and 2004. She co-wrote the original curriculum for the UPA/USA Ultimate coaching certification in 2003-04, co-authored the book, "Essential Ultimate" in 2006, and has been a writer for the online publication Ultiworld since 2013. Tiina founded the Ultimate Players and Coaches Conference in 2007, which brought together giants in the sport for the promotion, teaching and growth of ultimate for several years. After retiring from coaching the ARHS boys in 2013, she became a coach for the University of Massachusetts men's ultimate team in 2014, helping to bring them to Nationals in 2014 (their first time in 26 years), a position she continues to hold today.
Contributions & Service
Early 1980s:

Women's Regional Coordinator; worked closely with Suzanne, Heather and Louie and others to establish a women's division in the UPA

Mid 1980s:

Director of Wham-O's Frisbee and Hacky Sack Festivals

1992:

Founded Amherst Invitational, the oldest high school tournament in the US

1992-2012:

Massachusetts State Champions every year from 1992-2012

1996-2000, 2003-2006, 2011, 2013:

Amherst Invitational Champions: 1996-2000, 2003-2006, 2011, 2013

1998:

Co-founded High School Nationals with David Caruba

1998, 2004, 2000:

Coached the US Boys team at the World Ultimate Championships: Gold in 1998, 2004; Bronze in 2000

Ultimate Championships as a coach of the Amherst Regional High School Boys Varsity team

1998, 2003, 2004:

National Champions

2001:

Founded the National Ultimate Training Camp

2005, 2006:

Eastern Champions

2006, 2013:

Paideia Cup Champions

2007:

Co-founded the Ultimate Coaches and Players Conference with George Cooke

2008:

Co-founded the Ultimate Coaches and Players Conference with George Cooke

2010-2012:

Northeastern Champions
Interview
Describe your major contributions to the growth and development of ultimate
When Tiina Booth first started coaching youth ultimate, there were six teams in Massachusetts, and two of them were from her high school. Massachusetts currently has the most youth teams of any state and the youth division has experienced unprecedented growth in the last 10 years. Much of this is due to the efforts, energy and vision of Tiina Booth.
From the Amherst Invitationals to school clinics to the National Ultimate Training Camp, Tiina has built the foundation of youth ultimate in the Northeast that has been imitated throughout the U.S. Her book reaches those who have no ultimate near them. Her camp attracts players rom around the world (Colombia, South Africa, Germany). She travels with her staff of counselors (most of whom are Amherst Regional High School graduates) to schools and colleges to help them improve their programs. Lastly, she builds tournaments (the Amherst Invitational and Junior Nationals for example) that continue to attract ultimate novices and experienced players alike.
How did your contributions impact the sport and/or its organization?
Tiina grew ultimate from the grassroots level and also improved the level of play among the top youth athletes. Many of these players have gone on to start or improve their college and club teams, as well as hold positions with USA Ultimate and other ultimate organizations.
My major contributions to the sport of ultimate have been in the youth division. While I did not single-handedly bring youth ultimate to where it is today (Michael Baccarini in Atlanta and Mary Lowry in Seattle were also early advocates), I think I provided much of the structure that has encouraged the explosion in youth players in the last decade. The Amherst Invitational was the precursor to High School Nationals, which David Caruba and I founded in 1998. High School Nationals begat Westerns, Easterns, Regional Championships and YCC's, tournaments which now have thousands of players competing every year. I was also one of the first coaches of the boys U.S. National teams to compete at the World Ultimate Championships.
I started my day camps 18 years ago in Amherst and, again, their popularity provided the impetus for doing something on a larger level. In 2001, I started the National Ultimate Training Camp, and we had 28 campers that first year; this year, we had about 250. We have attracted players from South Africa, Colombia, Germany and throughout the United States. I have also been part of the UPA Coach Certification process. I was one of a handful of organizers that wrote the curriculum and am a certified Level One trainer. I have held many ultimate clinics around the country for high schools and college coaches and players.
Perhaps the accomplishment of which I am the proudest is my coaching of the ARHS boys teams for the last 18 years. I believe that they have set the standard for outstanding competitive achievement, as well as holding themselves to a high standard of behavior, both on and off the field. We have consistently won championships AND Spirit awards. These young men have gone on to play at colleges and clubs at all levels, and I have already seen them become the standard-bearers for the best that the sport can be.
How do you think the sport or its organization would be different if you hadn't made your contributions?
Youth ultimate would definitely have grown without Tiina's help, but perhaps not as quickly or efficiently. She had enough time and energy to make big things happen for youth players, and she also networked with those doing similar things around the country.
Why did you do what you did for UPA?
Tiina is an excellent teacher and coach, and developing youth ultimate combined what she does well with what she loves to do.
During which years did you make your principal contributions? How much time did you typically spend in making your contributions during your peak years?
From the early 1980s to today, ultimate has been practically a full-time endeavor for Tiina. Her peak years are not over yet, but she spends 20-30 hours per week on ultimate, more in the spring/summer and less in the winter.
Why do you believe you are worthy of being inducted into the Ultimate Hall of Fame?
Tiina thinks that her selection for the Ultimate Hall of Fame would be an honor for her personally, but it would also send a clear message that the work of youth coaches, teachers and players is important. While everyone loves to watch and emulate the top players of our sport, the toughest work is being done on the front line of youth development. A nod to Tiina would be a nod to those who have built and continue to build that foundation.