Class of 2022
Joe Seidler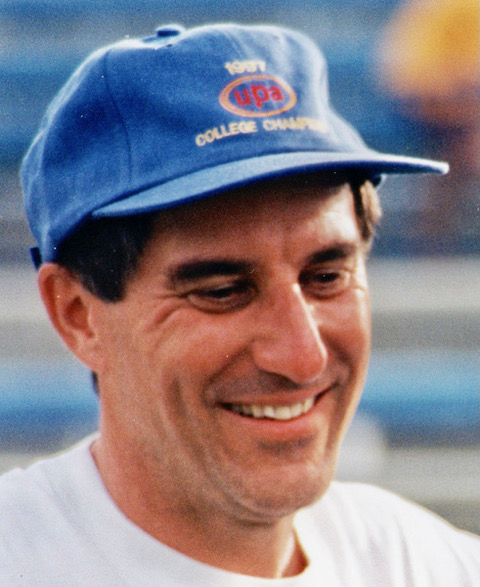 Joe Seidler
Hometown: San Francisco, CA
Born: September 26, 1944 (Age 78)
Joe Seidler singlehandedly organized the collection of data, facts, stories, anecdotes, and all the other elements that comprise the history of the sport of Ultimate. In addition to his self-appointed role as Sport Historian, he also served for three years on the board of the UPA (predecessor to USA Ultimate) and for nearly three years on the board of Ultimate Peace.
Joe was never a player; he began his love of ultimate watching his son, Jason, play at UCSB in 1993. Joe commented that "attending tournaments with his family brought them even closer than they ever thought possible." He was motivated to document the sport and write its history because he was so impressed by what he saw on the field, by the people he met who were involved with the sport, and realized while serving on the UPA board that even board members had little sense of the sport's history.
He gathered the data on championship records, team rosters, and so much more to create, organize, and manage all the content into an accessible website format for almost 20 years and then found a successor, through www.ultimate-reference.com, to carry on the work. To create the Ultimate History books, volumes I-III, Joe arranged and motivated the various authors of the books to do the primary research and interviews of the individuals and teams who made our history before their stories were lost to time, and then got the funding to publish two high-quality volumes of the books plus a third volume published as an e-book.
While there still would be an Ultimate Hall of Fame in the absence of all this incredible work, there would be so much less context, content, and longitudinal perspective available without Joe's contributions.
Letters of Recommendation
As we all know, Joe is THE reason we have a recorded history of our sport. Even if he had done a mediocre job collecting and documenting ultimate's history, I still believe he would be a no brainer first ballot inductee. We'd simply have nothing to show for all these decades without him.
The fact that he has done such a thoughtful and meticulous job creating not only two books but systems to capture the future is really quite stunning. I am certain he has lost plenty of money, hair, and brain cells in pursuit of his vision; he is a hero in my book for his generous gifts, our hero, and should be elevated as such.
Selfless and unrelenting, dedicated to precision and excellence, Joe deserves this honor without question. It would be hard to deny that he ticks all the boxes of an exemplary contributor.
We are all getting older. Joe encountered some serious health issues this year. The first thing I thought when I heard he was unwell was the absolute irresponsibility for not nominating him before. So I make this recommendation with clarity and urgency, confident that many Hall of Famers and thousands of community members are behind me in their deep appreciation for his work.
One final thought: Joe never experienced the magic of stepping on the field as a player that we all have,  yet dedicated a good portion of his retirement years to capturing our history. He knew that all the fun we were having, all the innovations we were making, all the memories we were creating were too precious to lose.
Thank you, Joe.
My best,
David Barkan, HoF Class of 2010