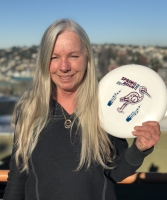 Mary Lowry
Born: April 26, 1957 (Age 66)
U.S. National Championships
1x U.S. Club Runner Up (1995)
World Championships
2x World Champion (1995, 1997)
Awards
FPA Women's Pairs World Champion (1994)
FPA Women's Pairs World Champion (1997)
FPA Women's Pairs World Champion (2000)
FPA Mixed Pairs World Champion (2001)
WFDF Women's World Overall title (2009)
Awarded the Jorgenson Coddington Award by the Freestyle Players Association for her contributions to the sport
Mary has been the driving force behind the organization of youth ultimate in Seattle for over 30 years. The area youth program has been instrumental in developing Seattle into the powerhouse it is at all levels of the sport. As a teacher at Seattle Country Day School, she taught an elective disc sports class beginning in 1983 and has been coach of the team since 1984. She co-started a youth division of the Puget Sound Ultimate League in 1986, and, under DiscNW, established their first youth league in 1993. Mary continued helping with youth leagues and tournaments whenever she was needed. In 2000, Mary helped the UPA select the first-ever U.S.A. girls' Junior Worlds team and coached the team to a championship at the WFDF 2000 World Championships in Heilbronn, Germany. As an accomplished player of both ultimate and overall events, Mary was a co-founder of the first women's ultimate team in Seattle in 1983, and she also co-founded the team that became Women on the Verge. Mary and her Seattle club team won the WFDF World Ultimate Club Championships in 1995 and 1997. An active freestyler, Mary is a three-time FPA Women's Pairs World Champion (1994, 1997, 2000) and Mixed Pairs Champion (2001); she won the WFDF Women's World Overall title in 2009, and was awarded the Jorgenson Coddington Award by the Freestyle Players Association for her contributions to the sport.
Contributions & Service
1983:

Co-founded first women's ultimate team in Seattle

Co-founded team that became Women on the Verge

1983-Present:

Driving force behind Seattle youth ultimate since 1983

1984-Present:

Seattle Country Day School disc coach

1986:

Co-started youth division of Puget Sound Ultimate League

1993:

Established first DiscNW youth league

2000:

Helped select first-ever U.S. girls' Junior Worlds team

2000:

Coached U.S. girls' Junior Worlds team to a gold medal at the 2000 WFDF World Ultimate and Guts Championships
Championship Tournaments
U.S. National Championships
Interview
Describe your major contributions to the growth and development of ultimate.
I was dedicated to the growth of Seattle youth ultimate from the beginning of my career at Seattle Country Day School (SCDS). My students asked me to organize games for them, so that's what I did. Ultimate is a perfect game for teaching middle school-aged children life lessons through an alternative sport. It readily appealed to the very bright kids I teach. SCDS's administration was supportive and gave me the freedom and logistical support that I needed to formalize a league structure for youth players. I credit the executive directors and board of directors of DiscNW for the phenomenal growth of the Seattle scene in all divisions. They always gave me what I asked for and found the volunteers to make it happen. For years, I built a program that I hoped would stand the test of time, and DiscNW made that dream come true. This Seattle youth model began as a middle school program and grew to include high school, which does not fit the pattern for the rest of the nation. That might have to do with me and the particular focus that I brought to the organization of the scene.
How did your contributions impact the sport and/or its organization?
I was one of a few Seattle organizers whose main contribution was establishing an organizational structure for leagues that would become Disc NW's youth division. The number of youth players participating grew every year. My time was well spent. I am proud of the fact that many elite players hail from the Seattle, and many kids I have coached go on to have success in high school and college programs. I feel gratified by being able to scan the fields at Spring Reign and see many alumni who are in love with the sport. At Potlatch I see how much the game has become a part of their adult lives. Things have come full circle in Seattle—many players graduate from college, return to Seattle, and volunteer to coach their alma maters' teams. They are energetically giving back to the sport in so many positive, visible ways. I assume this is part of my enduring contribution to the sport.
How do you think the sport or its organization would be different if you hadn't made your contributions?
Perhaps youth ultimate would have originated in high school first if I had not been involved. I have always felt that if it wasn't done by me, eventually someone would have stepped up. I may have speeded up the time line. Since I enjoyed playing mixed with my Puget Sound Ultimate League team, I started a mixed youth league. It was also the best option for a small school where my largest calls was 16 students. Perhaps Seattle youth ultimate might have started as a single-gender sport if I wasn't involved.
Why did you do what you did for UPA?
I began organizing Seattle's youth league and Spring Reign, the annual youth tournament held in Burlington, WA because my students wanted to play ultimate and I was in a unique position to help this happen, being a teacher and a competitive player. Addressing the needs of my students has always been a prime motivator for me. I wanted them to be able to experience the alternative culture of ultimate, find community, stay physically fit, and embrace the Spirit of the Game.
During which years did you make your principal contributions? How much time did you typically spend in making your contributions during your peak years?
February to mid-June. I would compile and mail packets of basic information about the game, rules, wavier and registration forms, and newspaper articles about ultimate in February. Every Sunday morning, I would set-up fields at Magnuson Park and monitor them until games were done. I also ran summer camps for Seattle Country Day School students in my early teaching years. For almost 35 years, I have been a teacher and ultimate coach at Seattle Country Day School. I have coached 6th through 8th grade players every season since I began teaching.
Have you organized ultimate tournaments, leagues, teams, etc.? Describe role and dates served.
I co-founded the Seattle area's first women's ultimate team in 1983, along with Lisa Dally Wilson, Jill McGrath and Stephanie Boyd. After experiencing the frustration of not being able to compete at tournaments as part of mixed teams, we decided to start an all-women's team called the Bad Apples. This team evolved and eventually became Women on the Verge. I participated in the first ever all women's game in the NW, which took place in Eugene, Oregon. I played for WOTV until I retired in 1997. In the early years, I ran practices and served as the captain of the team until new players arrived from Boston, and the team became more competitive. WOTV won two world titles in the time I was a member of the team: 1995 in Street, UK and again in Vancouver, BC. Unfortunately, we never won Nationals, but we made several appearances finishing second when the tournament was held in Birmingham, AL. I co-coached Seattle first competitive traveling high school boys team called Moho from 1997 to 2000. They won USA Ultimate's boys high school title in 2000. I also helped select and coach the first ever national high school girl's teams that won the 2000 world title in Heilbrunn, Germany. At the request of Joey Gray, the first executive director of Disc NW, I also helped to organize the first Seattle Public Schools fall youth league. Jeff Jorgenson and I co-founded Spring Reign in 1997.
Have you made other contributions to the development of ultimate?
Over the course of many years, I organized ultimate skills clinics at schools, community centers, and physical education conferences to promote ultimate. I also participated in exhibition games at local professional sports events. As an overall disc player, I believe that teaching kids other disc sports serves to improve their overall athleticism and ultimate skills. During the decade of the 1990s, I qualified kids for the World Junior Championships and coached them at the competition.
Why do you believe you are worthy of being inducted into the Ultimate Hall of Fame?
There are many worthy organizers in Seattle, any one of whom are worthy of this recognition. There are so many people that make it happen, both within Disc NW's administration and volunteers from the ultimate community. I am no more worth than they are, I just happened to be the first among them. Now that I have been acknowledged, USA Ultimate can concentrate on others in the who helped rapidly move the sport forward to secure its place in the history.