Class of 2015
Bob "Bert" Sick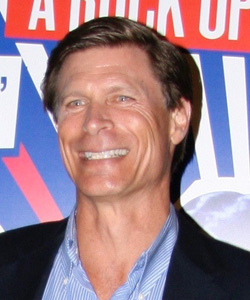 Bob "Bert" Sick
Born: August 24, 1959 (Age 64)
U.S. National Championships
2x U.S. Club Champion (1985, 1988)
3x U.S. Club Runner Up (1984, 1986, 1989)
Bob first caught the attention of his Western region peers in the early 1980's as one of the top players and leaders on the Stanford University team that would become national champion soon after he graduated. After paving the path to Stanford's success, Bob exported his talents and deep knowledge of the vaunted "Stanford O" to the less structured but highly talented Flying Circus. Bert, as he is affectionately known, helped transform the competitive but free spirited group as he taught and institutionalized the Stanford O, and thereafter contributed to the team's success with his gritty handling abilities and a keen sense of strategy. Over the six year span of 1984 – 1989, the Bay Area-based Flying Circus/Tsunami teams played in the finals of nationals five times, winning titles in 1985 and 1988, and also a worlds championship in 1986. What made Bob stand out from his peers was the consistency and predictability of his efforts to move the disc downfield; everyone knew exactly what he was going to do, how often he would touch the disc, and yet he could not be shut down, proving to be a nightmare defensive matchup for any opponent. Bert was also a physical and relentless defender, taking on the toughest assignments regardless of size or speed. He was highly respected by his peers as one who strived to play the game of ultimate at the highest level possible, always acted selflessly to help his team and never let his will to win compromise his behavior on or off the field.
Championship Tournaments
U.S. National Championships
Interview
What position(s) (e.g., handler, deep cutter, middle middle) did you usually play?
Handler on offense. Always the main or one of the main handlers. I was extremely difficult to guard (ask great defenders like Keay Nakae) and made very few turnovers. On defense, I guarded the handlers in man and played point/marker in zone.
Please describe your major accomplishments - both as a teammate and individual?
I come from a team-first orientation, so pointing out individual accomplishments violates my bloodstream. I played on arguably the best college and open club teams on my era, being a major player on every team I played on. While on the Circus/Tsunami, we had winning records against every team we played, including New York, Boston, Chicago, Condors and St. Louis. I was the captain and offensive leader of those teams for many years, and we implemented systems that were consistently successful. My key role was to run the offense on the field, a point guard of sorts, and then to dive a lot just for fun.
We taught many good/great players how to think on the field and how to play well within a system that consistently succeeded. Looking at the success of the Stanford/Circus/Tsunami teams, there really ought to be some acknowledgement of the persistent success of those teams in the HOF (beyond Danny, who was there for two of my circus years before selling out in NY!).
I played as hard, as clean and as fair as anyone I know; that mattered a great deal to me. The Flying Circus was a good team before I played with them. They became a great team after we changed that team and how it played.
Please explain why you stood out among the elite players of your time. What was it that you did best, or were known for?
We won. We won as a team. I played a major role in running the team, in designing and implementing our systems and in running our offense for most of those years. We did not promote having 'studs' on our teams. I caught and threw more passes on those teams than anyone for many, many years. When we were in close games, my team always asked for me to be on the field.
What role did you play on the best (or most overachieving team) that you played on?
I was the offensive point guard and captain for many of the years of the college and open club teams I played for. I helped design and implement the Stanford offensive strategy used by all of those teams. The most overachieving team I played on was Gainseville in the 1992 Nationals in San Diego. We were in line to make the semifinals, up 19-18. I then dislocated my hip and we lost 21-19. That offense, and its ability to think and be calm when it needed to, ran through me. It was a major transition for a team from the South to do what we did in that nationals. We beat some of the better teams in the country, and teams from the South didn't do that in that era.
What year was the peak of your career? During which years were you playing as the "stud" of your team? If you continued playing after your peak years, how did your role change? In what year did you stop playing at the top competitive level?
1984-1989: my role really did not change much, although I played a lot more defense and led the offense on a transition in my early years with the Circus. I stopped playing in 1993 when I became a full-time parent and time ran out for me!
Why do you believe you are worthy of being inducted into the Ultimate Hall of Fame?
We won. We were consistently as good as any teams in the world in my years. I played the key role of running the team, running the offense and designing and implementing the offense. Those teams, and that success, deserve some acknowledgement in the HOF, and I think the role of the consistent point guard who busted his butt and played in the 'right way' might be a good place to start. Plus, I made an incredible catch against Sweden in the worlds' finals. Most importantly, I played hard, fair and with a strong sense of spirit. Unlike some others, in the biggest games, though I wanted to win as much as anyone, I never resorted to non-sportsman or unspirited play.