Class of 2013
Jim Ingebritsen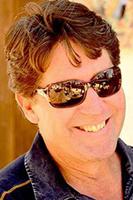 Jim Ingebritsen
Born: September 16, 1962 (Age 61)
U.S. National Championships
1x U.S. Club Champion (1985)
3x U.S. Club Runner Up (1983, 1986, 1991)
In 1983, as an emerging young stand-out, Jim helped lead the San Diego Spin-offs to the finals of his first national championship match. For the next decade, he was widely acknowledged as one of the best all-around players on the west coast and one of the most exciting players to watch around the country. With superior athleticism, charismatic leadership and exemplary sportsmanship, Jim sported a one-of-a-kind brand of greatness. Speed, jumping ability, precision throwing, he had it all, not to mention perfect hair and likeable swagger. As Jim matured, he played increasingly critical leadership roles, on and off the field, on three different teams that made it to nationals' finals match (Spinoffs, Flying Circus, Iguanas). Always the go-to guy on offense and the defender to cover the best player on the other team, Jim brought high performance and excellence to every game he ever played. When the Flying Circus learned he would be joining their team in 1985 in their quest to win the national championship, a few of them looked at each other and said, "That's it – we are going to win." And they did.
Championship Tournaments
U.S. National Championships
Interview
What position(s) (e.g., handler, deep cutter, middle) did you usually play?
He did anything that the team needed, depending on the squad. Ingebritsen could handle and be a quaretrback or he could easily go deep; it just depended on how he was being played by the opposition. There weren't many players that could stop him no matter where he wanted to roam on the fileld. As a handler, he could throw flicks or backhands 50-60 yards to a VERY tight target.
Please describe your major accomplishments - both as a teammate and individual?
You couldn't find a teammate that would say Jim Daddy didn't give everything he had to help his squad accomplish the goal. He would go both ways (offense and defense) and was particularly ruthless as a rover-back in the Spinoff and Circus defensive structures.
Please explain why you stood out among the elite players of your time. What was it that you did best, or were known for?
He never quit; he was an engine that didn't stop. No matter the talent, his squads managed to win – whether it was the Spinoffs, the Circus or the Iguanas.
What role did you play on the best (or most overachieving team) that you played on?
With Flying Circus, he introduced the zone defense he had learned from the San Diego Spinoffs, which he learned from the East Coast Glassboro transplants that had landed in San Diego. Ingebritsen took this knowledge to the Bay Area where he played rover-back for the Circus in 1985, and the team won every major tournament they entered: Easterns, Worlds and Natonals. This defense took the Flying Circus to the 1986 National Championships and was utlized by the Iguanas in their run to the 1992 National Championships.
What year was the peak of your career? During which years were you playing as the "stud" of your team? If you continued playing after your peak years, how did your role change? In what year did you stop playing at the top competitive level?
Jim played as a "stud" thoughout his entire career. He either won or competed in the open finals at Nationals in 1983, 1985, 1896 and 1992  as a starter on both sides of the disc for THREE different teams.
Has the candidate made other contributions to the development of ultimate?
Sponsored Goaltimate in local elementary schools and is now supporting a local high school ultimate team.
Why do you believe you are worthy of being inducted into the Ultimate Hall of Fame?
My teammates and I know what we accomplished. My kids look at all the discs in my garage and ask me about the videos they found of me on the internet. There is no doubt I am worthy of the Hall of Fame, but you and my peers will ultimately decide.