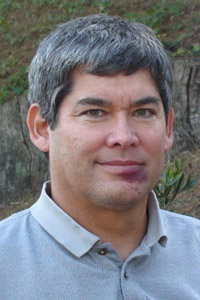 Keay Nakae
Hometown: Mill Valley, CA
Born: February 3, 1959 (Age 64)
U.S. National Championships
1x U.S. Club Champion (1981)
1x U.S. Masters Champion (1993)
A lightning quick all-around player, Keay was one of the few true stars who could be distinguished from the highly athletic and talented players on the Santa Barbara Condors. Feared first as a top notch defender and later as an unstoppable handler, Keay was a master practitioner of his defensive craft. Often referred to as the top defender of the mid-'80s, Keay was one of those rare players who could dominate a game with his defense, and he led the Condors to many victories with countless layout blocks in critical situations and unshakable transition offense.
From the Hot Sox in the late '70s to the Condors in the '80s (with a national championship in 1981) to the Iguanas in the early '90s, Keay earned the highest respect from his opponents, despite the fact that he shut all of them down. Although he was as tough a competitor as they come, he always did so with integrity, character and sportsmanship. He believed that for Spirit of the Game to be relevant, it was the responsibility of the high profile teams and high profile players to exemplify the best of behaviors, which is what he always strived to do.
Keay lives in Mill Valley, Calif. with his wife Nancy and their two daughters.
Contributions & Service
1986-1987:

Coached the Cal Poly SLO men's college team

2010:

Coached the Bay Area mixed team, That's What She Said
Championship Tournaments
U.S. National Championships
Interview
What position(s) (e.g., handler, deep cutter, middle middle) did you usually play?
On offense I played every position. I followed the typical path of evolving into a primary handler over time. On defense I was the team's shut-down defender.
Please describe your major accomplishments - both as a teammate and individual.
By far, my greatest accomplishment was winning Club Nationals with the Condors in 1981. I was a first-year player on the team that season, and this was really my first oppotunity to play big time ultimate against the other top teams outside of the Western region. In the finals against the Knights of Nee, we found ourselves in a big hole at halftime, trailing 10-6. As a result of this circumstance, our defense was on the field most of the second half as we fought our way back into the game. We finally were able to tie the game at 12, and went on to win 15-13. As my first and only Nationals title in the open division, winning it in the manner that we did puts it at the top of my list. Like everyone else, I was able to experience many great moments playing the game, with my fair share of highlight reel and clutch game changing/winning plays. I would have to say that those games in which my opponent simply stopped trying to get open, realizing that it wasn't going to happen, were particularly satisfying.
Please explain why you stood out among the elite players of your time. What was it that you did best, or were known for?
I was an all around skilled player who could play any position. I was blessed to be faster than most and to be able to outjump taller players. My willingness to aggressively lay out for the disc made this skill another weapon and, some have described as, an "art form". I was also one of the first to exploit the use of the lefty backhand, which was especially useful to break the mark, of which I am happy to see is finally being used with greater prevalence today. Where I believe that I really seperated myself from others was on defense. I always matched up against the best player(s) on the other team and believed, or at least had conned myself into believing, that it was actually possible to totally shut them down. I was fortunate that the Condors had so many talented offensive players (like Bob austin, Doug Saulter, Curis Weeks, Tom Lewis, Tim and Brian O'Donnell) each with their own individual strengths, fakes, cuts, and go-to moves that they relied upon to get open, which allowed our team practices to become the perfect laboratory for me to experiment with different concepts and techniques that helped me to hone my craft. Finally, and most importantly, I could not accept that my efforts had been successful in any game, or on any play, unless my opponent also felt that it was achieved in a fair and clean manner.
What role did you play on the best (or most overachieving) team that you played on?
The important part of my career was playing on the Condors. Like any normal person, I thought it was more fun to play on offense. However, as a first-year player joining an elite team that was loaded with established talented players, it was clear to me that showing them that I could be effective on defense would be a good strategy to get more playing time. It turned out to be the right move as I did get to play a lot that first year, especially in the finals of Nationals against the Knights of Nee. From there, my role on the team evolved into something more significant. As it became clear that I was distinguishing myself as a premiere defender, it was also clear that focusing on this was how I could continue to make the greatest contribution to the success of the team. Thus, I would defer my spot on the field during many offensive points to one of my talented teammates, in exchange for being given free reign to play as much on defense as I wanted. Fortunately, our team (especially Jim Kruidenier, Marty Crowe, Dan Schradermeier and so many others) always took pride in playing tough defense, so this provided ample opportunites to play offense after we forced a turnover. I would also still play on offense if our regular line was struggling, as well as at other critical points in the game. As older players moved on and were replaced by younger ones, I began playing more on offense as one of our primary handlers while continuing to be the leader on defense.
What year was the peak of your career? During which years were you playing as the "stud" of your team? If you continued playing after your peak years, how did your role change? In what year did you stop playing at the top competitive level?
During my entire time on the Condors, I was an important player on the team. I would say that 1983-1985 were my absolute peak years in the sport.
Unfortunately, my career as an elite ultimate player was shorter than most. In 1986, I hurt my knee and subsequently damaged it even worse next year. At that point I decided to quit playing, at an age (28) when many ultimate players are in the peak years of their careers.
In 1991, after a four year absence, I returned to competitive play with the LA Iguanas. Due to a combination of rust and being just one year post ACL reconstructive surgery, I was now just an average player at best that year. Still, I really enjoyed being back on the field and the team did well, losing to Boston in the semifinals at Nationals. At the end-of-the-season team party, I was surprised to learn that I had been voted by my teammates as that year's Most Inspirational Player. This clearly was more of a statement about my character and being a good teammate than about the level of my play that season.
In 1995, I return to play one final year of open with the Condors. This was also a season of no significance as far as my candidacy for the HOF is concerned, but was personally very rewarding. This was now a completely different Condor team, with a new generation of players, most of whom were still in college on the UCSB Black Tide team. Although another four years older, I was actually a better player than in 1991, with my knee now fully rehabilitated, and no longer needed to wear a knee brace. I was one of the primary handlers on this team. It was fun to play with these younger players who were so enthusiastic and willing to learn from an older wiley vet like me. It also caused me to take a much greater interest in their future progress, as I enjoyed watching them continue to get better as a team and as individual players in each subsequent year, which eventually culminated in them winning their own back-to-back Nationals titles in 2000 and 2001.
Have you served in an official capacity as an officer, committee member, coordinator, or voluteer for the UPA or other recognized ultimate or disc sports organization, or as a coach of a team? Describe role, dates served, accomplishments:
I coached the Cal Poly SLO men's college team back in 86-87, and coached a Bay Area mixed team, That's What She Said, in 2010.
Have you made other contributions to the development of ultimate?
Over the years, I have helped to organize and have been a volunteer at numerous ultimate tournaments and demonstrations of the sport at schools, camps and community events. I have also served as the captain of recreational league teams where the focus was on teaching new players the game.
Why do you believe you are worthy of being inducted into the Ultimate Hall of Fame?
Like most of the other players in the Hall of Fame, I believed that, in my prime, no one could cover me, and like fewer of them, I also believed that I could cover anyone. I hope that I will be viewed as I was by my teammates as the primary weapon to negate the top player(s) on the opposing team, whom I was able to consistently dominate. I loved and respected the game, always left it all on the field and comported myself with dignity.
I did want to comment briefly on the Spirit of the Game. I have always believed that for the Spirit of the Game to continue to work, it is the responsibility of the high profile teams and high profile players to exhibit this behavior. Hence, this is what I strived to do. I was fortunate to learn how to play the game within the culture of the Woodland Hills Hot Sox, and subsequently play for the Condors, which were both teams started by groups of lifelong friends who had long standing mutual respect for each other. My attitude was also shaped by the fact that I won Nationals in just my third year of playing ultimate. Thus, I was able to realize early in my career that the rewards for capturing the highest achievement in the sport, while real, were also entirely intangible, consisting of the shared sense of achievement with your teammates and the enhancement of your reputation among your peers. Of course the latter was only bestowed if the manner in which you played was respected.