Class of 2017
David "Buzz" Ellsworth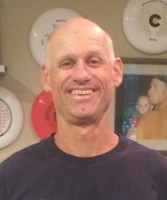 David "Buzz" Ellsworth
Born: September 1, 1960 (Age 63)
U.S. National Championships
1x U.S. College Champion (1986)
1x U.S. Club Champion (1981)
2x U.S. Masters Champion (1999, 2005)
4x U.S. Grandmasters Champion (2010, 2013, 2015, 2016)
1x U.S. College Runner Up (1985)
3x U.S. Masters Runner Up (2003, 2004, 2011)
World Championships
2x World Champion (2000, 2011)
A true "Iron Man" of ultimate, David "Buzz" Ellsworth was the picture of consistent top-level play over a 15-year career in the club open division and an equal amount of time competing in the sport's other divisions. He was the first player to win national titles in the college, club open, masters and grand masters divisions. Buzz was a warrior – full stop. He was always ready to compete against anyone at any time, was able to play any position and never wanted to come off the field. His leadership, toughness, intensity and never-quit attitude inspired a higher level of play from teammates and opponents alike. Off the field, as the director of Denver/Boulder youth ultimate for over a decade, it's impossible to fully describe the impact Buzz has had as an organizer, mentor and coach on that community's youth ultimate programs, YCC teams and the current and rising star players it has produced. Respected by all as a person of honor, integrity and a wide-open heart, both on and off the field, Buzz is one of the sport's great players and ambassadors.
Championship Tournaments
U.S. National Championships
Interview
What position(s) (e.g., handler, deep cutter, middle middle) did you usually play?
I love all positions. As a rookie on the Condors, it was tough to break in on the handler set, so I was downfield a lot, but it wasn't long before I wanted the disc all the time. I pretty much liked running the whole field. I loved playing against great players on defense and loved the fast-break turnovers. I loved getting up in the air to get the disc. In zone, I played some mid-mid, but I was pretty much always a deep and sometimes a wing.
Please describe your major accomplishments - both as a teammate and individual?
I was the co-MVP at Nationals during college in 1986, along with Mike Nevins. I would pretty much do anything for my team. I was the captain in Santa Barbara in the late '80s to 1990, and I won national titles in four divisions.
Please explain why you stood out among the elite players of your time. What was it that you did best, or were known for?
I was always ready to compete with anyone at any time. I loved the challenge of playing defense against the best players and loved running hard. I never wanted to come off the field.
In big games, I felt like I could be the difference in a team's chances of winning or losing. I used to love long points because I could run hard forever and tire out my guy. I liked baiting throws and accelerating to get blocks.
As far as leadership roles, other than captaining, I had the energy to lift the team's energy to a level necessary to win or stay in a game, whether that be through encouraging my teammates to believe we could win or leading by example by playing hard and having enthusiasm on the field. I loved to layout.
What role did you play on the best (or most overachieving team) that you played on?
Usually I covered an impact player on the opposing team and handled the disc because I could get open a lot.
What year was the peak of your career? During which years were you playing as the "stud" of your team? If you continued playing after your peak years, how did your role change? In what year did you stop playing at the top competitive level?
Probably the mid-80s to mid-2000s. I really feel like my consistency and skill level came together with my fitness and endurance level in the late 80s and 90s, but I feel like even when I went to the masters division, which was back and forth with the open division a few times, I could have gone either way division wise. After my peak years, I would try to make sure that I didn't turn over the disc and played angles on defense that would hopefully rule out a thrower wanting to throw to my guy. I just played open in 2013 and got to regionals, played Bravo and some other good teams. Overall, I felt pretty good.
Have you served in an official capacity as an officer, committee member, coordinator, or volunteer for USA Ultimate/UPA or other recognized ultimate or disc sports organization, or as a coach of a team? Describe role and dates served.
I was hired by Northfield Mt. Herman High School in 1985 to teach and coach ultimate. There, I taught ultimate gym classes and coached the varsity team. We lost to Stuyvesant in the high school finals in 1987.
Afterwards, I was hired by Cal Poly-SLO to teach ultimate classes in 1989. I also coached the Cal Poly ultimate team in 1989 and 1990. 
Have you made other contributions to the development of ultimate?
Director of the Denver/Boulder youth ultimate for 11 years. Our leagues went from strictly Denver with only 60 players to Denver and Boulder locations with over 200 players.
Coached YCC U-19 open for five years and coached U-16 boys in 2014. I manage the program with the leagues to be a launching pad for competitive players to tryout and travel to YCC.
I also teach Level I coaching workshops for USA Ultimate.
Why do you believe you are worthy of being inducted into the Ultimate Hall of Fame?
I was an impact player and played with and against the best (a lot of whom are in the HoF). I was lucky enough to play at a high level for a long period of time. I welcomed the sport of ultimate with all my heart and soul because it and the people involved welcomed me with all their heart and soul. I feel like I am a good ambassador of the sport and will always respectfully carry the memories and experiences I've had in the game.