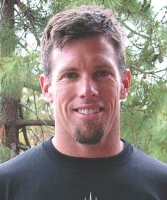 Greg Husak
Born: June 22, 1974 (Age 49)
U.S. National Championships
3x U.S. College Champion (1996, 1997, 1998)
3x U.S. Club Champion (2000, 2001, 2008)
4x U.S. Grandmasters Champion (2016, 2018, 2018, 2019)
1x U.S. College Runner Up (1999)
3x U.S. Club Runner Up (1998, 1999, 2003)
1x U.S. Masters Runner Up (2011)
World Championships
4x World Champion (2002, 2008, 2015, 2017)
2x World Runner Up (2004, 2004)
Greg "Hollywood" Husak was one of the influential leaders and dominant players that reestablished the legendary Santa Barbara Condors as the best team in the sport in the early 2000s. Greg instilled in his teammates the same focus and work ethic he brought to the field, driving them to greater success. Greg first announced his presence as an impact player in the sport while leading the California-Santa Barbara Black Tide to a "three-peat" as UPA National Champions in the college division from 1996-1998. Greg, as co-captain, helped the Condors reach the finals at UPA Nationals in the club open division five times during the six-year period from 1998-2003, which included back-to-back titles in 2000 and 2001, along with a WFDF World Championship in 2002. Playing primarily on the defensive line, Greg matched up against the other team's top threat. On the turn, Greg's cutting prowess made him a significant part of the offense and key goal scorer. Greg then took his talents north to San Francisco Jam. Adapting his leadership skills to a different team culture, Greg, again as co-captain, helped Jam finally get over the hump, winning UPA Nationals in the club open division in 2008. Greg earned a reputation as someone who played with integrity, led by example and left it all on the field.
Championship Tournaments
U.S. National Championships
World Championships
Year
Tournament
Team
Placement
1997
WUCC

Vancouver, BC, Canada

Condors

Club Men

5th
1999
WUCC

St. Andrews, Scotland

Condors

Club Men

3rd
2002
WUCC

Honolulu, Hawaii

Condors

Club Men

1st
2004
WUGC

Turku, Finland

Condors

Club Men

2nd
2004
WCBU

Figueira da Foz, Portugal

U.S. National Team

Club Men

2nd
2008
WUGC

Vancouver, BC, Canada

DoG

Masters Men

1st
2015
WCBU

Dubai, United Arab Emirates

U.S. Beach National Team
1st
2017
WCBU

Royan, France

U.S. Beach National Team

Grandmasters Men

1st
Interview
What position(s) (e.g., handler, deep cutter, middle middle) did you usually play?
I was primarily a defender, usually matching up with the other team's top threat, and I also patrolled the deep in the zone. But I certainly played plenty of offensive points and was mostly a cutter when in that role.
Please describe your major accomplishments - both as a teammate and individual.
I think the major accomplishments are the championships. I was fortunate to play with some great players, with guys who were very focused and driven, and willing to train, learn and sacrifice to win. Three college national championships, three club open national championships and a WUCC open championship put me in pretty rare company, and I think those are my major accomplishments. As an individual, I think I developed into a strong leader through my college years, mostly by watching the great leaders I had to learn from. This developed and improved over my career and was culminated by co-captaining Jam to the championship in 2008, which was a title many thought they/we could never win. I'm also very proud that, between WUCC 1999 in St. Andrews and nationals in 2002, the Condors made the finals of every tournament we attended.
Please explain why you stood out among the elite players of your time. What was it that you did best, or were known for?
I think I was known for making some big/flashy plays, but that was probably more of a self-fulfilling prophecy. People expected big plays, and so even some normal plays became bigger in people's eyes. It certainly helped that I got to play on the biggest stage for many years, getting many chances to have a good game under the bright lights. I was also no shrinking violet on the field, so I probably got more attention than some. Additionally, I think I pushed myself to always play with focus, effort and intensity, so even in less important games I made a point of trying to be at my best.
What role did you play on the best (or most overachieving team) that you played on?
It is hard to think of the teams I played on as "overachieving" because we typically had a lot of expectation, at least from within. On paper, though, the Condors team at 1997 worlds was one that stood out. We were a pretty scraggly crew, without much real experience, and probably over half our roster had never played at club nationals, much less been to worlds. We were only 15 guys and we took fifth place, losing only one game through the course of the tournament to Double Happiness, the eventual runner-up. On that team of many future Condors' standouts, I was a major defender and receiver, and I probably played about two-thirds of the points given the thin roster. Another team that overachieved was the 2003 Condors team. There had been some notable departures and injuries after the 2002 worlds year, and some of the young players that we brought on were struggling to find their place. However, on Saturday at nationals, in the elimination games with our back against the wall, we convincingly beat DoG and Jam to make the finals where we lost a close game to Furious George. That Saturday was a magical day for the team, and, as the captain of the team, I thought the players were prepared to perform their best when it mattered most.
What year was the peak of your career? During which years were you playing as the "stud" of your team? If you continued playing after your peak years, how did your role change? In what year did you stop playing at the top competitive level?
I think the 2004 WFDF World Championships in Turku may have been my peak. I spent that tournament covering the top players in other countries and I think held my own. Matched up with Tom Rogacki from Australia in the semifinalss and Jeff Cruikshank in the finals, I pitted my ability against two of the best. I think my "stud" years probably extended from 1999-2007. These were the years when I was seeking out the top opponent to cover and probably would have been on any "universe point" line we needed. In 2008, I was still a strong contributor to the Jam defense, but was no longer the top dog. However, I think my contributions as a co-captain and defensive leader were critical in us winning the title that year. I played for the Condors for three additional years (2013-2015) after previously giving up playing open ultimate in 2008. During these three years, I played primarily on offense, as I was 39-41 years old and could no longer chase people around like I could a decade earlier. These years were rewarding, but the team didn't achieve like I hoped we would. However, we did qualify for nationals in 2013 after an absence of a few years.
Have you served in an official capacity as an officer, committee member, coordinator, or volunteer for USA Ultimate/UPA or other recognized ultimate or disc sports organization, or as a coach of a team? Describe role and dates served.
I have been an advisor to UCSB's Black Tide for many years, meeting with captains and coaches to advise on the best path forward. I was the official coach for the 2010 season.
Have you made other contributions to the development of ultimate?
I have worked as an instructor in some local youth clinics. Also, when blogs were popular in the late 2000's, I helped write a blog with some other ex-Condors and also contributed pieces to "The Huddle" which were designed to share some of the expertise I had gained through my playing career.
Why do you believe you are worthy of being inducted into the Ultimate Hall of Fame?
I don't know that I am. Certainly, being one of the "stud" players on successful teams for a decade gave me visibility that other talented players didn't receive, and I'm thankful for that. I think the number of championships is certainly impressive, and being one of the main players for all those teams may help differentiate me from other great players. I played in the finals of college nationals in four of my five years of eligibility, and in the finals of open nationals in six of 11 years from 1998-2008. Even though those didn't all result in championships, they were successful seasons.