Class of 2016
Pat "Bagger" Lee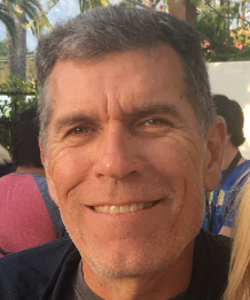 Pat "Bagger" Lee
Born: June 28, 1963 (Age 59)
For more than a decade, from the mid-1980s through mid-1990s, Pat "Bagger" Lee was regarded as one of the game's biggest playmakers. Offensively, he was always a deep threat with his superior speed, quick change of direction and big sky ability. On defense, he could shut down the opposing team's top offensive stud with his ridiculous closing speed. Combined with his field awareness, he was regarded as one of the best to ever play the position of zone deep deep.
Bagger's legacy in Texas ultimate is far-reaching and unprecedented. Beginning at the University of Texas, Bagger led his team to numerous appearances at College Nationals, including consecutive semifinals. Bagger's level of play raised the expectations of what was possible throughout the entire Austin ultimate community. Leading his Austin-based teams to four consecutive appearances at Club Nationals in the late '80s was no small feat. It put Austin on the Club Nationals map and laid the foundation of success for future Austin club teams. Bagger rounded out his open career playing with Chicago Windy City and San Diego Nice Guys. Always level-headed, Bagger earned the respect of the greatest players of his era with his spectacular play on the field.
Championship Tournaments
U.S. National Championships
Interview
What position(s) (e.g., handler, deep cutter, middle middle) did you usually play?
Please describe your major accomplishments - both as a teammate and individual?
Bagger was one of the top players in the world for many years starting in the late 80's and ending in the mid-90's.
Please explain why you stood out among the elite players of your time. What was it that you did best, or were known for?
Bagger was known for great defense and deep receiver, and he made spectacular plays in both regards.
What role did you play on the best (or most overachieving team) that you played on?
Bagger was always matched up on the other team's best offensive players.
What year was the peak of your career? During which years were you playing as the "stud" of your team? If you continued playing after your peak years, how did your role change? In what year did you stop playing at the top competitive level?
1988-1996 were his peak years when he was competing at College Nationals with Texas, and at Nationals with Windy City and Nice Guys. Bagger was the "stud" on any team he played with over his whole playing career, and he played in the open division long after most of his peers were playing in the masters division.
Why do you believe you are worthy of being inducted into the Ultimate Hall of Fame?
Bagger was one of the top players in the world for many years. He played the game at the highest level and earned the respect of his teammates and his opponents. One time he was asked how/why he played at such a high level in so many games and tournaments over the years. He replied, "I did not want to look bad or let down my team mates and team." He was a special competitor and really could not play ultimate at a casual or pick-up game level; he could only play full tilt.
Pat "Bagger" 's Teammates