Class of 2013
Christopher Van Holmes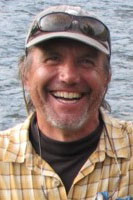 Christopher Van Holmes
Born: September 29, 1958 (Age 65)
U.S. National Championships
2x U.S. Club Champion (1983, 1986)
3x U.S. Masters Champion (1996, 2000, 2001)
1x U.S. College Runner Up (1978)
3x U.S. Club Runner Up (1987, 1995, 1997)
World Championships
2x World Champion (1997, 2002)
A tenacious defender, versatile thrower and aggressive cutter, Christopher (CVH) dominated the ultimate field for five decades. He played in his first Nationals finals with Cornell in 1978, and recently competed in the USAU 2012 Grand Masters Championships. In his prime, CVH played for Windy City in the 80's and Seattle Sockeye in the 90's, winning national championships in 1983 and 1986 with Chicago and a world championship in 1997 with Seattle. He earned three more rings with the Kegworkers in the masters division, two at Club Championships and one at Worlds. CVH was a go-to handler who loved to cover the opponent's toughest athletes. CVH's longevity, titles and multiple contributions as a youth coach, rules developer, observer and organizer uniquely distinguish him.
Contributions & Service
2005-2014:

Southwest High School Girls Coach - Minnesota State Champs in 2013
Championship Tournaments
U.S. National Championships
Interview
What position(s) (e.g., handler, deep cutter, middle) did you usually play?
I am 5'11″. I started my career as a receiver, chase in the zone, and man-defender at Cornell University. In 1979, I became the captain and main handler with Danny Weiss. I captained and coached Cornell through 1981 and was, with Danny, the best player on the team. I have played handler throughout my career on every team and also possess superior receiver skills. I was very fast in my youth with significant ups. I usually covered bigger players very effectively. I possessed the skills to shut down handlers and receivers. I have played significant time as an extremely effective middle-middle, side-middle and deep in zone defense. I consider myself one of the best chasers to ever play in a 2-3-2 zone. My positioning in zone offense is exceptional and my ability to find crippling passes past the cup is well known. My communication on and off the field is second to none. I have always been one of, if not the best player on my teams. I have consistently made big plays on offense and defense that have advanced my team and won championships. I pull, receive the pull, make the first cut, score, assist, get open at will and play stifling defense with ups, dives and tenacity. I have played with exceptional endurance throughout my career.
Please describe your major accomplishments - both as a teammate and individual?
Captained Cornell to the 1979 UPA Championships
Won the 1983 UPA championships with Windy City
Captained Windy City in 1986, winning the UPA Championships
Made the finals of the 1987 UPA Championships where I was instrumental in beating the Condors in pool play to avoid elimination, then Titanic in the semifinals to make the finals.
Coached Eckstein Middle School to a Seattle Juniors Spring League Championship 1998
Coached MN High School Ultimate League All-star Mixed team to second place finish in the inaugural Youth Club Championships in 2005
Won WUCC Open Championship in 1997 with Seattle Sockeye
Took second at the UPA Championships in 1995 with Sockeye as a Cinderella team
Won Boulder in 1990 with Windy City
Formed Kokopelli and captained it to a Potlatch championship in 1995 and third place in 1996
Inspired Kegworkers of America with halftime speech to come back from half time deficit to beat Pond Scum in the 2000 Masters Championships finals
Threw the winning goal to beat Old and In The Way in the 2001 Masters Championships finals
Co-authored the 10th edition and served for 11 years on the Standing Rules Committee (SRC).
Won the WUCC Masters Championship in 2002 with Kegworkers of America.
Played in a total of 18 UPA championships over four decades.
Twice was on the cover of the UPA newsletter.
Please explain why you stood out among the elite players of your time. What was it that you did best, or were known for?
I am not really aware of how other people saw me as a player. I do know teammates have always looked to me to make things happen. I have always felt I possessed a complete game. Wherever I went, I played the role of motivator, decision maker, handler, crucial defender and coach. At some point, I captained every major team I played with. I was always a premier defender and a successful risk taker on offense. I have always been in position to make the big plays, whether it is a hand-block, diving defense, crucial scoring cut, long huck or unstoppable handling move.
What role did you play on the best (or most overachieving team) that you played on?
The most over-achieving team I played on was Cornell's 1979 team. I was captain, coach leader, handler and defender on that team with Dan Weiss. I did everything on the team: coached, captained, ran substitutions, recruited, made uniforms, scored deep, threw goals, handled, played defense, motivated players and developed strategy. There were only four players left from the outstanding 1978 team, and most of the cream of the departing players, including Hall of Famer Jon Cohn joining Buzz Laughlin's BAD. We had gone from great to bad. We had no zone offense and never beat Columbia (with Maurice) during the season. Losing to Bucknell 13-1 at Easterns was a definite low-light. But we recruited basetballers, freestylers and disc golfers. We worked extremely hard on conditioning and fundamentals. Regionals that year was a modified double elimination tourney: we lost our first game and immediately entered the back door bracket. We were losing every game at halftime but managed to eke out win after win. We played Columbia after they had lost to BAD in the front door finals. In a tied game with four seconds left, Dan Weiss threw a tipped, bobbled and swatted pass for a goal after time expired. We then played BAD for the right to go to Nationals. Our team played with poise and, for us, very few errors. We caught BAD by surprise in the first half and led by five. Not to be denied, BAD relentlessly cut into our lead during the second half. But the clock was again our ally, and time expired while we retained a one point lead to win the Northeast Regional Championship and earn a spot at the first UPA championships.
The most dominating and best team I played on was the 1986 Windy City team. I was a coach, captain, leader, handler and defender. We had an intense training regime that extended from April through November. We dominated that year, trouncing every team we faced in our run to the open championship. Our innovative, non-stop offensive style and extremely large roster wore down opponents quickly. Our unique 1-3-2-1 zone gave teams a defensive look they were unprepared for. Our throwing skills were second to none and our emotional intensity was evident in the finals video of the championships that year.
What year was the peak of your career? During which years were you playing as the "stud" of your team? If you continued playing after your peak years, how did your role change? In what year did you stop playing at the top competitive level?
I divide my long career into three sections: Youth – before my knee injury, Mature – post knee injury open division and Masters – post open division play.
Youth: I joined Cornell's team in 1977 and was a dominant player for Cornell from the fall of 1978 to the fall of 1981. I was at the peak of my career in the fall of 1981. I was extremely well conditioned, running hills, distance, sprints and lifting weights. I was the best player on my team and one of the best players in the country. In September, I injured my left ACL, femur and lateral meniscus and took a full year of rehab before returning to competitive play with Windy City in the fall of 1982.
Mature: This encompasses my career with Windy City and Sockeye. I was a key player for Windy City from 1983-1990. I feel the peak of my play was from the fall of 1985 through the 1989 season. I was fast, strong, conditioned and motivated. Walter Payton was my role model. I played both ways as one of the best offenders and defenders. I had shed my knee brace (in part to avoid the nickname 'Squeaky') and recovered most of my youth speed. My endurance was exceptional. At Nationals in 1985, I single handedly stifled Titanic's offense, got the block and then, after trading two quick passes with Windy City standout Steve Whitehead, ran down and made a toedragging diving catch of his bullet forehand in the back of the end zone. This play crushed Titanic's spirit and guaranteed us a semifinal spot. I loved ultimate with my team during this period and it paid off with a dominating championship run in 1986. In 1989, on the DC mall, I ran down a Titanic handler from behind, dove over his shoulder and blocked the pass from settling into his arms, without any contact. After moving to Seattle in January of 1991, my role changed to a more offensive orientation. I played the handler, or the defensive player destined to handle on turnovers. I had lost some speed and conditioning, but I was still a top player for Sockeye through 1995. I was the main handler, ran subs and was a motivational leader during our 1995 Cinderella run at Nationals. In 1997, I was a very effective role player (handler) in Sockeye's offense. I came off the bench to provide consistent, effective and calm offensive play. This was my last year of open division championship participation spanning 20 years.
Masters: After moving to the Masters division, I moved back into the offensive/defensive role and was an instrumental player in all of Windy City's and KWA's masters championships. I retained my role as leader and motivator. I continue to play in the masters division with Minneapolis's Surly Ultimate and my role was commensurate with my reduced commitment level and aging body. I now focus on coaching Southwest High School in Minneapolis.
Have you served in an official capacity as an officer, committee member, coordinator, or volunteer for USA Ultimate/UPA or other recognized ultimate or disc sports organization, or as a coach of a team? Describe role and dates served.
Upstate NY Sectional Coordinator 1980
Central Region Coordinator 1988-1989
Standing Rules Committee member 1995-2006 Chairman 2000-2005; Co-author 10th edition
Coach Eckstein Middle School 1995-1999 League Champions 1998
Coach Women on the Verge 1996
Coach University of Washington Open 1999-2001
Head Observer UPA Open College Finals 1999
Instructor 2000 College Observer Clinic Stanford
Coach 2005 MN State High School Ultimate League All-Star Mixed Team for UPA's Youth Club Championship; finished second
Coach 2006 MN State High School Ultimate League All-Star Open Team for UPA's Youth Club Championship; finished sixth
Coach 2005-current Minneapolis Southwest High School
Has the candidate made other contributions to the development of ultimate?
I have written a short work available on the internet to help with my coaching efforts entitled Ultimate Essentials. It outlines some fundamentals of the game crucial for success as an individual player. It includes the first use of concepts such as power catching, using breakpoints for cutting and avoiding turnstile defense.
Why do you believe you are worthy of being inducted into the Ultimate Hall of Fame?
First of all, I have demonstrated the skills, resilience, athleticism, longevity, determination and effort required to be considered one of the best players of my time. I have consistently matched up against the best players on opposing teams and competed successfully against them. Second, I have won, and been in contention for, innumerable championships where I have played a leading role for all my teams' successes. Third, I have an unsurpassed longevity in the game, competing in four decades of UPA championships, consistently finishing at, or near, the top of my division. Fourth, I have demonstrated leadership above the level of most of my peers. Fifth, I have demonstrated and advanced the understanding of game fundamentals, team strategies, rules interpretations and observing principles. Sixth, I have extensive volunteer service with the UPA: one year as a Sectional Coordinator, two years as a Regional Coordinator, 11 years of membership on the Standing Rules Committee, and co-author of the 10th edition of the rules. Seventh, I have established a very successful coaching career in juniors', women's, open and mixed divisions, helping to further the sport and promote Spirit of the Game.