Class of 2011
Tom Heimann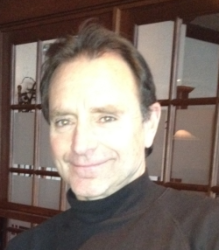 Tom Heimann
U.S. National Championships
1x U.S. Club Champion (1984)
1x U.S. Club Runner Up (1982)
Tom founded and was captain of the St. Louis Tunas from its infancy in 1980.  In just over two years Tom led the St. Louis team to the finals in the 1982 National Championships, defeating Glassboro and "The Gang" on the way.  In 1984, St. Louis captured the National Championship with a victory over Flying Circus in Santa Barbara.
Tom always played hard and took pride in his St. Louis team being the top conditioned team in the sport.  St. Louis made the finals in 22 of 23 tournaments during one incredible run and won 95% of all games played.
What separated Tom from other skilled handlers was his ability to also play defense during key games.   His amazing throwing skills required the best marking defenders every game and many times a platoon of defenders.  Great quickness and breakaway speed made this a daunting task for the best defenders of his generation as Tom scored often from the handler position.   It was not unusual for Tom to play over 80% of all points during the semis and finals while handling as much as 50% of the passes. He also takes pride in having gone one full year without dropping a pass.
Athleticism, world class disc skills and leadership while playing in the semis at Nationals in 5 of 7 consecutive years speaks volumes about Tom's winning program.  Having the respect of his fellow Ultimate players, his never failing dedication to the spirit of the game and sportsmanship even during the most hotly contested points, made Tom even more unique during his career.
Tim lives in Wildwood, MO with his wife Jolyen and two sons.
Contributions & Service
1982-1987:

Founded and captained the St. Louis Tunas - won over 95% of all games played and won an average of 7 tournaments per year

Worked with local high school players in the development of the St. Louis area teams

Worked with Corporate Sponsors and multiple media sources to get the sport the exposure it deserved. Local newspapers followed Summer League with full page reporting. Our Corporate Sponsor paid for uniforms, travel and some other expenses and also helped expose the sport through their marketing efforts.

High School All-American in Basketball

All Conference in High School Golf

Played 60 to 80 game schedule in St. Louis Men's Basketball from 1980 through 2004 leagues - comparable to Men's Division II
Championship Tournaments
U.S. National Championships
Interview
What position(s) (e.g., handler, deep cutter. middle middle) did you usually play?
As the primary handler for the St. Louis Tunas I was involved with all aspects of the offense and I had a similar role with Windy City for two years.
Describe your major accomplishments – both as a teammate and an individual player?
As Founder and Captain of St. Louis Tunas I was the primary handler for a team that won 95% of it's games and made the Finals of the 1982 National Championship with players averaging just over two years of experience, St. Louis changed the athleticism of the game. I secured Corporate Sponsorship and worked with media, including statewide cable TV exposure and weekly articles in local newspapers. At one point St. Louis made the finals in 22 of 23 tournaments. I consider my MAJOR ACCOMPLISHMENTS in Ultimate: Taking a team with little experience to the Finals of 1982 Nationals, Winning the National Championship in 1984, Playing in the Semi-finals of Nationals in 5 different years, Directing the St. Louis Tunas to the finals in 22 of 23 straight tournaments, Playing in the finals at Boulder 3 consecutive years and winning twice, Bringing College athletes into the sport, Securing Corporate Sponsorship and facilitating media exposure in large market including cable coverage of 24 team league and state championship.
Why did you stand out among the elite players of your time? What was it that you did best, or were known for?
I believe what separated me from other players was speed combined with quickness. My throwing skills were well known and my work ethic and conditioning were unmatched. We prided ourselves on having 5 or more players with 4.5 (40 speed) or better to run our offense, of which I was one. I also was known to keep my cool and spirit under pressure. And on a personal note, I went one full year without dropping a pass, including a Nationals and two Boulder 4th of July tournaments.
What was your role with the best (or most overachieving) team that you played on?
I was the main handler on the 1982 St. Louis Tunas that made the Finals at Nationals. Since some of our players had been playing less than 2 years that would have to be the most overachieving team I was involved with. As captain of this team with great athletes but lacking in some throwing skills, we beat Glassboro and The Gang in straight games under horrible playing conditions.
What year was the peak of your career? If you continued playing after your peak years, how did your role change? In what year did you stop playing at the top competitive level?
I guess the absolute peak would have to be 1984 since we won Nationals in Santa Barbara and I played every offensive point and more than half of all defensive points in the Final. Even after that "peak" year I continued to be the primary handler for the Tunas as I worked to foster new leadership with the younger players as I transitioned from all the duties of Captain. For 10 years I played at the top competitive level of the game with 3 different teams, as evidenced by going to Nationals with each of those three teams.
Why do you believe you are worthy of being inducted into the Ultimate Hall of Fame?
In addition to all previous points, I believe I changed how the sport was played as it related to bringing athletes in who then learned the game. I was always marked by the best defenders in the game, but rarely felt I was slowed down.