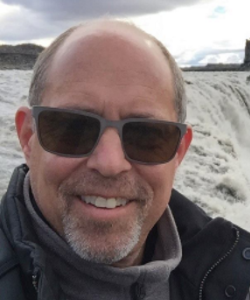 Paul Greff
Born: October 27, 1961 (Age 61)
U.S. National Championships
4x U.S. Club Champion (1996, 1997, 1998, 1999)
In the first half of his open career, during the 1980s, Paul excelled in relative obscurity on his Detroit-based teams, Coffee & Donuts and Night Train. Each year, their hopes for a Nationals bid from the Central Region were dashed by perennial title contenders the St. Louis Tunas and Chicago's Windy City. However, in the early '90s, Night Train finally broke through, allowing Paul to showcase his talents to a wider audience at Nationals. Whether throwing clutch goals as an unstoppable offensive force or making layout blocks while minimizing opponents' top players, his dominant play left opponents asking "Who is that guy?"
In 1996, Paul took his talents to Boston DoG, joining a formidable team at the outset of their extensive championship run. Arriving in his mid-30s with no prior championships, Paul might not have been impressive on paper, but he quickly became the difference for DoG. He cemented his place as the X-factor quickly, propelling them to four more consecutive national titles with his exceedingly reliable crunch-time performances. Paul was one of those rare athletes who, while approaching 40, continued to dominate his sport and lead the best team in the country to championships season after season. A two-way player throughout his career, Paul almost certainly had more touches on DoG during his four-year run than any other player. Paul excelled without flash; he just delivered with humility and steely determination. At his peak, Paul earned the moniker "TGPITG" (The Greatest Player in the Game). It was difficult to dispute.
Championship Tournaments
U.S. National Championships
Interview
What position(s) (e.g., handler, deep cutter, middle middle) did you usually play?
I played every position over the course of my career with regularity. I preferred playing defense, but I switched to offense the last couple of years I played. I also was very skilled at pulling for all the teams I played with until I retired.
Please describe your major accomplishments - both as a teammate and individual?
After winning the national championship with DoG in 1998 and being discussed as the MVP of the tournament, I was very proud to feel that at that moment in time I was the best player on the best team in the world. It was a very emotional moment.
As a teammate, I believe I pushed my fellow players in a positive way and successfully shared my years of experience with the younger players to help them work on both their physical and mental games.
My highest achievement is winning four of six consecutive national championships with DoG.
I'm proud of unifying all of the disparate teams in Michigan and some Ohioans in the 80's and early 90's into one team, Coffee & Donuts (then Night Train), to compete against two of the top teams in the country, St. Louis Tunas and Windy City. Only two teams from the Central region could qualify for nationals so it was difficult to put a team together to compete with them.
Please explain why you stood out among the elite players of your time. What was it that you did best, or were known for?
Consistency: I made very few unforced errors and completed many tournaments without dropping a disc or throwing a turnover.
Stamina: I probably played over 80 percent of the points for my Michigan teams and played both ways on DoG during the biggest games. I was never sidelined with an injury throughout my career. I attribute that to a disciplined conditioning regimen every year, as I played through injuries. In fact, I played the 2002 season with a torn meniscus when we lost in the semifinals to Furious George in what is considered one of the greatest games of all time.
All Around Player: For most of my career I was assigned to play defense on the opposing team's star player and shut him down, which I did. But I also was able to convert those turnovers into points by anchoring the defense's offense with handler/downfield cuts and consistent, error free throws. I was also called in to play offense when we needed a score, and I could play any role to complement my teammates. I had a 36″ vertical leap, so I went deep often and successfully.
What role did you play on the best (or most overachieving team) that you played on?
The Difference – My goal in every game and every tournament was to be "the difference" when it was needed late in the game to make the big play and propel our team to victory. One friend commented that I was frequently put in the game to stop the bleeding (on defense) and then I was put in the game to start the bleeding (on offense). I'm proud of having been mentally and physically tough enough to make a positive difference when it mattered late in games.
What year was the peak of your career? During which years were you playing as the "stud" of your team? If you continued playing after your peak years, how did your role change? In what year did you stop playing at the top competitive level?
I suppose 1998 was the peak of my career as I was considered the MVP of our fifth consecutive national championship. I played in 22 of the 32 points in the finals and threw a 56-yard huck to Jeremy Seeger upwind to take the lead at 15-14 and regain momentum. That was the difference in that final.
I was considered the stud of all the Michigan teams I played on from 1979-1993 and one of several studs on DoG.
As I played into my late 30s and early 40s, I had to rely more on being smart instead of just shutting down my opponents and out running and out skying them. I started playing the open level in 1979 at the age of 17 and stopped playing in 2003 at the age of 42.
Have you served in an official capacity as an officer, committee member, coordinator, or volunteer for USA Ultimate/UPA or other recognized ultimate or disc sports organization, or as a coach of a team? Describe role and dates served.
Coached Brute Squad 2005 and 2006, helping them become the number one women's team in Boston and reach the semifinalsat Nationals for the first time in their team history
Coached Ohio State Men's ultimate from 2009 to 2016
Why do you believe you are worthy of being inducted into the Ultimate Hall of Fame?
From the day I played my first point in college, I was convinced that I was born to play the game of ultimate. It suited me physically and mentally. I fell in love with the game and the culture. I vividly remember chasing down my first huck on the quad at Kalamazoo College. I can still see the disc spinning as I ran it down, laid out with outstretched arm only to have it bonk off my hand and fall to the ground harmlessly. My first layout was a drop, but I was hooked from that point on. I trained and played at the highest level for 24 years afterwards and contributed to multiple national and world championship teams. Throughout my career, I carried teams deep into tournaments by playing the majority of points in games, making layout blocks, throwing clutch goals and minimizing the opponents' best players to give our teams a chance. Admittedly, on DoG there were so many great players that I simply had to do my job as well as I could. That allowed me to focus my efforts and stamina where it counted since I was in my late 30's/early 40's. However, I continued to be a consistent, error free and impactful player until my retirement.