Class of 2010
Jeremy Seeger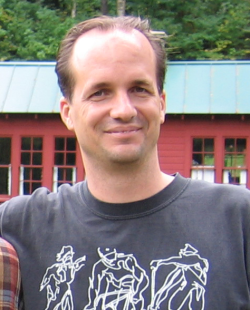 Jeremy Seeger
Born: April 3, 1963 (Age 60)
U.S. National Championships
5x U.S. Club Champion (1994, 1997, 1998, 1999, 2007)
1x U.S. Masters Champion (1995)
Jeremy Seeger is arguably the best and most well-rounded player of his generation. His play propelled him to MVP status on all the teams he played for. At Bronx High School of Science, his teams won the East Coast Championships every year they competed (1977-81). At the University of Massachusetts, he led the team to semifinals and finals of the College National Championships. On the Club circuit, he dominated on both offense and defense and was always on the field when the game was on the line.  Titles include four National Championship with DoG in '94 and '97 to '99, two Masters Championships with Squash in '95 and DoG in 2007, plus a Worlds Open title in '96 with DoG.

Tall, fast, and great hands were all part of Seeger's playing package. Unlike others, he could and did play every position. On defense, Seeger covered his opponent's most dangerous threats. On the turnover, he was the go to handler, getting every third or fourth pass and was described by opponents as uncoverable. And for good measure, the man was tireless.

Later in his career, Seeger added team leadership to his repertoire. Not being satisfied with depending on talent, he brought new levels of strategy to all aspects of the game, helping to make DoG the dominant team of the 90's.

Seeger lives in Belmont, Mass., with his wife Kim, also a national caliber Ultimate player, and their two children.
Contributions & Service
One of the player coaches for Big Brother and Commonwealth Ultimate for several years

Coach: UMass, Bronx Science
Championship Tournaments
U.S. National Championships
Interview
What position(s) (e.g., handler, deep cutter, middle middle) did you usually play?
In my youth, I played all the time: hoarding the disc on offense, and trying to shut down one of our opponent's better offensive players on D.  During most of DoG's championship years, there were too many disc-needy players on offense so I switched to defense where players were less selfish.  Occasionally, when the offense wasn't getting it done or the offensive team remembered I was a better disc-hog then their exalted selves, I would play offense as well.
Please describe your major accomplishments - both as a teammate and individual?
I played an important role forming the team, on the field, and strategically with the Titanic/Commonwealth/Big Brother/DoG dynasty.  At UMASS, I led an effort securing recognition of the team as an official sport and gaining funding from the school.
I was able to be a fierce competitor while respecting the spirit of the game and my opponents.
Please explain why you stood out among the elite players of your time. What was it that you did best, or were known for?
As an all-around player: big-time receiver, ability to sky and lay out for the disc, great defender, excellent throwing skills with ability to throw the backhand deep.
What role did you play on the best (or most overachieving team) that you played on?
See Personal Performance section
What year was the peak of your career? During which years were you playing as the "stud" of your team? If you continued playing after your peak years, how did your role change? In what year did you stop playing at the top competitive level?
I was one of the main guys my entire career.  Toward the latter part of my career (mostly 2002-2007), I did not play as many points so I was fresh and uninjured at the end of the tournament.
Why do you believe you are worthy of being inducted into the Ultimate Hall of Fame?
Mostly, because of my play but also for the leadership contributions that helped keep all of the teams I played with competitive at the highest levels of that teams division.