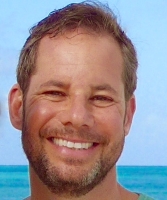 Dave Blau
Born: February 15, 1964 (Age 59)
U.S. National Championships
6x U.S. Club Champion (1987, 1989, 1990, 1991, 1992, 1993)
2x U.S. Masters Champion (1995, 1998)
World Championships
4x World Champion (1988, 1990, 1991, 1993)
Dave Blau was an unstoppable two-way force during the dominant New York dynasty of the 1980s and 1990s. A go-to cutter on their vaunted four-man pull play, he was the stalwart thrower and tenacious receiver that enabled New York, New York (N.Y., N.Y.) offenses to dominate all comers. At 6'2″, David was unusually agile, deceptively speedy and freakishly springy, outrunning and out-jumping the best players in the game, against whom he was always matched. David was pivotal in leading N.Y., N.Y. to six U.S. national championships and four world championships.
David's calling card was a huge underneath cut back to the disc for 30-40 yards. Great defenders knew it was coming, and no one effectively stopped it. Anywhere near the end zone, David found the disc in his hands near a cone, his favorite place to score. Yet his defense was just as impactful – New York would rely on Blau to shut down the best cutters in the biggest games, and he obliged. Stop after stop, block after block, he brought physicality and desire to every assignment. Opponents learned to fear his presence, yet their respect for him as a sportsman wh obrought his best never wavered. Though casual observers might have paid more attention to Dobyns' flair or Warsen's explosiveness, opponents and teammates agree that Dave was as impactful and influential as anyone on his star-studded N.Y., N.Y. squad.
Championship Tournaments
U.S. National Championships
Interview
What position(s) (e.g., handler, deep cutter, middle middle) did you usually play?
I played middle and deep on offense. I also covered handlers, mostly at nationals.
Please describe your major accomplishments - both as a teammate and individual?
My performances in the semis and finals of Nationals between 89-93 are my major accomplishments as a player and teammate.  I consistently got open for big yards against key defenders and executed throws within our offensive scheme.  Personal highlights of mine were the 2 point grab to save/win Cuervo, my performance on offense and defense in the 1992 nationals final against Boston and, in what is likely a game that only I remember, my play against Tsunami in 1989 pool play. I remember Tsunami rotating Kerry, Marty, Rick and others against me that game, but I kept scoring goals.  I used to have the video, but I lent it to Cribber and never saw it again. I'm also proud of the youth coaching I did starting with elementary age kids and staying with them through high school. Five of my players went on to play college ultimate, and are now playing at the club level.
Please explain why you stood out among the elite players of your time. What was it that you did best, or were known for?
I was a deep threat, a cut back threat and a threat with the disc in my hands.  Even the best defenders would have to pick one way to stop and give up the other. I was a very easy person to throw to, as I was big, quick and very sure-handed.  I inspired confidence in my throwers because, with my combination of speed, size, quickness and jumping ability, defenders couldn't get around me for blocks or out-jump me for the disc. I had a major role for seven years on the best offense in the sport, and I could be relied upon to perform, regardless of the moment.
What role did you play on the best (or most overachieving team) that you played on?
I called most of our offensive plays. My goal was to read who was "ready" and keep everyone involved.  New York (N.Y.) had a lot of strong personalities, but, due to my ability to see both sides of disagreements and communicate with my teammates, I felt I did a lot to keep the team moving together as a unit. I contributed to all facets of our strategy, both on offense and defense. My role was to get open for as many yards as possible, and then throw to the open man, wherever he was. This was key for our offense, and I expected myself to go through entire weekends performing this role error-free. Towards the end of tournaments, I would get greedy and play man defense, often with good results, particularly when covering handlers. But, N.Y. had many great players that deserved playing time, so I didn't do this often. I did anchor our zone defense on most occasions, and my presence at the deep allowed the short deep and, in turn, the middle line to move up and pressure.
What year was the peak of your career? During which years were you playing as the "stud" of your team? If you continued playing after your peak years, how did your role change? In what year did you stop playing at the top competitive level?
My peak years were 1987-1993. I played and won the Masters Championships in 95 and 98, and my role on these teams was similar to earlier days, with the exception of more handling (relying on smarts and cutting rather than speed and power).  I played open again in 98, and my role was more strategic and handler-oriented.
Have you served in an official capacity as an officer, committee member, coordinator, or volunteer for USA Ultimate/UPA or other recognized ultimate or disc sports organization, or as a coach of a team? Describe role and dates served.
I coached at the elementary, junior high, and high school level.  I also ran a two-week program in a local summer camp for five consecutive summers.
Have you made other contributions to the development of ultimate?
I spent three years and counting producing the documentary Flatball, A History of Ultimate. When Dennis approached me with this project, my feeling was that our great sport had come 45+ years, and someone needed to put some of our collective history into a film that we all could enjoy and learn from. So, I agreed to put my time and energy into making this a reality. Also, Dennis is my teammate, and I'd do anything I could to help him and any other teammate. I also support Ultimate related causes such as UP.
Why do you believe you are worthy of being inducted into the Ultimate Hall of Fame?
I was a founder and core player on a six-time National Championship team.  I was one of very few big, athletic players with an all-around game, capable of providing value to my team in many ways. I valued the self-officiated aspect of Ultimate, and treated opponents and teammates fairly. I was the James Worthy of New York Ultimate.  Also, I can palm a disc.  No one else in the HoF can do that.