Class of 2011
Kenneth Dobyns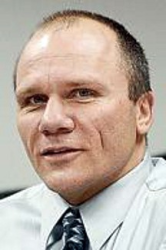 Kenneth Dobyns
U.S. National Championships
7x U.S. Club Champion (1987, 1989, 1990, 1991, 1992, 1993, 1999)
1x U.S. Club Runner Up (1985)
World Championships
5x World Champion (1988, 1990, 1991, 1993, 2000)
Kenny Dobyns has been called the most intense competitor to ever play the game, a force of nature, and a living legend. During a twenty year career that spanned the 80s and 90s, Dobyns displayed an indomitable will to win, as well as, a penchant for making spectacular plays seem routine. As the soul of the NYNY dynasty, he helped lead the team to six National and four World championships, displaying a singular ability to step up when the game was on the line. But he was more than a physical marvel.
Dobyns had brains as well as brawn. He was an innovator in ultimate strategy and tactics, incorporating a system of structured, set-play offenses, complicated, switching defenses, and a serious training regimen that made NYNY nearly unbeatable during their reign atop the sport. He was a dedicated leader, inspiring teammates and opponents alike with his passionate intensity and willingness to sacrifice his body in order to make a play.
While the ferocity of Dobyns' competitive spirit has prompted some to question his commitment to the Spirit of the Game, he earned the respect of those who played against him at the highest levels of competition by playing hard, fair, and with tremendous heart. As one long-time rival put it, Kenny never gave up. Not on a play. Not in a game.
Dobyns lives now in Pawling, NY, still finds the time to play summer league, and is currently working to grow youth involvement in ultimate through a new organization, DiscNY. 
His notable accomplishments include:
"The Greatest" / "The Stupidest"
Voted Most Likely to be Arrested his senior year of high school
Can open a beer bottle with his teeth
Once stole a complete fire hydrant off a NYC street and carried it home
Contributions & Service
Mid 1990s:

UPA NE Regional Coordinator

Mid 1990s:

Director of Westchester Ultimate Disc Inc.

1989-1990:

Coach, SUNY Purchase College

1998:

Guest Speaker, HS Nationals

1999:

Guest Speaker, College Nationals

1999:

Coach, Jordan High School
Championship Tournaments
U.S. National Championships
Interview
What position(s) (e.g., handler, deep cutter. middle middle) did you usually play?
I played every position on the field on both offense and defense. Most often I played middle middle in zone D, popper in zone O, designated poach block getter in man D, and short, fat guy with ups in man O.
Describe your major accomplishments – both as a teammate and an individual player?
In 1986 (?) playing against Titanic at Amherst I was covering Timba about mid-field. I got flat about chest high on a swing pass that I still can't believe I didn't block. He launched a backhand to Jeremy, which I made a layout craw on in the back of the end zone.
In 1991, Worlds in Toronto, I missed the first four days for work, during which we lost in pool play and the team started melting down. First game of the following day I called a timeout maybe four points in. Ripped the team pretty badly for everything from the credit crunch to the dot-com bubble (you get the point). We rolled the rest of the way.
At 1988 Worlds in the semifinals against Sweden, we were down 16-14 in a game to 17. We scored the last 4 to win, but the one I remember most was at 16-15 when Sweden received the pull to win. They marched upfield patiently against our zone right up until the point when some short, fat kid playing middle middle made the layout block that saved America.
1997 WUCC Worlds in Vancouver – Randall's Island against Saucy Jack in the 7-8 game. On game point we call a 3 man play with EO throwing the huge hammer to me for the game winner, after which I continue running with the game disc directly into the beer garden and trade the game disc for a beer. Take that, T.O.
1984 Santa Cruz World Flying Disc Championship Quarterfinals (Third Person Alert): NE7 against Flying Circus. A Mike Nevins forehand intended for Dobyns in the end zone sails out of bounds. Moving to his left, Dobyns lays out, out of bounds, catches the pass right handed thumb on top and, while still airborne, flips it backwards, upside down, over his left shoulder, blind, to Pat King for the goal. The Greatest Play in The History of the Game (later shortened to "The Greatest") might have been known as "The Dobyns" but for the fact that in the tournament write-up published in the newsletter the play was attributed to Kenny Robbins. **little known trivia: The night before the game, a bout of food poisoning had me in a bathroom stall at the UCSC gymnasium all night vomiting. The following morning, sensing my disquiet, Circus' Peter Martin gave me a dried plum to eat before the game. It is the only dried plum I have ever eaten. Hmmm.
1998 Nationals – Pool Play – Red Tide against World Champion Furious George: As part of an astonishing second half comeback in a howling upwind/downwind game, I caught a cross field hammer from Ben Usadi about mid-field against the Angry Monkeys' zone, then hit Tom Brady with a forehand in the back of the upwind end zone for what became the last and deciding upwind goal. To my mind it is the best throw I have ever made.
NE Fall Regionals 1986 – Winners Final – Titanic/KABOOM! In my first major tournament appearance since my ACL reconstruction in November of the previous year, I have the good fortune to find myself in the right place at the right time for 6 layout blocks during the game.
Some obscure tournament with Roland and the Fish in the Spring of 1981, we beat a team 13-11. Eleven of our goals were thrown by my brother to me.
1999 Nationals – Mixed – Championship Game – Raleigh Llama v. Red Fish/Blue Fish.  During the first half a meniscus tear that had been bothering me all season finally got stuck in the joint, locking my knee up. Relegated to the sidelines, I watched us go down by several goals, all the while listening to Mike G (whose wife Amy was on our team) ranting about how much we sucked. At halftime I tell him to go away or shut the hell up, and spend the rest of the game rallying the team from the sidelines and in the huddle, always speaking of "when we come back and win" or "when we win the game." For all the times with NY when tough leadership was the order of the day, I knew that could not work for the Llama. The deficit continued, but we stayed positive. Amy Beatty was knocked unconscious, and carted off in an ambulance with Tully, but we stayed positive. We won the game. I played three points, but it was one of the most satisfying victories of my career.
Tempe New Year's Fest, mid 90s – Gewirtz has moved out to Seattle, we throw together a small team that's half NY, half Seattle, and win the tourney. Afterwards the Seattle guys remarked that what struck them was that from the very first huddle we (the NY guys) simply exuded the confidence that we would win the tournament. What they learned that weekend probably had a lot to do with sowing the seeds of what's been happening there ever since.
Potlach with Bullseye, the first World Games team. Finals against the Canadians. Cut back for Fortch with Lugsdin on me and he throws it. We both lay out, I make the catch, and he lands on me (and he's a pretty big fella). Without even pausing, I get up and throw the forehand to Biscuit for the goal. After the play, Fortch's comment was, "I knew you weren't going to let him beat you to it." That, to me, was always the most important contract on the field, the one between receiver and thrower.
Fall 1993 NE Regionals. Recovering from plantar fascitis, I sit out the final and watch Boston thrash us by 7. I play in the re-match in the Semis at Nationals and we return the favor, also by 7. One guy = 14 point swing. How's that for not being modest?
Why did you stand out among the elite players of your time? What was it that you did best, or were known for?
Hating to lose, having no respect for my body, bleeding, making the people I played with better, focus, intensity, the will to win, making friends & influencing people, outjumping taller players, catching goals, playing big in big games, playing hard in all games, taking shit from no one, having the guts to try crazy throws at important times, having the skill (and receivers) to complete crazy throws at important times, never giving up, never letting up, having a massive ego, inspiring fear and dread in teammates and opponents alike, exasperating my brother, and embarrassing my mom.
What was your role with the best (or most overachieving) team that you played on?
Clearly these are two different questions. The best team I ever played on was New York, and the role I played on New York was primarily one of leadership. By that I mean, besides making plays, what I did by playing hard and practicing hard and demanding the most of myself all the time was set the standard for a higher level of commitment, so that when I demanded that same level from the other players on the team they had no choice but to comply. That's why we beat so many teams by so many points. We weren't playing against them or the scoreboard; we were playing against our own expectation of perfection.
The most overachieving team I played on was probably Red Tide. By then I was probably past my prime, but my role was still one of leadership. Tide was a team with talent, but they had struggled for years with the essential conundrum of success: In order to win you have to believe you'll win, but how do you believe when you've never won? By being on the team, speaking in the huddles, chatting between games, by simply being present, I gave them a reason to believe that victory could be theirs.
What year was the peak of your career? If you continued playing after your peak years, how did your role change? In what year did you stop playing at the top competitive level?
I'm not sure how to answer this question. I don't know if there was a "peak." That's the whole point. In everything I do or have ever done in my life I always expect to be successful and I give everything I have to achieve that goal. I was almost certainly delusional, but over the course of twenty years I can't think of any time when I wasn't absolutely certain I could get the better of any person who lined up across from me. The latter part of the question does not, in my mind, have anything to do with ability. Long before my abilities faded dramatically I lost the will to compete at the highest level. If there's anything I learned playing on KABOOM!, it's that will beats skill much of the time. Without that will, you become an also ran, no matter how good you are.
My last competitive tournament was Potlach. I made a cut back to the corner of the end zone, and Rhett Russ ran by me for the block. I knew then I was done.
Why do you believe you are worthy of being inducted into the Ultimate Hall of Fame?
I don't remember saying I do believe it. You contacted me. Remember?