Class of 2015
Billy Rodriguez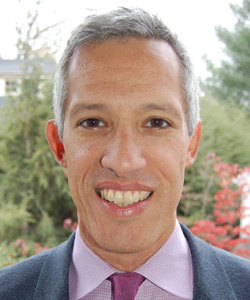 Billy Rodriguez
Born: December 28, 1964 (Age 58)
U.S. National Championships
10x U.S. Club Champion (1989, 1990, 1991, 1992, 1994, 1995, 1996, 1997, 1998, 1999)
World Championships
5x World Champion (1990, 1991, 1996, 1999, 2000)
3x World Runner Up (1995, 2001, 2002)
As the only man who starred on two of the biggest dynasties in the history of open ultimate, NY, NY and Boston's Death or Glory, Billy Rodriguez's legacy and achievements are unparalleled: 10 national championships, four in a row with New York and six in a row with Death or Glory. Along the way, he also notched five WFDF World Championships titles. Always surrounded by superstars, Billy was never the center of attention, yet thrived in his supporting role of stifling defense and transition offense. Billy exemplified quiet greatness. He wasn't loud or brash, just simply superb. His man-to-man defense was both physical and intellectual. As an athlete, Billy covered the best players in the biggest moments. As a cerebral player, Billy outsmarted dominant throwers, cutting off angles, baiting them into blocks and masterfully guiding offensive flow into dangerous defensive traps. He showcased this unusual talent as a wing on zone D, proving he was one of the best at that position to ever play the game. His transition offense was impeccable; he was a high percentage thrower and playmaking cutter under pressure, and he took charge when needed with focus and fitness. In addition to Billy's great competitive success, he was also one of the most respected and admired on and off the field. Billy was a humble, selfless and gracious sportsman, supremely gifted at making everyone around him better by bringing the highest standard of excellence practice after practice, game after game, year after year.
Contributions & Service
1999-2001:

Served on the Competition Committee for WFDF

2001:

Captain of the first US World Games team in Japan, and represented (at the time UPA) in the planning process

2002-2004:

Coach: MIT Women (2nd, 5th, 7th place finishes)

2007-2008:

Coach: Lady Godiva

2010-2012:

Coach: Brute Squad (2nd, quarterfinals finishes)
Championship Tournaments
U.S. National Championships
Interview
What position(s) (e.g., handler, deep cutter, middle-middle) did you usually play?
It varied over the course of my career, but I was primarily a middle cutter on Elvis from Hell, a deep cutter on New York and a deep and middle cutter on DoG. I was also a go to cutter on offense for DoG whenever our starting O struggled. On defense, I played everywhere and covered everyone.
Describe your major accomplishments – both as a teammate and an individual player?
As both an individual and a teammate, my major accomplishments were going 80-0 in my first 80 games at nationals, winning 10 national championships and going 10-0 in the finals. We also won five world championships in that run. Probably the hardest task, and most significant team accomplishment, was the "double championships" in 1990, 1991 and 1996—peaking twice to win worlds in the summer and nationals in the fall. 1996 was probably an unprecedented year—we won both the world championship and the Spirit of the Game award (I believe the only time a U.S. Men's National Team has ever won it at worlds), and came back three months later to win nationals when all the other men's teams were healthy and rested. As a teammate, my most significant accomplishment was to "fill-in-the-blanks" — doing whatever needed to be done to give my team the best chance to win, playing all out all the time and never having an off day. On the leadership side, my major accomplishment was probably moving from New York to our (hated) arch-rival, Boston, and being named acCaptain in my second year there. More broadly, I brought structure to defensive strategy to both New York and Boston, implementing defensive fundamentals and a man-to-man defensive philosophy that is now widely taught throughout the sport. I also brought defined zone positioning, the 'Clam' defense and similar match-up zones, and raised our defensive strategy to a higher level.
Why did you stand out among the elite players of your time? What was it that you did best, or were known for?
I was considered the best defensive player in the game, or at least in the top two or three, for about 10-12 years, into my late 30s. I was known for a physical and relentless style of man defense that never crossed a line, but consistently took the top players off their game. I was counted on to cover the other team's best player, whether they were a handler with big throws, a middle cutter with elite quickness or a 6'7″ deep threat. Even while covering the best players, I generated lay out blocks and key defensive turnovers at critical moments in big games. In addition, I played both deep and wing positions in zones and match-up zones, and I was known for shutting down large areas of the field and generating off-man blocks. On offense, I was also known for fast break goals, scripted deep cuts off pull plays for goals and as a go-to cutter for goal scoring cuts in the end zone. I was known for elite speed on both D and O that made me a tough match-up. I also played better the later the game went and the higher the stakes were, especially when the game was on the line. My Boston teammates know me for never letting up and getting everyone to believe we were going to play our best when the stakes were highest and come out on top.
What role did you play on the best (or most overachieving team) that you played on?
The New York teams were some of the best men's teams of all time, but they were hardly overachieving. I was a defensive starter and counted on to cover the biggest downfield threat in every game. On Boston, we had a few overachieving years—we didn't always have the best talent in the country, but we kept winning. My role was defensive captain and shut-down defender, as well as primary cutter on the transition O and catalyst to the starting O when the top two cutters were struggling. Our most overachieving year was at 1999 Worlds, where we took a depleted squad without seven of our top players and managed to hold off everyone else and come away with the championship despite a roster packed with young players who had never competed at worlds before. I was the captain of that squad, and I was on the field for every D point and about 50 percent of the O points throughout the quarters, semifinals and finals.
What year was the peak of your career? During which years were you playing as the "stud" of your team? If you continued playing after your peak years, how did your role change? In what year did you stop playing at the top competitive level?
It's hard to say when I peaked; I rode a high-level wave individually and as a teammate from 1989-2000. My best seasons were probably when I was the healthiest in 1989, 1991, 1995, 1996 and 1999, as I played a few other seasons with herniated discs in my back and a torn rotator cuff. I guess 1996 was the peak, although I was playing as a defensive stud for New York from 1989 on. I think the accomplishment I am proud of was continuing to play elite defense through 2006, my last year competing at an elite level. I was 41 at the time but still starting on D, covering the best players in the game and generating turnovers.
Why do you believe you are worthy of being inducted into the Ultimate Hall of Fame?
I believe I was one of the best, and perhaps the best, defensive players in the history of the sport, and perhaps proved the adage that offense wins glory and defense wins championships. I probably hold some records that will be broken some day, but maybe not for a long time — 10 open national championships and an 80-game winning streak at nationals. As an individual, my most impressive stats are my goal-to-turnover ratio at nationals — I think I scored more than 120 goals with about 25 turnovers in 17 years of nationals' competition. Less heralded, but equally worthy, was my role in establishing the fundamental principles of defense and changing defensive strategy for elite teams—essentially, almost every elite team began to adopt DoG's strategies after we rolled them out. Lastly, and perhaps most importantly, while I was a tough, intense competitor, I was a fierce adherent to the Spirit of the Game, and I believe had wide respect from teammates and opponents alike throughout the country for fair, spirited play over a 24-year playing career.