Class of 2012
Dennis "Cribber" Warsen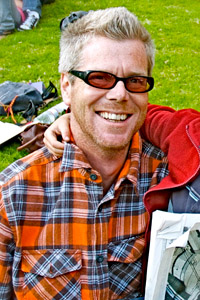 Dennis "Cribber" Warsen
U.S. National Championships
6x U.S. Club Champion (1987, 1989, 1990, 1991, 1992, 1993)
1x U.S. Club Runner Up (2001)
World Championships
6x World Champion (1988, 1990, 1991, 1993, 1994, 2000)
2x World Runner Up (1997, 1999)
Many consider Cribber the best player ever on the best team ever. A lanky lefty 6'5″ speedster, he was a key contributor to powerhouse NYNY's unprecedented six national and five world championships.
Known as a hard-nosed defender who laid out his long body for blocks with the agility of a gymnast, he struck fear in the hearts of opponents by going deep and scoring at will after a defensive block. Early in his career, he intimidated opponents by pulling down hanging throws that were sitting at 11 feet. Later, he added outrageous throws to his arsenal, including 60-yard hammers, 20-yard scoobers and looping forehand hucks from anywhere on the field. He ended his career in California playing with Double Happiness and Jam, leading those teams to finals' appearances at Club Championships and Worlds.
Championship Tournaments
U.S. National Championships
World Championships
Year
Tournament
Team
Placement
1988
WUGC

Leuven, Belgium

New York New York

Club Men

1st
1990
WUGC

Oslo, Norway

New York New York

Club Men

1st
1991
WUCC

Toronto, ON

New York New York

Club Men

1st
1993
WUCC

Madison, Wisconsin

New York New York

Club Men

1st
1994
WUGC

Colchester, UK

New York New York

Club Men

1st
1995
WUCC

Millfield, UK

Cojones

Club Men

3rd
1997
WUCC

Vancouver, BC, Canada

Double Happiness

Club Men

2nd
1999
WUCC

St. Andrews, Scotland

Condors

Club Men

2nd
2000
WUGC

Heilbronn, Germany

Raleigh Llama

Club Mixed

1st
2002
WUCC

Honolulu, Hawaii

Jam

Club Men

5th
Interview
What position(s) (e.g., handler, deep cutter, middle middle) did you usually play?
I was a deep threat throughout my career, both on offense and defense. Eventually, I also became an explosive deep throwing weapon.
Please describe your major accomplishments - both as a teammate and individual.
I was an integral member of the greatest ultimate team of all time (in my opinion), New York, during their entire run. I led my college team to three College Nationals appearances, the only three they've ever been to. Also, my six world championship gold medals are the most in history and most likely will never be duplicated.
Please explain why you stood out among the elite players of your time. What was it that you did best, or were known for?
For most of my career, I was considered the best deep player in the world. Teams would use their biggest, fastest players on me consistently, but to no avail. If you played me honest, I would scorch you deep. If you backed me to prevent that, I'd come underneath (bowling alley) for the first 25 yards then drop a 60-yard hammer to Dobyns going away (double eraser 'not') for the goal. We couldn't be stopped; I couldn't be stopped. I absolutely have to give credit to my New York teammates for writing amazing plays and defensive schemes that put me in a position to shine. From there I never stopped wanting it so bad. Every single moment of each season I wanted it more than anyone else. I always had the physical attributes to back it up. There was a stretch from 1990 to 1991 where New York went over a year without losing a single game, and I played just about every single point. This stretch included all the major tournaments, Nationals, Easterns, Boulder, Tempe, West Palm Beach and Worlds in Norway. I really believe that we helped grow and popularize the sport by a). being so amazingly good and b). by simply going to all these big events around the world and giving people a chance to see what hard work and a sophisticated game plan could accomplish.
What role did you play on the best (or most overachieving) team that you played on?
In the beginning of my career with New York, I was a deep defensive stopper, covering the likes of future hall of famers Moons and Jeremy in Boston and Giampino and O'Dowd from Chicago. After a turnover, it was off to the races. Turnovers followed by a quick huck and sky for the D goal were particularly demoralizing for opponents. Once a lead was built, I would switch over to offense and keep applying the pressure, alternating between the easy underneath yards and the spectacular end zone skys and layouts. If the game was close, I would keep playing defense and would often cover the opposing team's best players. Ultimately, I could do anything needed offensively or defensively at the highest levels.
What year was the peak of your career? During which years were you playing as the "stud" of your team? If you continued playing after your peak years, how did your role change? In what year did you stop playing at the top competitive level?
By 1989, I had emerged as one of New York's top players both offensively and defensively – playing more points per game than anyone else on the team. In the 1993 World Championship final, New York beat Double Happiness by a large margin and I was responsible for four thrown goals, five caught goals and two or three defensive blocks. The next year, in the 1994 World Championship final, I contributed on 13 of our team's points with seven caught and six thrown goals. During the final years of my career, I still maintained the ability to play at the highest levels; I captained the 1997 Double Happiness team to the finals of Worlds and help Jam advance to the finals of Club Nationals in 2001. Injuries and age had robbed me of a step or two, but by the 2002 Worlds in Hawaii, again with Jam in the open division, I was earning both offensive and defensive playing time and was still considered one of the top deep players in the sport. I may have been wrong, but in my final game at that tournament, I still felt like I was the best player on the field, and I was upset we didn't win the whole thing.
Have you made other contributions to the development of ultimate?
In 1986, freshly hooked on ultimate but with no one to play with in my hometown, I taught a group of men and women to play and started a weekly pickup game in Southampton. They still play summer Friday nights in Easthampton, NY under the tutelage of Sas Peters. Last year, I was out there playing for the first time with my nine-year-old son. I cried. Also, in the late 80's while still in college, I hooked up with Mark Dana, who wrote a book about ultimate back in the day, and taught kids to play in New York area high schools.
Why do you believe you are worthy of being inducted into the Ultimate Hall of Fame?
The Ultimate Hall of Fame tells a story. You can't tell that story without Jon Cohn, Steve Mooney, Kathy Pufahl or Ann Cohan. I made have rode the coattails of King, Weiss and Dobyns for a while, but I was also fortunate enough to leave my own mark on our sport. When Pat King told me in 1989 that he and the rest of the New York team were just "tinsel and ornaments" on my tree, I never forgot it and tried to live up to that my entire career. I have admired and respected those who came before me and tried my hardest to play with Spirit of the Game, as I cared deeply about what my peers thought. Although inadvertent questionable calls may have happened, I played fair throughout my career and retained the respect of my opponents. During my 16-year career, often broke or with little money, I still managed to travel to 25 national and world championships on three continents, and 12 times I came away with a gold medal. I believe that the Ultimate Hall of Fame is not a list of players, but a story of our beautiful game, and I would be honored to be a part of that story.
Dennis "Cribber" 's Teammates