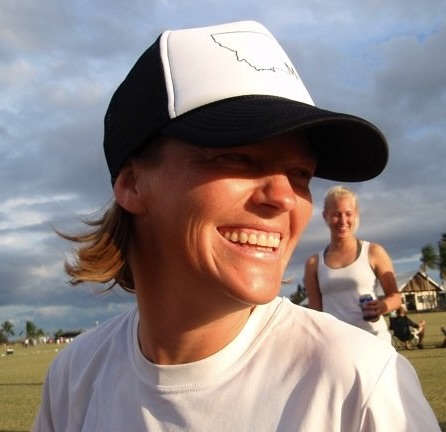 Mary Burke
Hometown: McKinleyville, CA
After spending much of the 1990s competing in the Women's division up to the national level in college with UCSB's Burning Skirts and club with Home Brood based out of the San Francisco bay area, Mary Burke transitioned to the Mixed division in 2001. She immediately impacted the division as a game-breaking handler and fantastic leader. Mary was in the leadership circle for Donner Party, a synergy-driven mountain team that won two National Championships and two World Championships in the early 2000s, before capturing additional titles with Montana-based Mental Toss Flycoons; Club gold in 2008 and WUCC bronze in 2010.
Mary was known as an absolutely ridiculous handler, possessing all the throws needed to break any zone including the lowest forehand release in the game. When not breaking the cup of a zone, she was able to throw to places on the field that defenders least expected. Whether it was striking long with a huck or lofting a dagger of a hammer on the break side, no receiver was out of range, no matter how fast or slow, tall or short, male matching or female matching. The quiver of throws Mary Burke possessed simply frustrated the competition and made her presence on the field impossible to game plan around.  
Mary was a steady and dependable leader. She loved team building and celebrated the spirit of the game as a team ethic and within each player. Through her long and healthy playing career, Mary had many mentors who shared their skills of the craft. And in turn, Mary could draw upon these lessons to bring her best to any ultimate game, be it community pick-up, snowy drill laden practices, or universe point. Later as a coach for the Humboldt Hags as with during her competitive career, she conveyed confidence to the players around her to realize their greatness and they in turn elevated her game and joy of playing. 
Mary lives with her partner and son in McKinleyville, California where she works for a non-profit conservation organization.