Class of 2022
Emily Smith-Wilson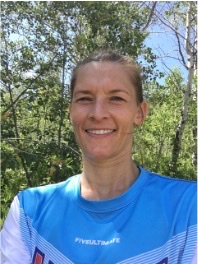 Emily Smith-Wilson
Hometown: West Yellowstone, MT
Born: May 14, 1982 (Age 41)
Emily "Smitty" Smith-Wilson began her storied Mixed division ultimate career in 2004 in Missoula MT with a team called Gun Show and capped it off 19 years later with a World Club Championship with Seattle Mixtape in 2022. Along the way, Smitty has competed at Club Nationals eight times, earning the championship in 2008 with Mental Toss Flycoons. Emily has also competed in four other World Championships (2010 WUCC Mixed, 2014 WUCC Women's Masters, 2017 WBUC Women's Masters, and 2018 WUCC Mixed), and made the roster of three USA National Teams (2017 Women's Masters Beach, 2020 Women's division, and 2022 Women's Masters division).
While Emily's longevity in the Mixed division is legendary; she is lauded as one of the great competitors of the sport, exemplifying the player who is the game changer. Using her skills, knowledge, and athleticism, Smitty has been known to turn a game around for the better both with her on-field performance and off-field wisdom, making everyone around her a better player. Emily is known for dominating any assigned matchup and had the ability to single-handedly keep a team in any game by outworking those around her. When Smitty was on the field, she stood out by making big plays on defense and offense; especially while under pressure in huge skies, bids, and catches. In the big moments, Smitty stepped up and played even bigger, which is why she was always on the line on universe point.
Emily is a solo mom who resides in Bozeman, Montana where she owns and operates a small business, Bozeman Pilates, serving as a Pilates practitioner, teacher, and teacher trainer. Emily has been a key player in the growth of the ultimate scene in Montana, and in particular, in Bozeman. Throughout her playing career, Smitty coached, ran clinics, organized club teams, mentored young players, and assisted in countless leagues and local tournaments in a variety of locales while living her mantra; #Dlineforlife.