Class of 2019
Deb (Cussen) Scheibe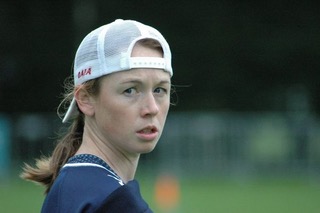 Deb (Cussen) Scheibe
Born: October 27, 1976 (Age 47)
U.S. National Championships
1x U.S. College Champion (1995)
2x U.S. Club Champion (2004, 2005)
1x U.S. College Runner Up (1998)
3x U.S. Club Runner Up (2001, 2003, 2006)
1x U.S. Masters Runner Up (2019)
World Championships
5x World Champion (1999, 2002, 2005, 2009, 2018)
Deb started her ultimate career in 1994 on Carleton College's Syzygy. The team qualified for the College Championships from 1995 – 1998, and Deb captained the team in 1997 and 1998, helping the team to a second place finish in her final year with the team. In 1999, Deb was the only rookie on Seattle's Women on the Verge, contributing to a goal medal and team spirit award in the World Ultimate Club Championships (WUCC) in St. Andrews, Scotland, and a semifinals berth at the Club Championships in San Diego, Calif. As one of the founders of Seattle Riot, she helped establish the program as an elite team, both in the United States and internationally. Leading Riot to a world title, two national championships (including an undefeated season) and numerous other finals and semi-finals appearances, Deb was a driving force behind the success of the team.
Deb played on two gold medal winning U.S. National Teams at the World Games, both in 2005 (Germany) and 2009 (Taiwan). While in Atlanta for physical therapy school, Deb joined Ozone for the 2007-2009 seasons and was a captain in her last year with the team. Following a break to focus on her physical therapy career and the birth of her two sons, Deb was back at it as a key member of iRot in the masters division, where she helped her team win a world championship at the World Masters Ultimate Club Championships (WMUCC) in 2018 and a second place finish at the Masters Championships in 2019. Playing with the Seattle-based mixed team, Mixtape, Deb was called up from practice player to competitor for the postseason, including the 2019 National Championships in October in San Diego.
Contributions & Service
2012-2013:

Co-coached Seattle FRYZ girls' high school club team
Championship Tournaments
U.S. National Championships
Interview
What position(s) (e.g., handler, deep cutter, middle middle) did you usually play?
On offense, I was a cutter in college, and a handler in club and masters. On defense, I usually covered handlers on person D, but in a zone/junk I was usually a wing, short deep or deep deep.
Please describe your major accomplishments - both as a teammate and individual.
I have been lucky to be involved with several strong teams/programs throughout my career, and I have been involved in many successful tournament finishes at all levels of competition. I believe I played a big role in many of these results — obviously no individual is successful alone, but for many of my years playing I filled a major role on my teams. These results-based accomplishments have been incredible, rewarding and fun, but they are also punctuated by a lot of process-based accomplishments. I think I inspired many of my teammates not just with skills but with my tenacity, fire and heart. I could be relied upon. I gave my all 100% of the time, in practices and games.
There are a few moments for me that stand out in particular: tournament results and process-based accomplishments (some general and some specific).
— 1998 D-I College Championships: Carleton Syzygy made the finals and were playing Stanford (who were on a long-standing unbeaten streak at that point, I believe). We were down 14-18 in a game to 19, and dug it out to tie it at 18's. We didn't score the final point and lost a heartbreaker 18-19. While the "what ifs" and "could have beens" still linger, the comeback we made is permanently burned in my memory. I was so proud to be a part of a team who showed such heart, tenacity, grit, determination and perseverance.
— Making Women on the Verge (WOTV) as the only rookie in 1999 was an accomplishment early in my career that set me on a strong club career path; I learned so much being surrounded by an incredible group of women of such high caliber skill and athleticism. They saw something in me and were the first ones to put me in a handler role, which ended up being a great fit. Winning worlds with them that year in 1999 was an incredible rush, only to be exceeded soon after by the team also being awarded the Team Spirit Award for that tournament.
— Helping build Riot in 2000 out of the WOTV retirement in retrospect feels monumental after seeing what that program has accomplished and how it has continued to develop – it's so much more than what we started with, but I'd like to think we planted some of those seeds.
— In Riot's 2004 National Championships final, I think I played 23 of the 29 points – I knew I could give all our subcallers asked of me, and I was stoked to hoist the trophy and give it to our team after that win.
— Making and playing with the U.S. National Team at the 2005 World Games in Germany was huge and a life-changing experience. I believe I touched the disc the most of anyone on our team over the course of that tournament (though I can't find the stats anymore online to confirm).
— Riot won the National Championships again in 2005, and through that tournament I felt unstoppable. The wind was brutal in the finals and made for a messy game with a lot of turnovers initially, but once we settled into our groove I felt like I/we could do anything.
— Winning the World Masters Ultimate Club Championships with iRot in 2018 was a physical and emotional reward, and an especially special experience. It was the first time since having kids when I felt I could recapture some of the joy, tenacity, confidence and strength that I used to feel playing competitive club ultimate. To be able to do that alongside friends I had played with for years (one of whom I had started playing with in college, 23 years prior), played against for years or had only watch play before was truly special. We also appreciated and celebrated coming in second in the team spirit category in that tournament.
Please explain why you stood out among the elite players of your time. What was it that you did best, or were known for?
–Throwing skills: I could break the mark inside or around, slice through (or over) zones and huck it deep. I once had a mark (in a nationals semifinal game) yell at her team that she couldn't stop my inside and my around breaks.
— Vision: I had strong field vision and could anticipate spaces opening, see everyone and create plays and space by throwing where the defense didn't expect. On defense, I could anticipate where cutters and throwers were looking, andI  could take away the space with positioning or sneak in and get a block (especially in playing zone D).
— Versatility: I could play tight/tenacious handler defense or deep-deep in a zone. While handling, I mostly stayed around the disc, but I could break downfield if my defender tried poaching off or could otherwise be caught off-guard. The teams I played on didn't have strict O and D lines at the time, but I was still one of the players who flexed between both. I had subcallers tell me they loved to put me in on a defensive line to get a block and then be chilly on O after the turn.
— Athleticism: There were always a few people faster than me in a straight sprint, but I could maintain speed through direction changes. I was quick and agile. I could outjump taller players. Sometime in the early 2000's, I realized just how fast and powerful I could still be even when I was tired, and this gave me a mental edge in games and deep into tournaments. I knew even if I felt tired, my opponent felt it too, and I had a secret weapon of still being fast even through fatigue.
What role did you play on the best (or most overachieving team) that you played on?
I was put in when we needed a point, regardless of whether it was O or D. In the 2004 National Championships final with Riot, I think I played 23 of the 29 total points; I remember our subcallers asking me at some point in the first half how I was feeling, and I told them I could do whatever they wanted me to. So, often I just got a sip of water on the line between points because they kept putting me in. At the World Games in 2005, I was a primary handler for the U.S. National Team. With a roster of 11, no one had space to hide, but I still typically played more points than the other women on the roster, and I believe I had more disc touches over the course of the tournament than anyone else on the roster (though I can't find the full tournament data on the web anymore to confirm). These teams trusted me to run the offense and get things done on defense, and I knew I could do this even through fatigue.
What year was the peak of your career? During which years were you playing as the "stud" of your team? If you continued playing after your peak years, how did your role change? In what year did you stop playing at the top competitive level?
Looking back, I think early in the 2000's I was a threat to be considered by other teams, but maybe in 2003 was when I stepped up to the next level and became more dominant. 2004 was a big year for Riot to finally win the National Championships after chasing it for many years, and I played a big role as captain and a major onfield contributor. 2005 was a banner year, with winning the World Games and National Championshipss in the same year. I think my peak performance years continued through 2009. Transitioning to playing with Ozone in 2007, I adapted my role a bit, not wanting to try to impose a different team's system onto an already-successful program. I considered myself a role player and worked within their team's system while still pushing myself and those around me to improve. I was still playing strong, and I think I was still considered a threat to other teams. The 2009 season with Ozone was my last full year of club competition in the women's division, but that year was still punctuated with making the U.S. National Team for the World Games and winning another gold medal.
I stepped back for a while after retiring from club ultimate to let my body recover and to focus on my new work career, my relationship with my now husband and then later having kids and recovery from having kids. I feel I have slowly gotten back into being competitive again in the masters division with iRot the past few years. My fitness level and number of points played are different now, but I feel I can still contribute some of the same tenacity, fire and throwing skills that I used to. I am currently a practice player with Seattle Mixtape (club mixed team), and I'm getting in reps and holding my own with some of the best players in the mixed division. At the 2019 Masters Championships, I felt like I still had the capacity to take control of a game and swing the momentum and results of a game in our team's favor. I felt some moments of athletic power that recaptured how I felt back when I was playing competitive club ultimate, and I felt I could hold my own against some of the younger masters players who were still playing on top club teams.
Have you served in an official capacity as an officer, committee member, coordinator, or volunteer for USA Ultimate/UPA or other recognized ultimate or disc sports organization, or as a coach of a team? Describe role and dates served.
I was a co-coach (with Jenn Willson) of Seattle FRYZ girls' high school club team in 2012 and 2013. The team practiced locally, and traveled to Amherst Invitational in 2011 (placed second) and Chicago in 2012 (placed first – though I was unable to travel to the tournament due to being too pregnant).
Have you made other contributions to the development of ultimate?
I collaborated with Dr. Leslianne Yen, a Sports Medicine MD and fellow ultimate player, to research and perform a literature review on warm-up programs with studied efficacy at reducing injury risk, choosing one with best efficacy and fit for ultimate, and teaching it to multiple teams in the Seattle area (UW Element, Seattle Underground, Seattle Riot, Seattle Cascades (AUDL team).
I also provided sideline physical therapy screening and care to the U.S. National Team in 2017 while they played at the Potlatch tournament in Seattle, in preparation for their play at the IWGA World Games.
Why do you believe you are worthy of being inducted into the Ultimate Hall of Fame?
I believe, for my era of college and club play, I was one of the best out there. I played an integral role on multiple high-caliber teams, in high-stakes and high-pressure situations. I made a mark with my capacity to change games by getting open, getting the disc and delivering it upfield. On defense, I could shut main handlers down, be sneaky and anticipatory and get blocks in a zone, and smoothly run the offense after a turn and deliver a break. I wasn't always the one throwing or catching goals (though I had my fair share), but I was usually the one who could get plays and movement to develop to get us downfield into scoring position.