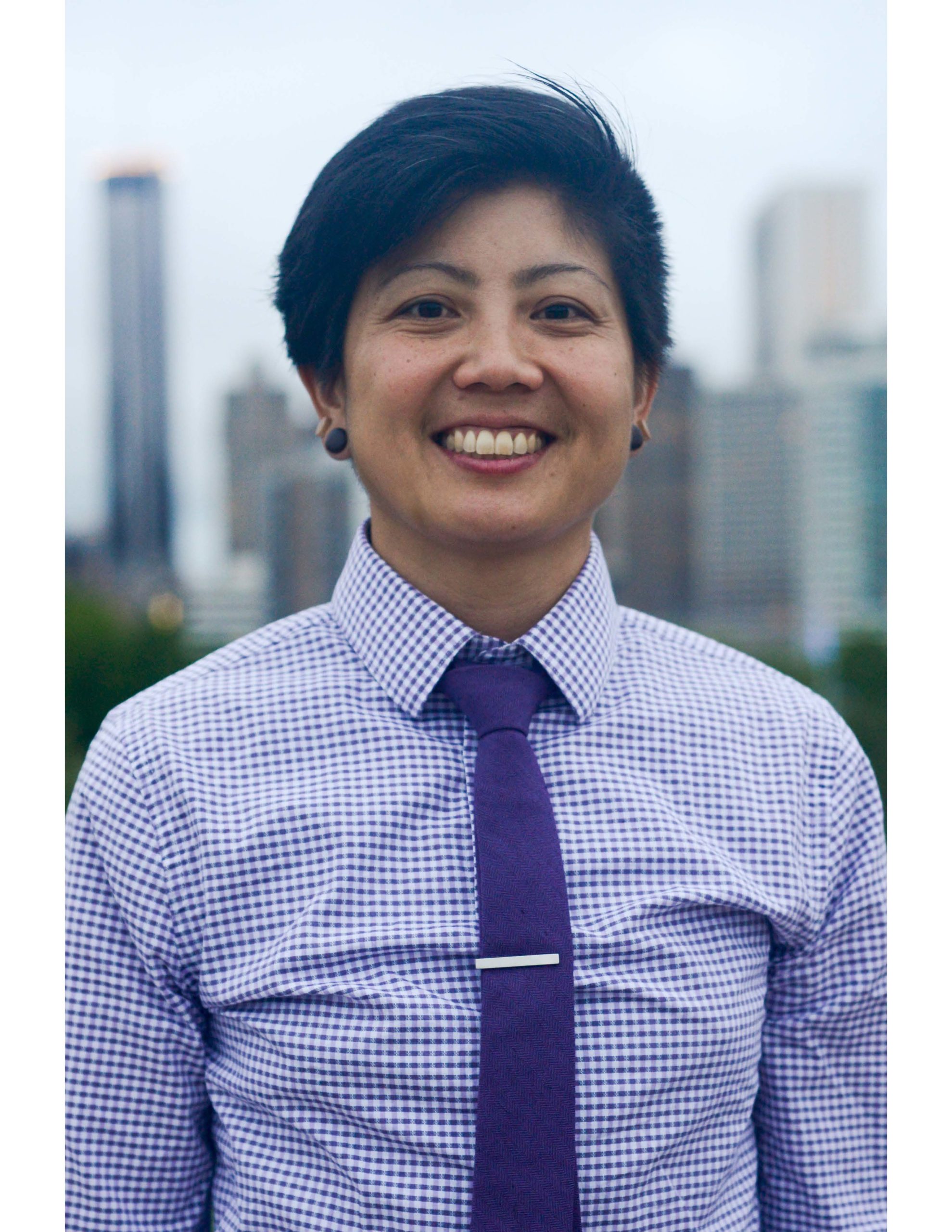 Angela Lin
Born: August 4, 1977 (Age 46)
U.S. National Championships
1x U.S. College Champion (2001)
2x U.S. Masters Champion (2015, 2019)
2x U.S. Club Runner Up (1996, 2016)
1x U.S. Masters Runner Up (2013)
World Championships
3x World Champion (2015, 2016, 2017)
1x World Runner Up (2002)
Awards
Callahan Award runner up / top three (1999)
Callahan Award runner up / top three (2000)
Callahan Award runner up / top three (2001)
Pufahl Spirit Award Nominee (2009)
Angela Lin began her career at Georgia Tech in the mid-1990s and thereafter spent the majority of her career with Ozone. Early on, she committed to developing her offensive skills and was one of the pioneers of breakmark throws.
As her career progressed, so did she. She worked tirelessly to continue pushing her fitness, speed, power and durability, allowing her to develop outstanding defensive skills as well. She was aggressive without being too physical. With her closing speed and endurance, she could battle with anyone. Angela is a true all-around player who has always played with great spirit, no matter how important the moment.
As a leader, Angela inspires her teammates with her actions and supportive words. She has earned the respect of all of her opponents and teammates.
She is a co-founder of Atlanta Soul, the professional Atlanta team in the Premier Ultimate League. Angela has given back to ultimate by hosting many women's clinics, captained many seasons, coached high school and club teams and been a true ambassador for our sport.
Contributions & Service
1999-2001:

AFDC Terminus Women's Tournament Director

2001-2002:

Paideia Groove coach

2008:

Atlanta ATLiens coach

2011-2018:

AFDC Social Director

2014-2018:

MELD coach

2016-2017:

USAU Southeast Men's Regional Coordinator

2017-2018:

Atlanta Orbit coach

2018-present:

Atlanta Soul co-founder, Premier Ultimate League

2020-present:

Oregon Fugue Assistant Coach
Championship Tournaments
U.S. National Championships
Interview
What position(s) (e.g., handler, deep cutter, middle middle) did you usually play?
Please describe your major accomplishments - botrh as a teammate and individual, including any additional activities / roles you played as a coach, team captain or ultimate organizer.
Callahan Award runner up / top three 1999, 2000, 2001; Pufahl Spirit Award Nominee 2009.
Please explain why you stood out among the elite players of your time. What was it that you did best, or were known for?
I feel that I'm well known for being a consistent, hard-working continuation handler who attacks with a lot of break side throws and with up line cuts. Also, I feel I'm well known for my adaptiveness, work ethic and willingness to push to grow my skills as the sport has changed. At some point in the mid to late 2000s, I really targeted defensive footwork/hygiene, because I knew that, with improvements in efficiency, I could be that defender who was going to frustrate you both by shutting down the open side and by being able to make up ground to get blocks if I got beat by a step. I also feel like I'm known for being a captain who pushed teammates to focus more on team building, mental preparation and toughness during my last two years with Ozone in 2014 and 2015.
What role did you play on the best (or most overachieving team) that you played on?
Defensive handler – playing tight defense usually on cutters then anchoring the defense's offense once we got the turn.
What year was the peak of your career? During which years were you playing as the "stud" of your team? If you continued playing after your peak years, how did your role change? In what year did you stop playing at the top competitive level?
This is a tough question. My peak years, if you define those as where I thought I could be a contender for U.S. National Team level of play, was probably 2001-2009 or so. I was an alternate for the 2005 World Games team. However, I think the way I've tried to frame growth and physical training in the 2010-2015 timeframe, after not making the cut for the World Games team in 2009, was to really buckle down on specifics to make gains in areas like defensive footwork and efficiency, mental strength and durability (changing physical workout and weight room tactics, finding new mental toughness reading and exercises). After the 2013 World Games team tryouts, I felt like I'd had a really excellent tryout and had implemented the plan I'd made. But, again, I did not quite make the cut and was pretty down about it. I re-upped my commitment to physical/mental training, but also to trying to impact others so that perhaps my younger teammates could start utilizing some of the lessons and knowledge I felt like I learned or found an understanding about too late in the game: how to train mentally, how to make a real plan to make physical training gains, how to really build good individual and team goals that you can hold yourself accountable for (all those were high on the list). I made it a personal goal as captain to impart as much of these strategies as possible in 2014 and 2015, and to also simultaneously maintain a high level of contribution as a player. In my opinion, I achieved that and had great performances at nationals in those two years. I ended my career with Ozone in 2015, but I have been playing with LOL since 2017. Additionally, I have won gold in three worlds tournaments (two WCBUs and one WUGC) in the masters division between 2015-17.
Have you served in an official capacity as an officer, committee member, coordinator, or volunteer for USA Ultimate/UPA or other recognized ultimate or disc sports organization, or as a coach of a team? Describe role and dates served.
Coach Atlanta YCC ATLiens (HS Mixed) 2008; Coach Paideia Groove (HS Women) 2001-2002; Coach MELD (HS Women) 2014-2018; Coach Atlanta Orbit (Club Women) 2017-present; AFDC Terminus Women's TD 1999-2001; Atlanta Flying Disc Club Social Director 2011-present; USAU Southeast Mens Regional Coordinator 2016-2017
Have you made other contributions to the development of ultimate?
Maddy Frey and I cofounded and co-captained Atlanta Soul in 2018 – Atlanta's womens professional team in the Premier Ultimate League.
Why do you believe you are worthy of being inducted into the Ultimate Hall of Fame?
Also a tough question – I was certainly not expecting this right now. But, I think I've encompassed some of the reasons in the answers to the previous several questions. Something I had really focused on in later years of my career with Ozone was to make a positive impact on how the younger players conceptualize becoming better ultimate players and athletes and humans. I think that this type of leadership is not very straightforward and requires a lot of patience and communication, but I also feel like I found success in being the type of leader who influences a large group of younger players through actions, even still today through coaching and playing. I also feel that my longevity and maintenance of real contributions on elite club women's teams from around 2000 through 2015 are a big part of why Chris nominated me. I think being able to adapt and adjust as the sport has changed (especially to being more physical) are really important things, and I feel like I've done that. Also, in my estimation, I've become a physically and mentally stronger player and leader toward the end of my career. I may not have been truly 'dominating' the other team's most dangerous weapons for that whole timeframe, but I feel like I've been giving those women a super hard time for a long time. I also feel like people in the broad community respect me for my level-headedness, calm presence and belief in fairness and SOTG – no matter if we're playing at league or at nationals or at worlds.