Class of 2020
Jody Dozono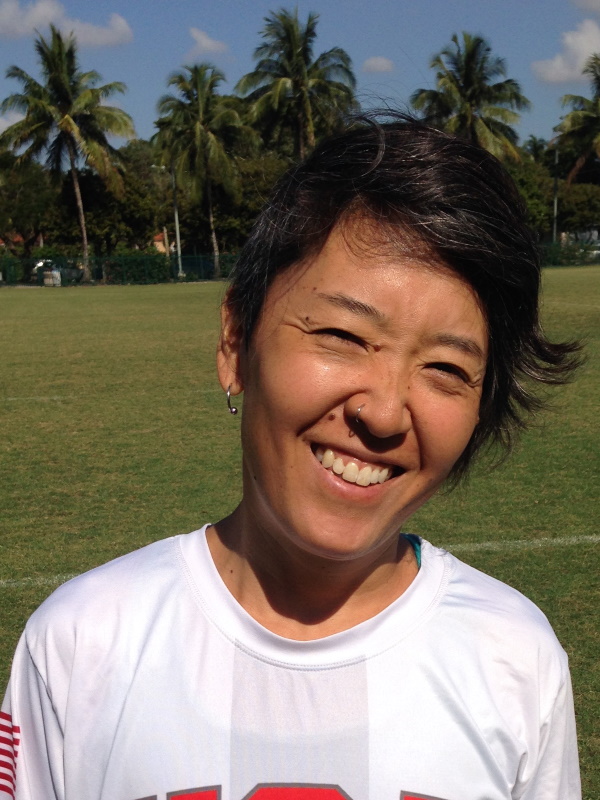 Jody Dozono
Hometown: Milwaukie, Oregon
Born: March 17, 1972 (Age 51)
U.S. National Championships
6x U.S. Club Champion (2003, 2006, 2007, 2008, 2009, 2010)
2x U.S. Masters Champion (2015, 2019)
1x U.S. Club Runner Up (2002)
1x U.S. Masters Runner Up (2013)
World Championships
2x World Champion (2008, 2016)
1x World Runner Up (1999)
Awards
Callahan Award (1999)
Jody Dozono's ultimate career began at the University of Oregon, where in 1999 they were the recipient of the prestigious Callahan Award. After a short stint with Portland's Schwa, Jody continued to dominate with San Francisco's Fury for 11 years, competing at Club Nationals in quarters or better each year, winning six National Championships. In 2009, the ultimate community voted Jody the recipient of the Kathy Pufahl Spirit award. Jody also competed at six WUUG/WUCC events over the course of their career, earning golds with the U.S. Women's National Team in 2008 and with the U.S. Women's Masters National Team in 2016.
Known for their mental toughness, strategic mind and field vision, Jody was an essential teammate and anchor during the most important points. On offense, Jody penetrated defenses with their break throws and explosive handler cutting. Their handler defense has been described as smothering, while at the same time, they excelled at guarding a wide range of players by out-working and outsmarting them. Jody was a key leader both on and off the field for Fury. They possessed the uncanny ability to read the pulse of the team and knew exactly what was needed to be said or done to position the team for success.
Jody is also celebrated for their work in building, leading, and sustaining communities of ultimate players. Through coaching, they assisted Stanford Superfly in their consecutive winning streak at College Nationals; ran coaching clinics for new players; and they were the first coach of the University of Miami women's team from 2013-2016. As a member of Downtown Brown, Jody was instrumental in expanding the team's impact by inviting top players of color from across the country to compete at the 2006 Sunbreak (formerly Potlatch) tournament, becoming the first-ever elite mixed players of color team.
Contributions & Service
2005:

Consultant for Stanford women's team

2006:

Assistant Coach of Stanford women's team

2013-2016:

Coach of University of Miami women's team
Championship Tournaments
U.S. National Championships
Interview
What position(s) (e.g., handler, deep cutter, middle middle) did you usually play?
I was primarily a handler on offense as well as a defensive specialist.
Please describe your major accomplishments - both as a teammate and individual.
I am fortunate to have been coached and mentored by many great leaders and players. I have so much respect for and am grateful to all the teachers and role models I've had, and those who have paved the road before me.
The most rewarding aspect of playing ultimate all these years has been our community. From the beginning, I've felt received, welcomed and respected. I've made lifelong connections with teammates and opponents. The championships and awards I've received (some listed below) are reflections of a culture and identity defined by love, generosity, dedication, respect and trust. Woven together, these values have empowered me and countless others to accomplish things that can only be done collectively with devotion to each other and a collective goal. The individuals that comprised these teams were my friends, my chosen family, my community. Fostering this culture and community on all the teams I'm involved with, and the ultimate community at large continues to be a practice and a goal.
Accomplishments:
1999- Callahan award recipient
2001- World Games Team alternate
2009- Kathy Pufahl award recipient
2008- USAU National Championships team spirit award recipient
Six club women's national championships
Two masters women's national championships
One WUGC women's division title
One WUGC women's masters title
One college women's national championship as a coach
Please explain why you stood out among the elite players of your time. What was it that you did best, or were known for?
I think I was known for being a quick and crafty handler who could get open at will and move the disc quickly. I was a wily defender, able to shut down players taller and bigger than me. I made it challenging for players to get open and break my mark. I relished playing in big games, providing a steady, calm presence. I don't think I took myself or the game too seriously, but I respected my opponents and played with spirit. I was good under pressure; unflappable, reliable and consistent. I believe I made my own luck by working hard, never giving up and always striving to improve.
My leadership on and off the field, from workouts to championship games, sets me apart from the pack. I took pride in how I showed up for myself and my teammates: with love and care, and attention to excellence, while enjoying the journey of each season. I worked hard to instill confidence in everyone, empowering the whole to reach our potential. I don't think I was so special that my teams couldn't have done it without me, but I do believe that I contributed to fostering a culture that lifted everyone up, something essential to creating deep bonds and trust. I truly believe trust is foundational to having confidence to win as a team. In 2008, when Fury came back from being down 1-10, there was never a moment when we thought we were out of the game. Our biggest worry was running out of time. We believed we could come back from any deficit.
What role did you play on the best (or most overachieving team) that you played on?
On Fury, I was a handler on the D line. Defensive footwork was a staple of my workout routines, and my goal was to be quicker than the players I defended. My individual defensive focus was to play shut-down defense, making it as difficult as possible for my opponent to touch the disc. I was also the defensive coordinator for the team and called our team's defenses. As defensive coordinator, I enjoyed being able to dictate the pace of the game, controlling tempo, always trying to take away a team's first option and disrupting their flow. I firmly believe that defense wins championships and I enjoyed studying teams, preparing game plans and getting buy-in from my teammates.
On offense, I liked to break the mark, move the ball quickly and prevent defenses from getting set.
What year was the peak of your career? During which years were you playing as the "stud" of your team? If you continued playing after your peak years, how did your role change? In what year did you stop playing at the top competitive level?
In college, I was the playmaker on the team, and the disc ran through me. My coach told me that if I wanted to take the team to Nationals, I would have to be the best player in the country. I took that to heart, as our goal was to go to Nationals. While I don't think I was the best player in the country, my peers recognized my grit and I was awarded the Callahan in 1999.
I think I was a steady contributor to my club teams from 1998-2008. Being on Fury meant I didn't have to be THE playmaker, but I could play my role and play it well. In 2009-2010, I took a lesser playing role but a bigger leadership role on Fury as many long-time players retired. In 2009, I was the Kathy Pufahl Spirit Award recipient. In 2010, I played at Nationals in the championship game while 19 weeks pregnant.
Have you served in an official capacity as an officer, committee member, coordinator, or volunteer for USA Ultimate/UPA or other recognized ultimate or disc sports organization, or as a coach of a team? Describe role and dates served.
I consulted for the Stanford women's team in 2005, helping out w/ practices and giving individual feedback. I was an assistant coach for them in 2006, winning a National Championship. As an assistant coach, I ran practices, gave player feedback, helped implement a new offense, and served as a defensive coordinator for all games.
From Fall 2013 to Spring 2016, I coached the University of Miami women's team. They had not had an established, sustainable program since their inception in 2008. With much help from the senior captains, Alissa Farina and Lian Ortner, we created and implemented infrastructure, defined leadership roles and recruited players, building a foundation for a sustainable program. After their graduation in 2014, Alissa and Lian became my co-coaches, and together we continued to foster growth and team identity, empowering new leaders and players each year. In 2016, Alissa and Lian started a women's club team based out of Miami, the first women's club team based out of South Florida.
I have assisted as a member of the selection staff for Team USA tryouts under Martin Aguilera and Matty Tsang (youth and club). I have also been involved with many teaching clinics over the years, both formal and informal, with individuals such as Michelle Ng and Liz Penny.
Have you made other contributions to the development of ultimate?
From 2005-2010, I was a very active community member of the person-of-color (POC) team, Downtown Brown (DTB). When I first became involved with DTB, we were largely a West Coast community. In 2006, I invited players from all the major club teams in the country to come together for Potlatch as the first ever elite, mixed POC team. On DTB, we would share deeply personal stories in our circle; stories of identity, discrimination, racism, sexism, and more. It was a circle where we could be seen, heard, and held by a community that could hold space for our stories. I continued to be a leader for this community until 2010 when I had my first child and moved to Miami.
Why do you believe you are worthy of being inducted into the Ultimate Hall of Fame?
I don't know how to answer this question honestly. I don't think I'm better or more worthy than anyone else. I think I've been lucky. I believe I have been blessed to find a sport I love, to have played at a time that I did, and to have played with some amazing people and teams. I feel blessed that I've been able to contribute in the ways I have and will continue to look for opportunities to serve our community.