Class of 2018
Dominique Fontenette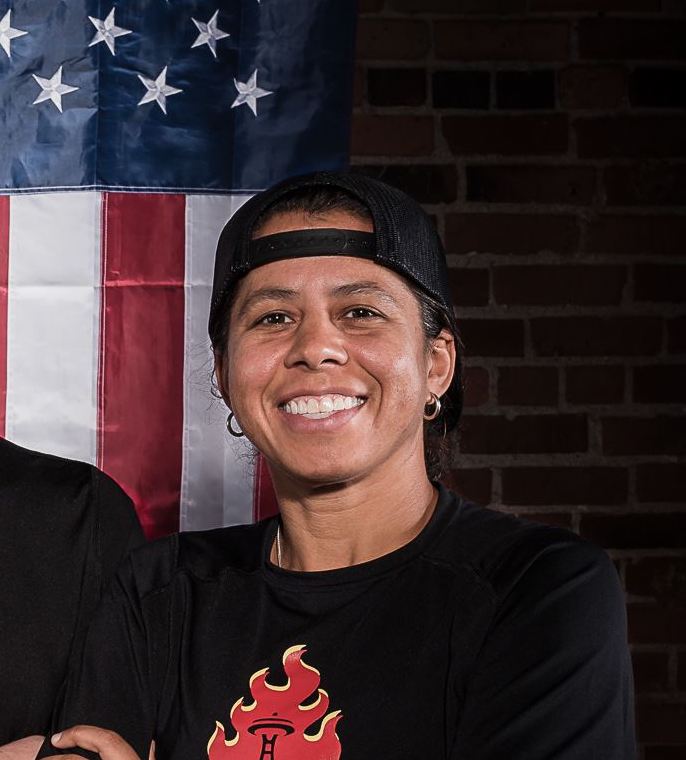 Dominique Fontenette
Hometown: Pine Bluff, Arkansas
Born: May 20, 1975 (Age 48)
U.S. National Championships
1x U.S. College Champion (1997)
4x U.S. Club Champion (1999, 2001, 2002, 2006)
1x U.S. Masters Champion (2015)
1x U.S. College Runner Up (1995)
4x U.S. Club Runner Up (2009, 2012, 2015, 2016)
1x U.S. Masters Runner Up (2013)
World Championships
7x World Champion (2005, 2012, 2014, 2015, 2016, 2017, 2018)
1x World Runner Up (2001)
Awards
Callahan Award (1997)
Dominique Fontenette was a dominant force in the sport of ultimate from the moment she began playing in the Fall of 1993 at Stanford University. Coining the team's name Superfly, she captained the program to their first ever nationals appearance. In her senior year, she earned the Callahan Award and fans chanted "Dom the Bomb!" from the stands as Stanford won their first National Championship title and completed their first undefeated season. 
As a young, budding club player, Dom was a charter member on the San Francisco Bay Area team Fury and part of their first Club Nationals appearance and first championship title in 1999. While pursuing her career to become an Emergency Medicine physician, she left the team to attend medical school in Boston. On the East Coast, Dom integrated herself into the star-studded team, Lady Godiva. In 2002, she caught the championship goal in the famously contentious universe point to capture the win over her previous team Fury. She then returned to the West Coast and was instrumental in helping Fury reclaim its championship team status in 2006 before she eventually returned to the East Coast for medical residency. Again in Boston, Dom joined Brute Squad and helped elevate them to their first ever club finals appearance.
The first time ultimate was accepted as a sport in the IOC World Games (Akita, Japan) in 2001, Dominique was selected to be a member of the US National Team. She was chosen to compete in 2005 on the US National Team in the World Games (Duisberg, Germany) and won a gold medal for the country.  
No stranger to relocating, Dom joined Seattle Riot and was a critical performer in that team's back to back WFDF World Championships in 2014 (Lecco, Italy) and 2018 (Cincinnati, USA). In 2018, she earned the nomination of "Athlete of the Year" by the World Flying Disc Federation and later became a finalist in the World Game's Athlete of the Year Award.  
Dom's easy going yet competitive and spirited attitude combined with an exceptional on field IQ permitted her immediate and effective integration into radically different team systems and team cultures throughout her ultimate experiences.  Her athleticism, versatility, field spatial awareness, and passion for excellence allowed her to continue being a dominant force on the field over her exceptionally long elite ultimate career.
With four UPA National Championships in the club women's division, seven WFDF World Championship titles in multiple divisions, six selections to US National Teams, Dominique is one of the most respected and accomplished players in the history of the sport.
In addition to Dom's long and successful competitive ultimate career, she has participated in many teaching clinics over the last couple of decades (U.S., Japan, Uganda) and organized a clinic for East African players (Tanzania, Kenya, Uganda) in Kisumu, Kenya.
Contributions & Service
2000-2001:

Stanford assistant coach

2012-2013:

UCLA assistant coach/consultant
Championship Tournaments
U.S. National Championships
World Championships
Year
Tournament
Team
Placement
2001
World Games

Akita, Japan

U.S. World Games Team

Club Mixed

2nd
2002
WUCC

Honolulu, Hawaii

Lady Godiva

Club Women

3rd
2005
World Games

Duisburg, Germany

U.S. World Games Team

Club Mixed

1st
2010
WUCC

Praha-Revnov, Czech Republic

Brute Squad

Club Women

Semifinals
2012
WUGC

Sakai, Japan

U.S. National Team

Masters Women

1st
2014
WUCC

Lecco, Italy

Riot

Club Women

1st
2015
WCBU

Dubai, United Arab Emirates

U.S. National Team

Masters Women

1st
2016
WUGC

London, United Kingdom

U.S. National Team

Masters Women

1st
2017
WCBU

Royan, France

U.S. National Team

Masters Mixed

1st
2018
WUCC

Cincinnati, Ohio

Riot

Club Women

1st
Interview
What position(s) (e.g., handler, deep cutter, middle middle) did you usually play?
Early in my career, I was a defensive handler, then I transitioned to being an offensive cutter/receiver.
Please describe your major accomplishments - both as a teammate and individual.
I am proud of having been a part of several teams that went from developmental level to national championship quality teams. Excluding D'Fense and Lady Condors, I have held a leadership role on each of my club teams as well as my college and several of the national teams.
I also won the Callahan award in 1997.
Please explain why you stood out among the elite players of your time. What was it that you did best, or were known for?
I believe my athleticism and versatility as a player made me stand out. I was able to perform many different roles on the team well and in a spirited manner. This made it easy to integrate into new systems and teams.
What role did you play on the best (or most overachieving team) that you played on?
Difficult question. Every team I've played on has had a "best" category in my mind. Perhaps the most "overachieving team" was 1999 Fury. We won nationals after having not won any preseason tournaments. My role on that team was in the handling position.
What year was the peak of your career? During which years were you playing as the "stud" of your team? If you continued playing after your peak years, how did your role change? In what year did you stop playing at the top competitive level?
I believe my peak "athleticism" playing years were between 2001 and 2006 as a cutter. Now, I increasingly rely on intellect to counter balance the effect of 25 years of ultimate on the body. I am primarily an offensive cutter on a deeply talented team. In general, my role on the team is to create opportunities for each of our players on the field to do what they do best. A lot of times, that means creating space, making well timed utility cuts that draw defenses and being opportunistic instead of being the flashy player of the past.
Have you served in an official capacity as an officer, committee member, coordinator, or volunteer for USA Ultimate/UPA or other recognized ultimate or disc sports organization, or as a coach of a team? Describe role and dates served.
I was the assistant coach Stanford from 2000-2001, and an assistant coach/consultant UCLA from 2012-2013.
Have you made other contributions to the development of ultimate?
I have participated in many teaching clinics over the last couple of decades (US, Japan, Uganda).
In 2017, I organized a clinic for East African (Tanzania/Kenya/Uganda) players in Kisumu Kenya.
Why do you believe you are worthy of being inducted into the Ultimate Hall of Fame?
I think my on-field accomplishments are noteworthy, but really that is for others to decide.