Class of 2010
Peggy Hollinger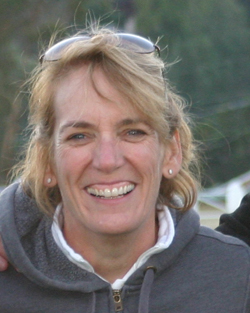 Peggy Hollinger
Born: May 24, 1963 (Age 60)
U.S. National Championships
9x U.S. Club Champion (1990, 1992, 1995, 1996, 1997, 1998, 2000, 2001, 2002)
2x U.S. Club Runner Up (1991, 1993)
World Championships
3x World Champion (1992, 1993, 1998)
1x World Runner Up (1996)
Peggy Hollinger had tremendous success at the highest level of competition including eight National Club Championships as a player ('90 and '92 with Maine-iacs, '95 to 98, and 2000 to 2001 with Godiva) two World Championships ('91 and '93 with Maine-iacs), and multiple tournament wins along the way as both player and coach.
Hollinger contributed to the sport as an athlete, player, teacher and coach. As a coach, Hollinger's strategic mind was one of the best in the game. She was the brains behind the success of two winning teams; the Maniacs and Lady Godiva.
Through her understanding of the game, intelligence, leadership and athletic execution, Peg had an immense influence on the women's game at its most competitive level. While competing at the highest level Hollinger always treated opponents fairly and with respect. She also contributed to the sport by serving as sectional and regional coordinator.
Hollinger currently resides in Hopkinton, Mass. She is married to longtime Ultimate player Scott Hollinger and has three sons.
Contributions & Service
UPA Regional coordinator in the west

UPA Sectional coordinator in the North East

Ran the women's division of many local tournaments

Helped coach the local (Hopkinton High) high school team for a few years.

1998:

DNP and coach for WUGC first place win
Championship Tournaments
U.S. National Championships
Interview
What position(s) (e.g., handler, deep cutter. middle middle) did you usually play?
Describe your major accomplishments – both as a teammate and an individual player?
I developed and implemented an offensive and defensive system on the teams I played with. These teams had better fundamentals and great strategy that helped most all the individuals on the team as well as the team as a whole.
I am most proud of the great success these teams had!
Why did you stand out among the elite players of your time? What was it that you did best, or were known for?
I was a very consistent player and I brought good strategic input to the teams I was a part of.
What was your role with the best (or most overachieving) team that you played on?
I was one of the team captains.
What year was the peak of your career? If you continued playing after your peak years, how did your role change? In what year did you stop playing at the top competitive level?
I think I played at a top competitive level up until the last year that I played. My role as a player was somewhat reduced (ie. Defense!) but I continued to be a source of consistency as well as a key strategic mind on the team up until the bitter end!
It is very difficult for me to decide what year I played at the peak of my career – each of the teams was so different in talent and depth – but I do feel my role as a consistent presence on offense was very important to all the teams I played on.
Why do you believe you are worthy of being inducted into the Ultimate Hall of Fame?
I was lucky to have been a very key part to all the teams I played with (except, perhaps, Twister in 1994 – but I do think I taught some women some things even that year). I was fortunate to have many very talented women to play with – and I think I was pivotal in helping the teams (Godiva and Maineiacs) realize their strengths and talents over many, many years. The combination of great talent, with great strategy and great confidence is what made these teams so successful. I would consider myself a very good talent (great perhaps in a few areas!), and a great strategic mind and a teammate/captain who instilled confidence into her team.
It was a very rewarding experience for me (and it was a blast!).