Class of 2016
Christine "Wags" Wagner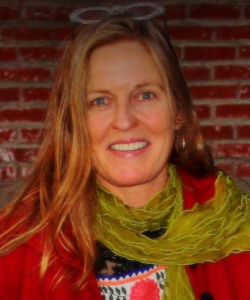 Christine "Wags" Wagner
Born: October 7, 1965 (Age 57)
U.S. National Championships
3x U.S. Club Champion (1990, 1992, 1993)
1x U.S. Club Runner Up (1991)
World Championships
3x World Champion (1991, 1993, 1994)
Christine "Wags" Wagner started her illustrious ultimate career as a fresh, young player for California-San Diego and went on to play for Safari. She was totally committed to learn, play and absorb everything, especially the incorporation of Spirit of the Game (SOTG) into her game. With her height and amazing hands, she was an incredible target in the end zone who would bring down everything. A solid player on both offense and defense, she quickly grew into a starter and fierce defender for many years. A lefty on offense who also effectively used her wing span in the cup of a zone defense, she was clearly a force to be reckoned with. Wags' peak came when she played with the Maine-iacs. She exhibited defensive strength, a strategic mentality and true grit as she contributed to three national and three world championship titles with her team.
Wags was recognized amongst her peers as a strong athlete and sprinter and an extremely effective and crafty defender. She was also a very dangerous deep threat; it was not unusual to see two players covering her when she got close to the end zone. Wags exemplified integrity and dedication to upholding SOTG. Wags' beaming smile showed her kindness and ability to connect with so many different players while her fiery drive showed in her dedication to excellence in playing at the highest level of competition.
Championship Tournaments
U.S. National Championships
Interview
What position(s) (e.g., handler, deep cutter, middle middle) did you usually play?
When I began playing, I served as a deep receiver. As my disc skills improved over the years, I was called upon to play more of a handler role. It helped to be a lefty. With strong defensive skills and a good wing span, I often served as part of the cup in a zone defense.
Please describe your major accomplishments - both as a teammate and individual?
Winning major tournaments with my teammates at regional, national and international levels was the reward for our discipline and dedication to our sport and to each other. Playing ultimate provided me with the healthy outlet that I needed to get through law school from 1990-93. I dove to catch the winning goal in the final game of the 1990 National Championships in San Diego, my first Nationals title.
What role did you play on the best (or most overachieving team) that you played on?
I believe I have been nominated to join the Hall of Fame because I played with and against the best players of the time, many of whom are Hall of Famers. I would like to be known for my defensive strengths, strategic mentality and true grit.
What role did you play on the best (or most overachieving team) that you played on?
I was a utility player on the Maineiacs, playing handler and deep positions. I was a first team defender.
What year was the peak of your career? During which years were you playing as the "stud" of your team? If you continued playing after your peak years, how did your role change? In what year did you stop playing at the top competitive level?
The peak of my career was spent with the Maineiacs in the San Francisco Bay Area, after developing my skills while playing with San Diego Safari. We were determined to be the best women's team in the West, after years of losing to and learning from the Lady Condors and Oregon Dark Star. We learned a lot about the game from losing. Under the leadership of Peggy O'Byrne Hollinger, and with the help of the Bay Area mens teams, we developed strategies for offense and defense that served us well. After the breakup of the Maineiacs in 1994 (although we did rally for the 1994 Worlds in Colchester, England), I relocated to Southern California and began playing casually with the LA FlyGirls. I hung up the cleats in 1998.
Have you served in an official capacity as an officer, committee member, coordinator, or volunteer for USA Ultimate/UPA or other recognized ultimate or disc sports organization, or as a coach of a team? Describe role and dates served.
I served as Northern California Sectional Coordinator at one point in time. I also helped to host numerous tournaments in San Diego (with Bullet) and Santa Cruz (with Bobby P and Poochie). Lastly, I coached the UC Santa Cruz women's team for a season.
Why do you believe you are worthy of being inducted into the Ultimate Hall of Fame?
I played with and against the best of the current Hall of Fame inductees. I was a supportive and dedicated team member who helped my teams through many games, tournaments and seasons. I enjoyed encouraging and helping young players to develop. I believed in and played by the Spirit of the Game.
Christine "Wags"'s Teammates