Class of 2017
Caryn Lucido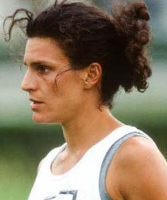 Caryn Lucido
Born: September 4, 1962 (Age 60)
U.S. National Championships
4x U.S. Club Champion (1990, 1992, 1993, 1994)
1x U.S. Club Runner Up (1991)
World Championships
3x World Champion (1992, 1993, 1994)
Caryn started her ultimate career with the Austin Supremes while a graduate student at the University of Texas and was fully inspired and addicted two weeks in, after her first tournament in St. Louis. In 1987, she played with the University of Texas men's team at College Nationals at Penn State, played with Texas and combo teams from the South Region, then moved to the San Francisco Bay area. As a competitive gymnast at Stanford from 1980-1984, Caryn knew how to fly, a skill for which she became well known on the ultimate field with diving defense and incredible layout receptions on offense.
Caryn was a unique and dynamic player throughout her career; her intensity, desire and tenacity raised the level of play of both teammates and opponents around her. Her athleticism and aggressive play were instrumental in helping her teams win four national championships in five years, as well as three world championships from 1992-1994. Her defensive prowess was instrumental in shutting down opponents – taking on top players, getting key blocks in crucial situations and altering game plans. A versatile player, she was always an offensive receiving threat. As a team leader, Caryn helped plan and run practices, hone strategies and call subs in key games. 
Caryn respected the Spirit of the Game, played fairly, respected opponents and exhibited superb sportsmanship. In 1994, she was with the first group of female players to travel to Japan to teach college students and enjoyed mentoring younger players. Aside from being an exceptional athlete, she always had an excellent attitude, maintaining focus while having a lot of fun and showing a true love of the game.
Championship Tournaments
U.S. National Championships
Interview
What position(s) (e.g., handler, deep cutter, middle middle) did you usually play?
I played all the positions at one time or another as needed. I was a very versatile player, but probably played most as middle and deep on offense. In the zone offense, I excelled at popper, but played at all other spots as needed. For zone defense, I played everywhere, though I did a lot of work on wing, short deep and mid-mid or short-mid.
Please describe your major accomplishments - both as a teammate and individual?
I'm very proud to have been a part of the development and success of very talented, competitive and good-spirited teams. With Maine-iacs, we won three national and three world championships, and with Felix, we won one national championship. For both, we won numerous high-level tournaments as well. As an individual, I contributed to my teams' success as a core player who always played hard on both offense and defense. I was also one of the team's leaders, helping us make the most of our talent, strategy and opportunities in the game. Overall, win or lose, I'm proud to have played with and encouraged the Spirit of the Game – respect for my teammates and other players, competitiveness coupled with fairness and fun and love of the sport.
Please explain why you stood out among the elite players of your time. What was it that you did best, or were known for?
For most folks, I probably stood out for my smart, hard and athletic play on both ends of the field. I played tough defense with intensity to shut players down and get blocks, especially in crucial situations, and then help score once we got the turnover. I was solid on offense with my smart play, ability to get open, consistent goal scoring and great hands that were able to catch anything while diving or skying against much taller players. People may have first noticed me for high-flying, acrobatic catches and blocks. But I think that teammates and other players would say I was an all-around extremely tough and competitive player, and that I played with the Spirit of the Game – enjoying hard but fair battles during games and respect/friendship throughout.
For my team, I was a versatile, determined, hardworking and cool-headed player and leader who was always involved and energetic whether on the field or yelling to teammates on the sidelines. I was one of our team leaders – helping develop the team, recognize people's strengths, call subs, lead practices and hone strategies in games and throughout the season.
What role did you play on the best (or most overachieving team) that you played on?
On the Maine-iacs, I had a number of roles. As a player, I was a versatile, consistent and smart leader on the field. On defense, I was a key defender who often took on the opponents' best offensive players to shut them down, get blocks and help score on the other end when we got turnovers. On offense, I mostly played middle, but I could play anywhere I was needed. I kept the offense moving, scored goals, was relied on for short and deep cuts, and caught anything near me. I played many positions in the zone – often as a "sneaky" mid/pop on zone offense and mid, wing or short deep on zone defense. My versatility helped give the team flexibility to play me and others as needed, based on the situation in a point/game.
As a team leader – I helped plan and run practices, called subs and helped with strategy/leadership at tournaments and throughout the season. I began with Maine-iacs as a player when we were Mamba, and my role grew as the team grew. I was lucky to learn strategy and fundamentals from people like Peggy Hollinger, Rick Geier and others. Over time, I helped teach, build on and adapt the strategy with our team leaders and applied it during games and for our overall team development.
What year was the peak of your career? During which years were you playing as the "stud" of your team? If you continued playing after your peak years, how did your role change? In what year did you stop playing at the top competitive level?
I guess my peak years were 1988 to 1995, and during that time, I grew both as a player and leader. I continued to play at a very high level after that and continued to lead and play with teams that were younger or developing. My playing role was similar, but I also expanded my role through mentoring a younger team. I took a short break from ultimate in 2000, returning for my last year of play with Nemesis in 2002 in the highly competitive national series.
Have you served in an official capacity as an officer, committee member, coordinator, or volunteer for USA Ultimate/UPA or other recognized ultimate or disc sports organization, or as a coach of a team? Describe role and dates served.
For Maine-iacs, I was part of the leadership of the team. I called subs for several years, helped run practices and was involved in strategy during the year and at tournaments along with other team leaders. Also, I was involved in the leadership of Phat City and the young team, Toast, with greater mentoring/teaching of younger players.
Have you made other contributions to the development of ultimate?
I went to Japan on the USA-Japan Friendship Tour in 1994 (a group of seven men and four women players). We all taught ultimate clinics to Japanese men and women players and teams. The teaching, learning, cultural exchange and great ultimate spirit made for a fantastic experience!
In general, I have always been a passionate player and teammate, and I have enjoyed learning and sharing my experience with teammates and newer players.
In my earliest days of ultimate with the Austin Supremes, I reached out to some players on the Gainesville team (the Supremes' traditional rivals). A few of my teammates and I developed these new friendships, which helped lead to more intra-regional cooperation. Some southern combo teams traveled to tournaments like Boulder and Tempe and brought back this experience to their own teams.
Why do you believe you are worthy of being inducted into the Ultimate Hall of Fame?
I believe I'm worthy of being inducted into the Hall of Fame for being both a top all-around player and leader who was instrumental in the development and success of one of the great teams in the sport. Beyond helping win titles, I believe I helped pass on my passion and knowledge of the game. Also, I played with the Spirit of the Game, with fairness and respect for all players.
I was very lucky to have started playing with competitive, fair and fun teammates, both men and women. I learned from everyone I played with and played against, and I tried to pass that on to my teammates over the years, whether we were in a championship game or with a fledgling team in our first tournament.
A friend once remarked that I was one of the players that brought new athleticism to women's ultimate. As a rookie, I was originally inspired by folks like Pat "Bagger" Lee and Joey Giampino to go all out with diving blocks and catches. Later, I had the good fortune to work with folks like Peggy Hollinger, Bob Sick, Tree Vandenberg, Molly Goodwin and others to learn the beauty of fundamentals, consistency, high-percentage throws/catches and solid strategy. I tried to use all I learned to take myself and my teams to a higher level, and I had a blast doing it.