Class of 2007
Christine "Teens" Dunlap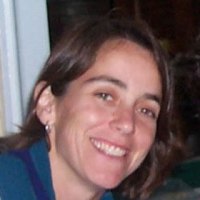 Christine "Teens" Dunlap
Hometown: Watertown, Mass.
Born: July 28, 1964 (Age 59)
U.S. National Championships
9x U.S. Club Champion (1988, 1991, 1995, 1996, 1997, 1998, 2000, 2001, 2002)
3x U.S. Club Runner Up (1989, 1992, 1993)
World Championships
2x World Runner Up (1993, 1996)
Christine "Teens" Dunlap led Lady Godiva, one of the most successful women's teams ever, to nine UPA Women's Club titles between 1988 and 2002. Teens was a multifaceted player—a leader, strategist, and teacher—who not only drew the toughest defensive assignments but also played a pivotal role in Lady Godiva's precision offense. Regarded as one of the best all-around players in Ultimate, Teens thrived under pressure and was an intense competitor. At the same time, she displayed exemplary sportsmanship, earning the respect of teammates and competitors alike. Over the course of her career, Teens' dedication to improving her own game while motivating those around her inspired scores of women to play at their highest level.
Contributions & Service
1998:

Served as co-coach of the women's team at Tuft's University

1999:

Was an observer at Northeast College Regionals

Participated in a women's learning league for Ultimate
Championship Tournaments
U.S. National Championships
Interview
What position(s) (e.g., handler, deep cutter, middle-middle) did you usually play?
I usually played handler and sometimes middle-middle against a zone defense.
Describe your major accomplishments – both as a teammate and an individual player?
As a teammate, I was a part of the success Godiva had in the UPA Championship Series. It is hard to separate my individual accomplishments from that of the team.
Why did you stand out among the elite players of your time? What was it that you did best, or were known for?
Two things I think explain why I may have stood out. First, consistency. During the years I played with Lady Godiva, we played a high-percentage, low-risk offense. I played well within that offense, touching the Frisbee often, but not turning it over often. Second, longevity. I played for a long time, and for a perennial contender, Godiva. During the years I played with Godiva, I managed to stay relatively injury-free and played a lot of points.
What was your role with the best (or most overachieving) team that you played on?
For most of the years I played with Godiva, I was usually in a leadership role. We usually had a few people captain the team together, and I was always a part of that. Usually, I would run practice.
What was the peak of your career? lf you continued playing after your peak years, how did your role change? In what year did you stop playing at the top competitive level?
I think the best years of my career were the later years. As I said earlier, I managed to stay relatively injury free, which allowed me to play many years. Each year I learned from all the great people I was lucky enough to have played with. But, even towards the end of my career I could still move pretty well, and was able to apply my accumulated knowledge. Right until the end, I still took the hardest defensive assignment I could get. I stopped playing at the top competitive level in 2002.
Why do you believe you are worthy of being inducted into the Ultimate Hall of Fame?
I believe I am worthy of being inducted into the Hall of Fame because I played for 17 years at the most competitive level, I was a leader on one of the most successful teams in Ultimate history, and I have won nine UPA National Championships. But, this is Ultimate, and it is about more than a winning record. I always tried to play within our guiding principle, the Spirit of the Game.  I believe I always played fairly and respected the other players I faced.
Christine "Teens"'s Teammates