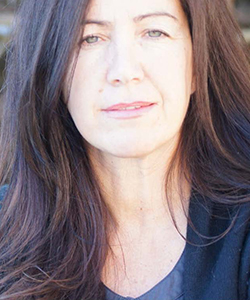 Liz Marino
Hometown: Thousand Oaks, CA
Born: November 21, 1961 (Age 61)
U.S. National Championships
6x U.S. Club Champion (1984, 1985, 1986, 1987, 1989, 1991)
World Championships
4x World Champion (1986, 1988, 1989, 1990)
Liz started her competitive ultimate career with ZULU at the University of Massachusetts at Amherst in the early '80's, and continued to thrive in Santa Barbara with the Condors where she played on teams that won multiple national ('84, '85, '86, '87, '89, '91) and world ('86, '88, '89, '90) titles. Thereafter, Liz competed with the New York Area team and completed her illustrious career on Boston's Lady Godiva.
Liz is a gifted athlete who competed in her youth as a gymnast. In ultimate competition, multiple highlight reels demonstrated her athletic prowess and ability to outrun her opponents with ease; a true joy to watch.  She was a defensive threat, willing to fully extend her body to block key strategic passes made by her opponents. Many of those plays resulted in "stuff and score" goals. Above and beyond her stellar playing ability, Liz was a team player who demonstrated sportsmanship that made her an asset on every team in which she participated.
Championship Tournaments
U.S. National Championships
Interview
What position(s) (e.g., handler, deep cutter, middle-middle) did you usually play?
Handler and occasionally got to play deep for Kelly Green or Ann Cohan huck!
Describe your major accomplishments – both as a teammate and an individual player?
I feel my major accomplishment was being accepted as a member of the Santa Barbara Condor's after only been playing ultimate for one season at UMass.  As a teammate I was also very proud of winning the World Club Championships with a skeleton crew of about nine players for a week-long tournament.
As a individual, outside of ultimate, I was a two-time member of the United States National Women's Gymnastics team.
Why did you stand out among the elite players of your time? What was it that you did best, or were known for?
I was probably best known for my speed and aggressiveness on defense.
What role did you play on the best (or most overachieving team) that you played on?
My role was to try to shut down the most influential handler on the opposing team. I was also looked toward to get open and handle when some of our top handlers may have had a hard time getting open, as well as to score goals in pressure situations.
What year was the peak of your career? During which years were you playing as the "stud" of your team? If you continued playing after your peak years, how did your role change? In what year did you stop playing at the top competitive level?
I believe my peak year was 1989. I think my most effective years were 1985-1989. I stopped playing after 1991 at the national level.
Why do you believe you are worthy of being inducted into the Ultimate Hall of Fame?
I would probably say I feel I am worthy of being a Hall of Famer due to the high level of success I experienced as a player with my team winning many national titles back to back and numerous world titles. I had a pivotal role on defense as a "game changer" to come up with key blocks to get the disc back to score, helping to win many preliminary games to advance to numerous finals.