Class of 2005
Kelly Green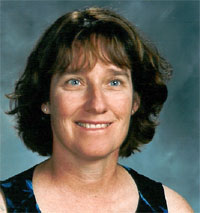 Kelly Green
Hometown: Paso Robles, CA
Born: August 25, 1960 (Age 62)
U.S. National Championships
6x U.S. Club Champion (1983, 1984, 1985, 1986, 1987, 1989)
1x U.S. Club Runner Up (1982)
Kelly Green, inducted in 2005, distinguished herself early on the Ultimate field, playing with the Michigan State University's men's team which made it to the semifinals in both 1979 and 1980. With the introduction of the women's division, she started a women's team at MSU in 1980, inculcating a culture of dedication to the team, a "no-turnovers" mantra, and an intensity that few women's teams were able to muster. Kelly's MSU Fisheads won the national championship in 1983 and, after joining the Lady Condors in California the next year, she and the Condors went on to win five out of the next six national championships and a world championship. She was a consummate coach, captain, teacher, and, above all, player who lived, ate, and breathed Ultimate and inspired her teammates to do the same.
Contributions & Service
1980:

Started the Michigan State Women's Ultimate Team

1980-83:

Michigan State women's Ultimate captain/coach/teacher/player

1982:

Tournament Director (one of several) — Central Regional Championships

1984 :

Started the UCSB Women's College Team; Acted as Coach and played until "ringers" were not allowed to play

1984-1989:

Co-Captained the Santa Barbara Condors (Women)

Since 1981, I have taught thousands of kids to play Ultimate; I worked in recreation for 5 years and then taught elementary and middle school from 1987-2021
Championship Tournaments
U.S. National Championships
Interview
Please describe your major accomplishments— both as a teammate and individual.
When I first started playing with the MSU men's team in 1979, I played middle-middle. We called it "swing." I played hard at practice, but didn't get a lot of PT. When I started the women's team, I played pretty much every position except deep. In fact our offense consisted of me getting every other pass. I would throw forward, then go get the dump, and then throw forward again. It was a rare moment when two Michigan State players connected with each other without me involved in the play. Of course, that was only the beginning. I really think my greatest strength was as a teacher. Everyone learned the MSU offense, which was the Stanford "O" I guess. I was very lucky to have a group of women who were willing to play a role and do what I thought was best. Since I knew more than most women who played at the time, we had a real advantage. I also knew the rules better than most and was pretty militant about playing by them. At times, I was accused of being "too intense" by other teams — but I think I was just a little ahead of my time. If you talk to the people I played on the same team with, you'd find that I was intense, yes, but also very fun-loving and silly when it was needed.
I wanted everyone to be the very best that they could be because I knew that the better they were, the better our team was going to be. The Fisheads, especially, were a much better team than the sum of our parts. Meaning, everyone played her role and did it well. We played as a very well-(fish)-oiled machine with a lot of spirit and it worked for us! The Condors were a much more talented team, but didn't have an offense that worked a high percentage of the time. Again, I just taught the offense that I knew and the rest was history.
Please explain why you stood out among the elite players of your time. What was it that you did best, or were known for?
I think I stood out because anything less than a win was unacceptable. For example, one of my greatest beliefs was, you never turn it over on the goal line. It happens, but it never should. At practice, I was the one who always said, "We can't turn it over on the goal line." It was too important. When we played in tournaments, turnovers were unacceptable. It happened, but it was not acceptable. I think that was why the Condors were so unbeatable for so long. Turnovers were not "just part of the game," like they were for some other teams. We valued the disc, always! I was the enforcer of that rule at all times. (Now, that's not to say I didn't have my share of turnovers, but it was my role to take those chances with deep throws and breaking the zone, so it had to be done.) I was a leader/captain on every team I played on. Players looked up to me and respected my experience, but I was also always "a player's player." I ran hard at practice, always came early and left late, helped the younger players improve, encouraged people to make themselves better players. I expected a lot from my teammates, but gave a lot in return.
What year was the peak of your career? During which years were you playing as the "stud" of your team? If you continued playing after your peak years, how did your role change? In what year did you stop playing at the top competitive level?
I guess you could say my last 2 years at MSU began my peak years. I continued playing at a very high level for about 3 more years in SB. As my body started to rebel, I did change my game a bit. Lucky for me there were now others who could cover the best handler on the other team, so I could cheat on defense and get some blocks. I got a lot of defensive plays just by using my head, rather than "trashing my body." I guess we all get there eventually. I did play in the Master's division one year after my first child was born. It was fun to be back in the game, but it was not the experience of a lifetime, like open ultimate had been for me. (It was painful.)
Why do you believe were inducted into the Ultimate Hall of Fame?
I guess I would be worthy of this nomination because of "pure love" of the sport. I can honestly say that when I played Ultimate during the early years of its history, I was an absolute junky. I couldn't get enough of it. I was the first one at practice and the last one to leave. The Fisheads lived, ate, and breathed ultimate with me and I loved every minute of it. The Condors were on a mission to win the nationals and once we got the first one, we never looked back I was lucky to be in the right place at the right time, TWICE. I needed them as much as they needed me. A match made in heaven. The game of Ultimate actually changed my life and I will be thankful for that forever.