Class of 2018
Joanie Merrill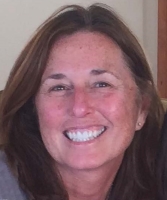 Joanie Merrill
Hometown: Santa Barbara, CA
Born: October 9, 1959 (Age 64)
U.S. National Championships
5x U.S. Club Champion (1984, 1985, 1986, 1987, 1989)
World Championships
3x World Champion (1986, 1988, 1989)
Joanie Merrill was instrumental in the Santa Barbara Condors' domination throughout the 1980s at the national and world levels. She began her career in 1982 with the Condors, transitioning to ultimate after an accomplished career as a member of the UC Santa Barbara crew team. 
Joanie was always on the field when it mattered and was relied upon to cover the "tall game," which she played with grace, fierce competitiveness and tenacity. Joanie had a very well-rounded game; she could throw with precision and depth and sky with the best of them. With a wingspan of about six feet, along with her quickness and coordination, Joanie was an incredible marker and would consistently hand block the best of the best. Her defensive acumen, powerful throwing capabilities and ability to "go up" with the tallest women in the world enabled Joanie to contribute in a big way to the Condors' great success. Joanie's teams won five UPA National Championships in the club women's division and three WFDF World Championships.
In addition to her playing skills, Joanie has been an example of fair play and Spirit of the Game.
Championship Tournaments
U.S. National Championships
Interview
What position(s) (e.g., handler, deep cutter, middle middle) did you usually play?
I started out my career primarily as a deep cutter/receiver and eventually became a secondary handler with a deep cut threat.
Please describe your major accomplishments - both as a teammate and individual.
Major accomplishments include winning five national championships and winning three world championships. Individually, I brought leadership and athleticism to our team. During the 10 years I played, I co-led the team as well as handled substitutions. In the 80's, many women ultimate players had never played an organized sport before playing ultimate. I was a traditional sport athlete before discovering ultimate. I played volleyball, basketball and ran track on the first girls track team at my high school (the start of Title 9!). I went to UC Santa Barbara to play volleyball then switched to rowing where I rowed stroke seat on the UC Santa Barbara Crew Team that won Western Sprints and Western Regional Championships. This legacy of winning and team sport experience helped me to become a successful ultimate player and teammate.
Please explain why you stood out among the elite players of your time. What was it that you did best, or were known for?
I am most proud of the bonds I continue to maintain with my teammates. I am all about THE TEAM. I was best known for hand blocks and end zone catches that included layouts and skies. I was a consistent handler when needed, mostly utilizing my forehand. I think being left handed and 5'10″ with a 6'1″ wingspan also was an advantage. I was fortunate to have the top handlers in the world on my team, so mostly I just cut off their throws to score. I am extremely competitive in my personal and professional life, but I did my best to embrace the Spirit of the Game.
What role did you play on the best (or most overachieving team) that you played on?
My best role was as a teammate and leader. I think everyone contributes in their own way (good or bad) and that the best teams take full advantage of the assets that individual players contribute toward the ultimate goal-to win.
What year was the peak of your career? During which years were you playing as the "stud" of your team? If you continued playing after your peak years, how did your role change? In what year did you stop playing at the top competitive level?
I would say 1985-1987 were my best contribution years. In the early years, I was still learning, but toward the end I took on more leadership roles. I stopped playing competitively after my first son was born.
Have you served in an official capacity as an officer, committee member, coordinator, or volunteer for USA Ultimate/UPA or other recognized ultimate or disc sports organization, or as a coach of a team? Describe role and dates served.
I am proud to say I was selected to coach at Kfar Silver, Israel for Ultimate Peace in the summer of 2018. It it an amazing organization doing incredible good in the Middle East and the rest of the world. I also support youth ultimate in my community.
Why do you believe you are worthy of being inducted into the Ultimate Hall of Fame?
In the beginning years of women's ultimate, women needed to bond together to move the sport forward. I am proud of this legacy and of my contribution to the sport. I am excited to see how far women's ultimate has come and its even greater potential for growth in the future. Ultimate will be in the Olympics and I can confidently say I helped the sport get there.