Class of 2016
Jackie Watson Pierce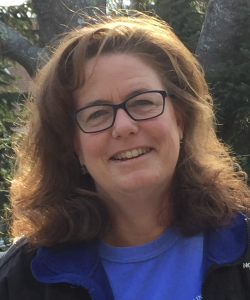 Jackie Watson Pierce
Hometown: Cape Elizabeth, ME
Born: April 23, 1965 (Age 58)
U.S. National Championships
1x U.S. College Champion (1988)
6x U.S. Club Champion (1987, 1989, 1990, 1992, 1993, 1994)
1x U.S. Club Runner Up (1991)
Awards
Maine Girls HS Coach of the Year (2016)
Jackie won seven national championships with five different teams and a world title during her incredible career in the west region; she was a leader and key component of every team she played on. Her offensive prowess was clearly on display with her history-making fierce upwind hammer to the back corner of the end zone to propel California-Santa Barbara's Burning Skirts to their first national championship! From there, she moved to the Bay Area and helped lead the Maineiacs to their first national title in 1990. Jackie clearly played an important role in the Maineiacs' string of victories, and her style left an imprint on how the women's game developed.
Jackie's cerebral approach to the game, coupled with her natural instincts and physical ability, made her a player like no other from her era. Her ability to pick apart opponents' games (both individuals and teams) was key to her versatility as a player and teammate. Jackie was a steady and potent offensive player who was difficult to cover; she exuded confidence and imparted this to her team. Her play was versatile and dynamic, and she was, and continues to be, a great champion of Spirit of the Game. Jackie continues to promote and teach ultimate for children in Cape Elizabeth, Maine, as a way of giving back to a sport that has given her so much.
Contributions & Service
Member of Maine Ultimate Board of Directors

Cape Elizabeth Girls High School Coach

Cape Elizabeth MS Coach
Championship Tournaments
U.S. National Championships
Interview
What position(s) (e.g., handler, deep cutter, middle middle) did you usually play?
Handler, middle middle, and popper.
Please describe your major accomplishments - both as a teammate and individual?
I led and raised the level of play and mentality on the Maine-iacs to win their first Championship(s) in 1990, '92 and '93! I threw the upwind goal to secure the win at College Nationals in 1988 (UCSB Burning Skirts). I also led the Maine girls, Undertoe, to regional finals for "the game to go" in '98 (one of my most rewarding years!) My individual accomplishments include six open national championships, one college and one worlds.
Please explain why you stood out among the elite players of your time. What was it that you did best, or were known for?
I was known for my leadership qualities through my athletic abilities and passion. I ran the offense as a handler and as a popper (against zone defense). I was known for my consistency, rarely throwing away or dropping the disc. On defense, I was known for middle middle and was deceivingly fast when playing man. Most importantly, I stood out for my ability to get my entire team to play better! That was what I did best and what I was known for: my fire, my grit and my never quit attitude. Being a clutch player, I could run and cut forever.
What role did you play on the best (or most overachieving team) that you played on?
I played a leadership role as player and subber (1992) on Maineiacs from 1990-1993.
What year was the peak of your career? During which years were you playing as the "stud" of your team? If you continued playing after your peak years, how did your role change? In what year did you stop playing at the top competitive level?
My peak years were 1989 and 1992. Between 1988 and 1993, I played as the "stud" of the team. My leadership role changed as I got older to more of a coaching position drawing off all my years of experience as an elite player.
Have you served in an official capacity as an officer, committee member, coordinator, or volunteer for USA Ultimate/UPA or other recognized ultimate or disc sports organization, or as a coach of a team? Describe role and dates served.
2016 Maine Girls HS Coach of the Year
Member of Maine Ultimate Board of Directors
Cape Elizabeth Girls High School Coach
Cape Elizabeth MS Coach
Have you made other contributions to the development of ultimate?
As the YCC U16 Maine Girls Coach in 2016, we finished second in Nation. We lost to Seattle in finals in Minnesota!
Why do you believe you are worthy of being inducted into the Ultimate Hall of Fame?
I believe I am worthy of the Hall of Fame because I played as an elite player for many years, leading a number of California teams to dominance over east coast teams between 1988-1994. I believe I am worthy because I have won Nationals with five different teams, and I was a leader on every one of them: UCSB, Condors, Crush Club, Maine-iacs and Felix. The years I played were when the west coast was playing as one region and there were a number of teams fighting for a national spot.