Class of 2016
Nicole "Sprout" Beck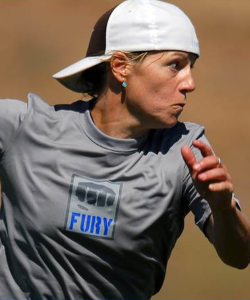 Nicole "Sprout" Beck
Hometown: Santa Cruz, California
Born: March 3, 1968 (Age 55)
U.S. National Championships
7x U.S. Club Champion (1992, 1993, 1994, 2003, 2006, 2007, 2008)
1x U.S. College Runner Up (1991)
2x U.S. Club Runner Up (1991, 2002)
World Championships
2x World Champion (1993, 2008)
Nicole "Sprout" Beck was a soccer star turned ultimate player sensation! She was focused, competitive, intelligent and flawless as an athlete. As a young player being nurtured on the Maine-iacs, she blossomed into a dynamic, all-around handler and cutter who pushed those around her to be better. Time and time again, Sprout would simply dominate. Her speed and vision on the field were a lethal combination; her skills spanned all areas of the game. Nicole brought women's ultimate to another level of competition and athleticism, which garnered wide support from her peers, both women and men.
After earning national titles with the Maine-iacs and Felix, Sprout was one of the founding members of the San Francisco-area team Fury, and contributed to the growth of a dynasty with five national titles and one world title over the 12 years she was with the team. Nicole was instrumental on and off the field; she recruited players, held teaching sessions and helped develop innovative strategies that led Fury to their many successes. At the end of her competitive time with Fury, she became the only player to have her number retired. Sprout's combination of athleticism, a strategic mind, her love of team and her dedication to our sport is the gold standard for ultimate.
Championship Tournaments
U.S. National Championships
Interview
What position(s) (e.g., handler, deep cutter, middle middle) did you usually play?
Throughout the history of Nicole's career, the sport, athleticism and quality of women's ultimate completely changed. From 1991 on the Maine-iacs through 2000, she was a handler. The top teams played dump swing strike offense with minimal long isolation looks until 1998/99 when the game started opening up via inside outs and broken marks into long throws. In the early/mid 2000's, the game changed and some teams started playing spread. Fury converted in 2005 when she became a cutter, playing to her strengths of being able to read her defender and get open on isolation, as the dump swing handlers were required to do.
On defense, she covered handlers or other quick players. On man-to-man defense, she was gritty when her team needed to get blocks. Herself, Coach Bob Pallares and Team Captain Jennifer Donnally changed the way women played zon,; creating many subtly different but very specialized looks. Fury is still leading women's defensive strategy to this day, continuing Nicole's, Bob's and Jennifer's legacy. Throughout her career she played wing in the zone and got many blocks there using her instincts, knowledge and athleticism.
Please describe your major accomplishments - both as a teammate and individual?
Top Ten in chronological order.
10. 1992 Won her first National Championship with the Maine-iacs
9. 1994 Felix never lost a game, usually in completely dominant fashion
8. 1995 Townies missed qualifying for Nationals by a few points under the lights in the Northwest with about 12 active players
7. 1997 Fury missed qualifying for Nationals by a few points under the lights in Eugene with about nine active players
6. 1999 Fury at Tune Up and Coach Bob Pallares' gutter speech after losing to Women on the Verge (Seattle), again
5. 1999 Fury finally beat Women on the Verge in the semifinals and went on to win their first title and our first tournament all year
4. 2006 Fury crushed all opponents in the finals, playing like they were at the park with friends
3. 2008 Fury came back from 2-10 to take their third title in a row with a final score of 15-12
2. 2008 "That just happened" Fury won Worlds (FUSA), Nationals and Spirit Award
1. Watching Fury dominate on ESPN today
Please explain why you stood out among the elite players of your time. What was it that you did best, or were known for?
I always strove to peak at regionals, then Nationals. I love the trophy. If I was 100% healthy at Nationals, I think I typically played like a "stud". On the Maine-iacs, I was a starter and key defender. On Felix, I was one of many "studs"  and we rolled over the competition. On Fury (1997-2003), I likely played over 70 percent of the points all year, and I think only in 1998 did Fury underachieve as a team. In 2004 I lost my mom and played exceptionally well for her, but the Fury team chemistry was off. The finals at nationals in 1999, 2002 and 2006 may have been my best performances on the big stage. I have not even played pick up since Nationals 2008.
What role did you play on the best (or most overachieving team) that you played on?
From 1997 to 2003, she played on 70 percent of the points all year. These resulted in two national titles as well as a second place finish at Nationals.
Why do you believe you are worthy of being inducted into the Ultimate Hall of Fame?
Nicole was a dominant player with outstanding leadership, charisma, work ethic, vision and innovation. She was the most committed player on championship teams that spanned the early 1990's to the later 2000's. Her influence on the game is still felt today in the way teams prepare, how the practice and how they strategize.
Nicole "Sprout"'s Teammates