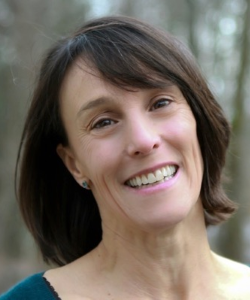 Amy Wilbur
Born: September 28, 1961 (Age 62)
U.S. National Championships
2x U.S. Club Champion (1988, 1991)
1x U.S. Masters Champion (1995)
1x U.S. Masters Runner Up (1997)
With the nickname, "The General," Amy was a mainstay of women's ultimate in New York City for almost a decade. Although New York women's ultimate was a perennial underdog to Boston and the like, Amy led her team with as much intensity, focus and compassion as any player on any team. Amy raised the bar for all who played with and against her with her athleticism, leave-it-on-the-field attitude and passion for the game. Amy won two national titles with Godiva as a starter on both offense and defense. A key member of the 1990 World Champion Lady Condors, she was named tournament MVP after a narrow victory in the finals.
Amy was a mentor and an example for the many women who played in New York during the '80s and early '90s. She inspired an often-struggling team to perform beyond their collective talents by playing both ways – covering and shutting down the opposition's strongest player on defense and dominating downfield on offense. A relentless defender, a sure-handed receiver and a surprising success in the air, Amy was a nightmare for her competitors. Despite her single-minded intensity and competitive spirit, Amy was always considered a fair player, sharing mutual respect and amity with her competitors.
Championship Tournaments
U.S. National Championships
Interview
What position(s) (e.g., handler, deep cutter, middle) did you usually play?
I was a classic deep. On teams where we did not have a depth of throwers I would move up to middle. Seldomly was I a handler. Against a zone I was a popper. With both lefty and righty backhands and a righty forehand, I could move the disc quickly and effectively. I was always one of my team's strongest, if not the strongest, defensive player.
Please describe your major accomplishments - both as a teammate and individual?
Since I was 13, I knew I wanted to play a team sport on a huge field. However, in the 1970's there weren't a lot of options. During my senior year, my high school formed a girls' soccer team, giving me my first taste of competitive field sports. In college, I played soccer on the newly formed women's team, captaining both my junior and senior year and contributing as a major scorer. There was no club soccer for women in 1983 when I graduated from Williams, but, with the greatest of fortune, I stumbled upon the fledging and utterly edgy NYC Survival team practicing on the dirt fields in the northern reaches of Central Park.
Ultimate became my consuming passion; it came before just about everything. Every disposable dollar and every vacation day was spent playing. From the "really fast new girl" to a veteran player, I was an integral part of New York women's ultimate for 10 years, hanging up my competitive cleats after having my first child.
New York City has never been a hotbed of women's ultimate. No woman ever moved to New York to play ultimate; she moved there for her career. For years, we struggled to find fields and retain talented players. We were perennial runners-up to Boston teams, which was a constant challenge to our morale, especially when anybody talented who played in New York somehow ended up moving to Boston.
I was the lynch pin of the team through our most successful years. I was captain or co-captain for about four of them. Title or no, I gave my all, on and off the field, each and every season. My nickname was "The General." I was competitive and passionate, and I expected the same of my teammates.
Despite our relatively unremarkable standing in the history books, Survival, and the successive women's teams in New York on which I played, were remarkable in spirit and drive. The team had huge character. In the early years we attended men's sectionals and played in costume. We traveled to the outer reaches of New York City and beyond to find fields, and even then we had to fight to keep others off (cricket players, Gaelic football players, rugby players, scary men with baseball bats). We played and practiced like we were winners. As a teammate, I am most proud of my central role in that legacy.
I remember turning to my mom once after I had been playing club ultimate for a couple years and saying, "You know, I could be one of the best ultimate players in the country." At my peak, I think I was. While I will never be known for my fine throws, I was one of the great receivers of my era and was every player's defensive nightmare. Individually, I am most proud of my passion and leave-it-on-the-field attitude.
Please explain why you stood out among the elite players of your time. What was it that you did best, or were known for?
I was fast, relentless and exciting to watch. I routinely covered women larger than me and was successful both in the air and on the ground. I made the big grabs on huge hucks. I laid out with abandon and made the come-from-behind D's. I came down with the disc in a crowd of taller players and never dropped it. I got point blocks on the mark with regularity and could shred a zone as a popper. I could take a player out of the game with my defense.
What role did you play on the best (or most overachieving team) that you played on?
I played with Godiva for two years, in 1988 and 1991. We won Nationals both years. I was a deep threat cutter, catching many goals, and a tenacious defender, matching up against our opponents' toughest players. The first day of Nationals I ever played (San Diego, November 1988, in miserable rain) I got five point blocks. As a team member, I was hard working, focused and completely psyched to be playing (and starting) with such a talented squad.
What year was the peak of your career? During which years were you playing as the "stud" of your team? If you continued playing after your peak years, how did your role change? In what year did you stop playing at the top competitive level?
The peak of my career spanned the late '80's to the early '90's. During those years I was in great shape and played all the time. I lived in Boston for one year and helped Godiva to win its first national ring. I was a walk-on with the Lady Condors (Anne Cohan, Liz Marino, et al) at Worlds in 1990 in Oslo, and ended up with an MVP title in our nextpoint-wins finals victory against Sweden. That felt stud-like.
In my years playing in New York, barring the very beginning when I was a rookie, I was always one of the top few players, if not the top player, on our squad.
Between 1991-1993 my mother died, I got married and had a baby. I was just 30 when I played in my last women's Nationals (while breast-feeding). In New York, virtually no one chooses to play after they have kids, and I was no exception. Except for summer leagues and a few Masters runs, I stopped playing. It was the right decision for my family but I do have regrets.
I regret two things about my career. First, I left the game right when things were changing. For most of my ultimate years a winning team was the team with the most athletes that played the hardest. Strategy was in its infancy. But, by the mid '90's, women's teams had implemented detailed playbooks and comprehensive strategies. I never had the opportunity to play a more structured game, and I think my game would have really matured within that kind of framework. Second, despite what I said above about the unheralded glory of NYC women's ultimate, I do believe I would have thrived and become a better, more sophisticated player on a deeper team. Although I got a taste of that with Godiva, I left the game before I was my best player.
Have you served in an official capacity as an officer, committee member, coordinator, or volunteer for USA Ultimate/UPA or other recognized ultimate or disc sports organization, or as a coach of a team? Describe role and dates served.
I started an after school program at my sons' elementary school in 2002. I ran that very popular program for five years. For four summers, I also coordinated and ran a summer ultimate clinic at our town's summer camp. Once the boys were in middle school, I orchestrated getting ultimate onto the list of after school intramurals and took a role in teaching skills and obtaining equipment. Now, both boys are in high school and our first crop of elementary school players are seniors. I have helped to coach the team (with my ex-husband, David Blau), and this fall they took second place at a local tournament against a very competitive high school team. I also volunteer at the high school coordinating and teaching ultimate at an all-day "Wellness Day Workshop." This past spring we had well over 150 students attend.
Why do you believe you are worthy of being inducted into the Ultimate Hall of Fame?
For much of my career, I willed and inspired a (frequently) mediocre team to play beyond their collective talent by playing both ways – covering the opposing team's strongest player on defense and being the strongest downfield cutter on offense – and inspiring my teammates. I brought focus, intensity, and a plan to practices. Although New York was never able to generate a roster that got us into the record books, we were as committed and single-minded about ultimate as the most winning team. I was crucial to that attitude. However, I wasn't only a big fish in a little pond player. When I had the chance to play with a higher caliber team, I fit in, played to my strengths and quickly became a major contributor.
While I think my teammates and opponents would first mention my intensity and competitiveness, I believe I was also considered a fair player. I had match-ups that went on for years (Leslie Grayson and Liz Phillips come to mind). While we might have had marathon battles at tournament after tournament, on the field, we had such huge admiration and respect for each other's talent and determination that, in many ways, I consider all of those women from my era my teammates. I don't know if women's ultimate is the same kind of community today as it was for us. But, when I reflect on my playing years, I am as proud of my role in the spiritual fabric of women's ultimate as I am of my athleticism and leadership as a player.