Class of 2019
Lori Parham Ewald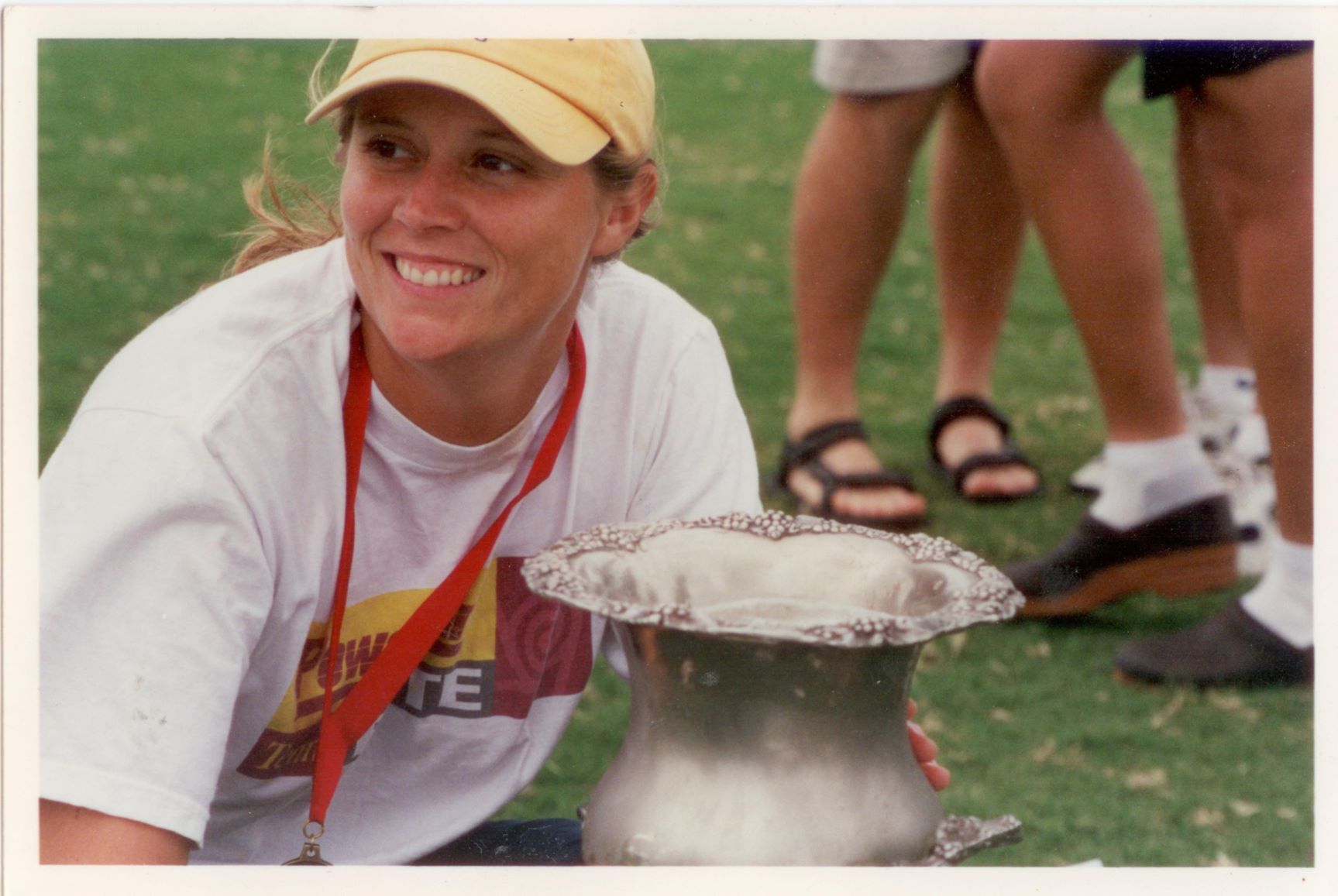 Lori Parham Ewald
Born: April 2, 1969 (Age 54)
U.S. National Championships
5x U.S. Club Champion (1997, 1998, 2000, 2001, 2002)
2x U.S. Club Runner Up (1994, 1996)
World Championships
1x World Runner Up (1995)
Awards
WUCC Women's Team Spirit Award (Ozone) (1995)
Lori (Parham) Ewald began her 22-year career at Indiana University playing college ultimate from 1988-1993 and also with the area's leading women's club team, Nemesis, in '92 and '93. Thereafter, Lori played with Ozone and Lady Godiva, and competed at Club Nationals for 12 consecutive years (15 total). During Lori's tenure with Godiva, the team won five National Championships in '97, '98, '00, '01 and '02. In international competition, she helped Godiva win a gold medal at the '98 World Ultimate and Guts Championships (WUGC), contributed to Ozone's silver medal in '95 and was part of Godiva's bronze medal performance in '02 at the WUCC.
Lori's success at the highest levels of the sport was evidenced by her offensive skill set, throwing accuracy and ability to break the mark. A skilled handler and top player, Lori was also involved in teaching, coaching, mentoring and volunteering as a sectional/regional coordinator in three regions. Lori coached the Brown University women's team to a College Championships semifinals appearance in '99, quarterfinals in '00 and semifinals again in '01. While coaching at Brown, she contributed to team leadership and the grassroots development of girls and women in ultimate; this led to a successful recruiting pipeline for Godiva. In addition to recruiting, Lori contributed to Godiva's success as a leader and captain. Her understanding of strategy and tactics and her ability to execute those tactics, along with her ability to teach others, made the whole team better. Nothing could stop Lori's competitive drive, including playing with a broken right hand and throwing left-handed at the '95 National Championships. Lori lives in Atlanta and spends her time developing a savage seven team consisting of her husband and their six children.
Contributions & Service
1989:

President of Indiana University Ultimate Club

1990-1992:

Women's South Central College Sectional Coordinator

1992; 1994:

Women's Central Regional Coordinator

1998:

Mixed Worlds Team Selection Committee Member

1998-2001:

Brown University Women's Coach

1998-2002:

Women's Northeast Regional Coordinator

2004:

Georgia Tech Women's Coach
Championship Tournaments
U.S. National Championships
Interview
What position(s) (e.g., handler, deep cutter, middle middle) did you usually play?
I learned to throw before I played the sport. My high school friend, Richard Hollingsworth, played. He always encouraged me to join, but I was running cross country and track in high school, and felt I had enough activities. When we spent time together, he'd teach me how to throw the disc. When I finally did start playing, I could already throw, so I predominantly played handler. The only exception was in 1995. I broke my hand three times during that year (all while playing ultimate), so I wrapped my cast in an ACE bandage and play long as a receiver. When my cast came off just before the National Championships that year, I couldn't throw a right-handed backhand, so I played handler with two backhands and a lefty forehand. There is photograph of me from the UPA Newsletter (December 1995) that year throwing a left-handed backhand.
Please describe your major accomplishments - both as a teammate and individual.
As a captain of my team, we won the Nationals Championships four times and worlds once. As a non-captain player, we won the National Championships once. Also as a captain, I made the finals of nationals twice, semis and quarters multiple times, and the finals of club worlds once. I had the privilege of playing for three great teams, and I believe I've always been a good teammate. I worked hard to fit in with the team I played with. My first year on Godiva was a tough one. Their offense wasn't what I familiar with, but the very next year, the team designed plays based on my strength for breaking the mark.
Please explain why you stood out among the elite players of your time. What was it that you did best, or were known for?
I was best known for my throwing skills, in particular, breaking the mark and being able to throw in the wind. At the same time, I was a fierce defender and would get diving blocks when my team needed them. I was smart about when to bid for blocks so our defense wouldn't be out of position if I missed. I'd like to also think I'm known for my competitive spirit but also being a good teammate and person.
What role did you play on the best (or most overachieving team) that you played on?
While playing with Lady Godiva, who at that time was the winningest team in history, I was a thrower and starter, and I also captained the team during the 1999 – 2002 seasons. I designed plays and practices, and I made decisions during the biggest games of our season. During my years with Ozone, I captained the team in 1995 and 1996.
What year was the peak of your career? During which years were you playing as the "stud" of your team? If you continued playing after your peak years, how did your role change? In what year did you stop playing at the top competitive level?
The peak of my career was likely between 1998-2002. I was successful in my own career and also coached the Brown University women's team to a semifinal appearance at the D-I College Championships the next spring. My club team recruited from this college team, which was a plus that those players already knew the Godiva offense. Once I decided not to play my most competitive ultimate (post 2002), my role didn't change much. I still played a starting offense position, although I would give up a defensive position to younger players. I stopped playing competitive ultimate in 2010 after a 22-year career.
Have you served in an official capacity as an officer, committee member, coordinator, or volunteer for USA Ultimate/UPA or other recognized ultimate or disc sports organization, or as a coach of a team? Describe roles and dates served.
I was an official sectional coordinator for my college section (South Central/Indiana for over two years), club region (Midwest/Central for over two years), ran Boston Invite (over two years), club region (Northeast, over two years), coach of Brown University (four years: three times making D-I College Championships – semis twice and quarters once), President of the IU Ultimate Club (club sport, one year), and served as a selection committee member for the Worlds Mixed team in 1998.
Have you made other contributions to the development of ultimate?
I ran numerous women's clinics for college players in the Northeast, hosted an elementary school clinic in Indiana and served as a coordinator and coach for Boston Ultimate Disc Alliance (BUDA) women's learning league. I also coached the Georgia Tech women in 2004.
Why do you believe you are worthy of being inducted into the Ultimate Hall of Fame?
I devoted the majority of my life to the sport, succeeded at every level, played 22 years and competed at the National Championships for 11 years straight (winning five times and being a finalist twice for a total of 12 years) before retiring.