Class of 2018
Tina McDowell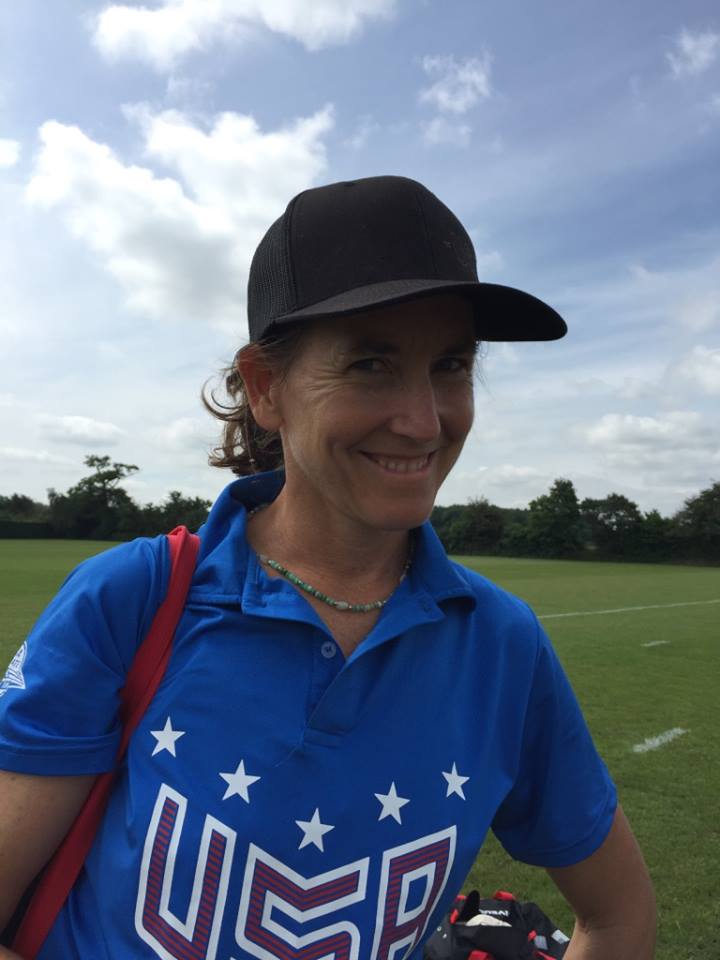 Tina McDowell
Born: August 11, 1972 (Age 51)
U.S. National Championships
3x U.S. Masters Champion (2009, 2010, 2016)
1x U.S. Club Runner Up (1994)
1x U.S. Masters Runner Up (2015)
World Championships
2x World Runner Up (1995, 2002)
Tina McDowell began her ultimate career playing in the college open division with the University of Georgia and then had a long career playing in Atlanta and Denver with Ozone, Rare Air and Molly Brown in the club women's division, and thereafter, went on to a successful run in the masters division, including the women's masters title in London at the World Ultimate and Guts Championships in 2016. With a strong mental game, she was super competitive but didn't let her competitiveness deter her commitment to the Spirit of the Game. She played with heart, integrity, grit and determination. She was a tough, fair player and a leader on the field with the ability to bring out the best in her teammates.
Solid in every part of the game, Tina could throw to anywhere on the field, play effective defense against any opponent and rally her team around her for the win. She was the total package. Tina loved the game. She loved her team, our community and our sport, and it shows in how she carried herself both on and off the field.
Contributions & Service
University of Colorado Kali ultimate coach

East High School ultimate coach
Championship Tournaments
U.S. National Championships
Interview
What position(s) (e.g., handler, deep cutter, middle middle) did you usually play?
I was a handler most of the time, but, if I could, I was midfield (cutter/handler hybrid). Cup in zone. Preferred D line but played both ways (like everybody back then) until Molly Brown.
Please describe your major accomplishments - both as a teammate and individual.
I played with the men in college, not because I was great or anything, but because there wasn't a women's team at the time. (I had just discovered the sport and wasn't in a position to start one). My freshman year coach, Tony Ubanks, opened the door for me to be on the team and I'm forever thankful for that opportunity. College ultimate was an amazing experience! UGA made it to nationals four out of five years and it was crazy fun to be a part it. I did get playing time (some years more than I deserved) as an O line handler and in zone cup. Playing with the guys helped teach me field smarts.
My first real tournament with women was worlds in Toronto with Atlanta Ozone. I played a couple of games barefoot because my toe hurt. In the following years, Ozone won a lot of tournaments during the season, and we also made it to the semifinals twice and the finals once. We also made it to the finals of worlds in England with only 11 people by the end of the tournament; I'm proud of that one, as it took some guts to get there. Teams were small back thenn so everyone had a big role and I played a decent amount. I was super young and extremely confident; I thought I was better than I was, and that confidence helped me to play well under pressure. Playing with Ozone (and in particular under Chris O'Cleary) taught me mental toughness and grit. Those women were fierce competitors and knew how to win, and I always went into a game assuming we could beat any team. Not that we WOULD beat teams, but I never felt like it was out of our reach.
One of my biggest accomplishments was being on the team that finally beat Chris's team in practice.
Rare Air had a totally different culture than Ozone or UGA. My years coincided with Allie Boyd; she is an amazing leader and teammate. Along with Elise Jones, Zanner Jones and Jana Krutsinger, this team as a whole taught me to be a better teammate and human.
With both Ozone and Rare I was always involved in strategy development – my field sense and strategic mind have always been one of my strong points. I was part of juntas, or "D coordinator," or just part of leadership. I was a captain one or two years on Rare, but I wasn't a good captain. I was too intense and hard headed, and I wasn't diplomatic enough in the moment. My intensity sometimes crossed over to being negative, and I would overanalyze and talk too much, so I was better served as an "on the field leader." I'm pretty good at calling the play or making strategic decisions. Over the years, I've worked a lot to channel the intensity and keep it positive, as being a good teammate is really important to me.
I used to feel like I could win a point (or a game) just on willpower, and I think that my confidence allowed the team to lean on me a bit and gave other people around me confidence.
With Rare, I think we won every major west coast tournamentat least once. We got to the semifinals one time and that was a highlight accomplishment.
Molly Brown was my comeback after having two kids. I started as an O line handler and then played D line handler my remaining years. I played under Catt Wilson as our coach; I learned a ton from him and it was liberating. I was in the leadership junta my last year.
Winning Poultry Dayz four or five times has to go down as some of the most fun and proudest accomplishments in my career. I got to play with Kid, Dillon Tunnel, Robbye Brooks, Angela Linn, Rouisse, Safdie, Parham…the list goes on. We beat some of the best players in the country and did it while hooting and hollering. It was so fun.
I also played with masters U.S. National Team in London. I was incredibly honored (and surprised) to make that team. My role on this team was a small one with a few points here in there. I did get to contribute a bit more in the semifinals and had a good game. It was super cool just to get to have my cleats on with that group of exceptional women.
Lastly, I upset Dragon Thrust at nationals last year with Shame. I played D line handler, and it was fun to get to go to the show in Sarasota and play with my husband.
Please explain why you stood out among the elite players of your time. What was it that you did best, or were known for?
I was known for my grit, hard work, field smarts and tough mental game. I wasn't ever a great athlete; it was work and desire that allowed me to compete at the highest levels. I was probably known for my intensity. I had a pretty mean I.O. flick, too.
I was in the elite, but I can't say that I "stood out" among the elite. I played in regions that weren't as strong so it was easier to be known. I think I could have played for any team at any time but might not have been a starter on those teams.
What year was the peak of your career? During which years were you playing as the "stud" of your team? If you continued playing after your peak years, how did your role change? In what year did you stop playing at the top competitive level?
I was one of the dominant players on Ozone and Rare from 1993 to 2007. The year Rare Air made the semifinals was probably my peak. It was a battle to get there as we had to go through prequarters. I had 9 turns throughout the tournament, and I was one of the throwers on the team, so that meant tons of touches and I was proud of that. I was also taking tough D match-ups and I did well there; it was fun to be able to be dangerous on both lines.
As a "thrower" I became more accountable for my turns as I matured as a player.
I was a starter my first three years on Molly Brown, but the team was deeper so the weight of getting it done was spread among more players. I could not have played the same role that I did on Rare. When I was on D line, I could no longer take the top one or two match ups, but instead I would take on certain types of players where my smarts would be effective. Also, as I aged I lost some of my mental game; I didn't have the unwavering confidence, and that made me less dangerous so I played more conservatively.
My club career with women unfortunately ended when I got cut from Molly Brown the last year I tried out in 2015. I guess you should know that I got cut not because of ability but rather concerns about my attitude and ability to buy in to the new coach and new leadership. It was a surprise, and I felt it was unfair and not representative of who I was as a teammate, but apparently the new coach and some leadership felt otherwise as myself and a couple other veterans got cut.
I played Shame in the mixed division last year (2018) and we made it to the quarterfinals. I called subs for the women and played D line handler. It was uper fun, but I'm a role player these days as I facilitate plays (more bumps and quick movement) rather than trying to make them. I did play D and was still effective at taking away in cuts.
Have you served in an official capacity as an officer, committee member, coordinator, or volunteer for USA Ultimate/UPA or other recognized ultimate or disc sports organization, or as a coach of a team? Describe role and dates served.
I had the privilege of coaching Kali at the University of Colorado for three years. I wasn't a great coach my first year, but learned a lot and got better. Our huge accomplishment was coming into nationals ranked 10th and making it to the semifinals. We had some amazing comebacks that tournament (I think we wer down 10-3 against Washington and came back to win it; it was amazing). This would rank in the highlight reel of my career
Have you made other contributions to the development of ultimate?
I coached high school for three years (East High in Denver), and coached my kids in league last year. If you have ever have tried to coach kids ages 5-7, you know that this is a labor of love, good lord!
Why do you believe you are worthy of being inducted into the Ultimate Hall of Fame?
Of course, this is the toughest one to answer, but the honest truth is I'm not sure! There are so many amazing women that were my peers in ability and passed me in accomplishments. I was in the ranks with the best players in my peak years. I played a big role on my teams, contributed to their successes and had a ton of fun.