Class of 2019
Allison Boyd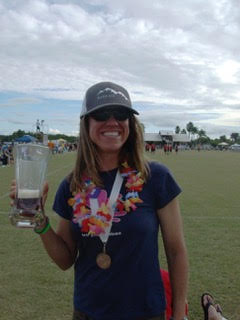 Allison Boyd
Hometown: Boulder, Colorado
Born: December 16, 1965 (Age 57)
U.S. National Championships
3x U.S. Masters Champion (2009, 2010, 2016)
1x U.S. Masters Runner Up (2015)
Awards
Won the Kathy Pufahl Spirit Award (2008)
Allison (Allie) started playing intramural ultimate at Southern Illinois University in Carbondale in the summer of 1986, and that fall she joined Full Tilt, the college men's team. After moving to Colorado, Allie joined Boulder's women's team, DV8, and continued with the team when they became Rare Air. She played with those Boulder-based teams for 19 years and captained for 14 years. After 15 National Championship tournaments, Allie transitioned to the masters team, Well Done, and won two national championships in 2009 and 2010. Allie's longevity in the sport is remarkably impressive: 33 years and counting. She continues to play on the women's masters team, Molly Grey, earning a Masters Championships title in 2016. Described as the heart and soul of women's ultimate in Colorado, she is a relentless competitor and legendary leader while embodying Spirit of the Game (SOTG), as evidenced by winning the Kathy Pufahl Spirit Award in 2008.
Contributions & Service
Ran the women's division of the Colorado Cup and Boulder 4th of July tournament for eight years.

Tournament Director of St. Louis Classic for two years.

2010:

Co-founded new women's team Jackwagon.
Championship Tournaments
U.S. National Championships
Interview
What position(s) (e.g., handler, deep cutter, middle middle) did you usually play?
Handler, deep cutter and middle cutter. Ironically, I have moved from downfield cutter to handler and back to primarily downfield cutter. I play in the cup in defensive zone.
Please describe your major accomplishments - both as a teammate and individual.
I would consider a major accomplishment to be the many friends I have made over the years from my ultimate teammates. Another one is having the honor of being a captain of DV8, Rare Air and Jackwagon for 19 years, and a defensive strategist on Rare Air for two years. I grew so much as a player and person by doing so. I have been nominated for the Club Nationals Spirit Award two times. Certainly a major highlight of my ultimate career was receiving the Kathy Pufahl Spirit Award at the 2008 National Championship in Sarasota. I was the tournament director of a very large event, the St. Louis Classic, for two years (1990, 1991), and I coordinated the women's division of the Boulder 4th of July tournament and of the Colorado Cup for eight years, beginning with the tournament's inception in 2003. I have had a wonderful time leading women's ultimate clinics through Grass Roots Ultimate in Boulder, Colo. In 2009, at Club Nationals, I was the oldest woman playing at the tournament and still the first one downfield on the pull on my team.
Please explain why you stood out among the elite players of your time. What was it that you did best, or were known for?
I'm probably best known for downfield cutting, my ability to get open and "shut down" defense, including layout blocks. My teammates have described me as a relentless cutter and a challenge to guard, that I always give 110% on the field, and that I play with passion, focus, intensity and determination. I pride myself on being a very tough defensive player. I took defense very personally and often matched up against the best offensive players on the other team. I will forever be a student of the game and love analyzing ultimate. I'm also best known for leadership on the field and within the teams I've played on – indicated by being voted a captain for so many years. I'm also renowned for being a leader off the field in support of my teammates, fun and antics. I think I won the hearts of most of my teammates by showing support and being their biggest fan.
What role did you play on the best (or most overachieving team) that you played on?
Rare Air was the best team I played on – I was a handler for many years and then moved back to a downfield cutter in later years due to my cutting strength. I was relied upon to get open and I possessed the disc well. In 2008, I was the only player on the team with zero drops for the entire year. I also played the role of defensive leader on the field and often matched up against the toughest offensive players. I was a leader on the team both as a captain with strategy, practice planning, sub calling, etc., as well as psychologically with teammate support, written materials, articles and Michael Jordan quotes. I did my best to set the example on the field.
What year was the peak of your career? During which years were you playing as the "stud" of your team? If you continued playing after your peak years, how did your role change? In what year did you stop playing at the top competitive level?
One of my personal factors which I believe contributes significantly to me being nominated for this honor is the duration of years in which I have been a highly contributing player on my team. I receive many comments regarding this. I'm not sure I could pinpoint a peak year – I feel I continue to learn from playing and expanding my knowledge of the game every year. I try to improve some aspect of my ability. I stopped playing on the most competitive women's ultimate team in 2010, when the team changed to Molly Brown. However, I continued playing competitively on Jackwagon in the women's open division through 2015, and I am still playing competitively in the women's masters division, currently with Molly Grey.
Have you served in an official capacity as an officer, committee member, coordinator, or volunteer for USA Ultimate/UPA or other recognized ultimate or disc sports organization, or as a coach of a team? Describe role and dates served.
Captaining and leading a top level women's team for many years was very time consuming, and thus, I felt additional volunteer time for the UPA would be more than I could do. However, I ran some women's skills clinics for a few years many years ago in Boulder, Colo. I remember consulting on changes to the rules with Eric Simon in about 1990 – that was along time ago. I have also served as an observer at Club Nationals in Sarasota. See below for other contributions.
Have you made other contributions to the development of ultimate?
I have volunteered at the local level for many years by running the women's divisions of tournaments, including Colorado Cup for eight years, and running women's ultimate clinics. I was the tournament director for the St. Louis Classic for two years. I helped start a new women's team in 2010, Jackwagon. I believe I have supported many young players to the game over the years and fostered their love of the sport.
Why do you believe you are worthy of being inducted into the Ultimate Hall of Fame?
I love ultimate, I'm good at it and I've been playing it competitively for 33 years. I have been a leader on my team for most of those years. My teammates have respected me over the years for my playing ability, commitment, dedication and support as a teammate. I've matched up against the best women in ultimate. I have been looked to on the line to cover the best offensive player, and I've been relied upon to get open when the going gets tough. I'm a fierce player and competitor, but not with a "win-at-all-costs" mentality. I am proud of and greatly support Spirit of the Game. I believe I'm highly respected by my peers on other teams. I've enjoyed years of camaraderie with the some of best women players in ultimate. We can be intense during the game and drink beers together afterwards. I would be incredibly honored and humbled to receive this recognition.