Class of 2013
Christine O'Cleary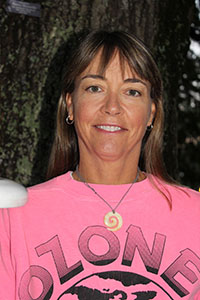 Christine O'Cleary
Born: November 24, 1963 (Age 59)
U.S. National Championships
2x U.S. Club Runner Up (1994, 1996)
World Championships
1x World Runner Up (1995)
Chris was Atlanta-based Ozone's founder, leader and star player beginning in 1983 and continuing through the 90's. Chris helped set the tone for the team: heart, grit, determination, spirit, love of the game, intelligence and fair play. During her time as captain, Ozone finished pre-quarters or better 15 times at the Club Championships, including two finals and multiple semifinals appearances. In addition to fostering women's ultimate through her leadership on Ozone, Chris was highly involved with the local Atlanta Flying Disc Club, holding President, Field Commissioner and Tournament Director positions. She is a co-founder of Terminus, Atlanta's most prestigious tournament. Chris helped to create a women's league, which combined experienced and novice players to help foster ultimate in Atlanta. In addition to playing ultimate competitively, she also won the Professional Disc Golf World Championships twice and set two long standing world records in both distance and accuracy. Chris played in and won her first "Frisbee" tournament in a neighborhood park at the age of eight in 1971, and she continues to play, most recently at the 2013 Masters Championship in Denver, earning the Sprit of the Game award from her peers.
Championship Tournaments
U.S. National Championships
Interview
What position(s) (e.g., handler, deep cutter, middle) did you usually play?
Handler on offense and short deep on zone defense.
As a handler, I was able to throw the disc to almost any part of the field, making to very difficult to play defense when I had possession of the disc. Breaking the mark often helped to move the disc more easily downfield, allowing for easier scoring.
Please describe your major accomplishments - both as a teammate and individual?
Founder of Ozone, participated in the finals of UPA Championships twice and the finals of WFDF Club Championships twice. I also won the PDGA World Championships twice and set two world records in distance and accuracy.
I was not necessarily known for my stellar person to person defense, but interestingly enough, whenever our team kept stats, i was always one of our top defenders in terms of creating turnovers. I was a very tough marker, often getting hand blocks and frequently made my opponent make a bad throw, causing an incompletion. Poaching on defense was also a strength, as I always knew where the disc was and could and would make a play on it. Shutting down passing lanes resulted in higher stall counts, making the thrower have to make more difficult passes, occasionally resulting in turnovers. I was also known for my great pulls, making our opponents start on offense deep into their own end zone. This was particularly important in the women's game, where moving the disc 80-90 yards to score was very difficult. The other benefit of a good pull was that once a turnover occured, it often happened closer to our own end zone, shortening the distance we had to go to score. Ozone was often stronger starting on defense than starting on offense because of my ability to consistently pull the disc deep into our opponent's territory.
Please explain why you stood out among the elite players of your time. What was it that you did best, or were known for?
Beautiful long throws, great decision maker on offense, outstanding pulls, ability to throw the disc almost anywhere on the field, exceptional at marking, intense competitor, field awareness, defensive positioning, spirit and inspirational team leader on and off the field.
What role did you play on the best (or most overachieving team) that you played on?
Handler, co-captain.
I helped to inspire my teammates to play their best game by praising them for the things they did well and by helping them define their specific role on the team.
What year was the peak of your career? During which years were you playing as the "stud" of your team? If you continued playing after your peak years, how did your role change? In what year did you stop playing at the top competitive level?
The peak of Chris's career was as a star player and leader on Ozone when they made it to the finals of two UPA Championships and one WFDF Club Championship in the 1990s. This time period also included several semifinal finishes at the UPA Club Championships. Chris retired at the peak of her career.
Have you served in an official capacity as an officer, committee member, coordinator, or volunteer for USA Ultimate/UPA or other recognized ultimate or disc sports organization, or as a coach of a team? Describe role and dates served.
Chris was the commissioner of the Women's League in Atlanta from 2002 to 2004. This league's purpose was to promote women playing ultimate.
Have you made other contributions to the development of ultimate?
Chris has brought ultimate into her elementary school physical education class for decades. Chris is a strong proponent for women's ultimate and has recruited many new women into the game. Chris has always participated in the Atlanta ultimate leagues and is looked upon as a role model by both the women and the men in the league. As Sectional Coordinator, she helped the Southern region grow to become what it is today.
Why do you believe you are worthy of being inducted into the Ultimate Hall of Fame?
Chris is worthy of being in the Ultimate Hall of Fame because she founded one of the longest-running and high-achieving club teams in the country. She led that team for 15 years and then went on to found and lead other teams. She has inspired untold numbers of players with her incredible play, her drive to succeed and her sustained athletic ability and skill. Chris played her entire career with Atlanta teams and her entire elite career with the team she founded, Ozone.