Class of 2012
Nancy Leahy Glass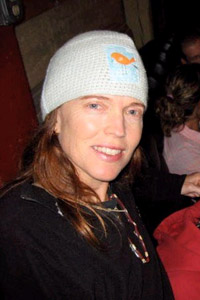 Nancy Leahy Glass
Born: June 25, 1964 (Age 58)
U.S. National Championships
1x U.S. Club Runner Up (1986)
When you consider the history of Nemesis, Chicago's longstanding women's division national caliber team, THE player associated with this team for over 23 years is Nancy Leahy Glass. Nancy was an original team member, captain and the heart and soul of the team.
She is the only women's player to appear in 16 consecutive Club Championships, including four semifinal appearances in '87 and '95-97, and a finals appearance with Nemaheads (Nemesis/Fishead combo team) in 1986. She enjoyed coaching Northwestern Women's Ultimate and has been an active member of the coaching staff for the Ultimate Peace Organization. These accomplishments were achieved while raising three kids alongside Hall of Fame husband and Windy City Player, Mike Glass.
Nancy's play was emblematic of her approach to the game. While fiercely competitive, she played fair, played tough and played with grit.
Championship Tournaments
U.S. National Championships
Interview
Please describe your major accomplishments - both as a teammate and individual.
In 1989, Nemesis combined with some players from Michigan. In doing so we lost the opportunity for two teams to represent the Central region at Nationals. We had selfishly compromised the growth of our region and I will NEVER forget the justified anger and disappointment from our Regional Director.
Though Title IV had passed years before, I was not fortunate enough to realize its full benefits. There was no girls soccer, hockey, lacrosse or other sport. I played boys basketball until high school and ran on the boys cross country team for my first few years of high school until we started our own girls team.
It became very clear from that encounter that if we wanted women's ultimate to grow (particularly in the Midwest), we needed to to take more ownership in building our ultimate community. I believe I had a huge impact on the growth of Chicago Ultimate, and, though I certainly would have liked to have won a national championship, I am most proud of that accomplishment.
Please explain why you stood out among the elite players of your time. What was it that you did best, or were known for?
I was a very good overall player and played every position successfully. I am probably known best for my aggressive mark, speed, relentless conditioning, endurance and high energy level. There were numerous tournaments and UPA series that I RARELY took a sub. This was the case for a solid 15 years. It was not uncommon to play 28 points in a row (per game). Most national contending teams had a O team and a D team. By the nature of our small team, I was not afforded that luxury. I would venture to say that I probably played more points than the majority of players combined. I do believe I would have been a significant impact player on any of those national championship teams.
What role did you play on the best (or most overachieving) team that you played on?
My leadership role stemmed from a strong belief that good habits, hard work and sacrifice were the keys to success. I genuinely enjoy teaching and rejoice in the success of my teammates. I am very proud that many of our players went on to be positive contributors and teammates on national championship teams.
What year was the peak of your career? During which years were you playing as the "stud" of your team? If you continued playing after your peak years, how did your role change? In what year did you stop playing at the top competitive level?
The '95, '96 and '97 years was probably the peak of my ultimate career as far as success at Nationals. We lost those years to Godiva in the semifinals (they were pretty good!).
Have you served in an official capacity as an officer, committee member, coordinator, or voluteer for the UPA or other recognized ultimate or disc sports organization, or as a coach of a team? Describe role, dates served, accomplishments:
I brought the same teaching and leadership qualities to coaching the Northwestern University Women's Ultimate team (2000-2002). The team went from dead last at Regionals to winning Regionals the very next year and finishing in the top 10 at Nationals. I taught them how to condition, structure practice and, most importantly, positively unify as a team through the principles of spirit of the game.
Have you made other contributions to the development of ultimate?
I was part of the first wave of players that went to Japan to teach, and have been blessed to be a contributor and coach for Ultimate Peace.
Why do you believe you are worthy of being inducted into the Ultimate Hall of Fame?
I do believe that my ability as a impact player and leader, combined with the longevity (20+ years) of those accomplishments, makes me worthy of consideration. I am proud of the groundwork and traditions we established, and I am super honored that the name Nemesis has withstood the test of time.