Class of 2005
Sholom "Eric" Simon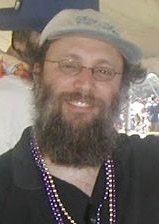 Sholom "Eric" Simon
Born: May 3, 1957 (Age 66)
U.S. National Championships
2x U.S. College Champion (1976, 1977)
1x U.S. Masters Runner Up (1991)
Sholom (Eric) Simon is one of the longest-standing contributors to the sport of Ultimate, having served in a wide variety of roles in the UPA and Washington Area Frisbee Club from the 1970s through today. Due to his tenure as a Regional Coordinator and/or Board Member of the UPA, from 1982 to 1998, Sholom was the unofficial depository of "institutional memory" for the UPA over a nearly two-decade span, ensuring consistency and efficiency in decision-making. His contributions include the College Top 25 (which he has computed weekly for 23 years, and continues to do so), and refinement of college eligibility rules, significant involvement in the Seventh, Eighth, Ninth, and Tenth Editions of the UPA Ultimate Rules, the development and revision of regional boundaries in the US, and numerous tournament organizational innovations that are now standard practice. Sholom has also authored a variety of instructional and organization manuals that are still in circulation. He also played a crucial role in revitalizing the Washington Area Frisbee Club (WAFC), and promoting play in the Central and Mid-Atlantic regions. Sholom began his Ultimate playing career at Columbia High School in 1973, founded the Michigan State Ultimate team in September of 1975 (which qualified for Nationals seven months later), Andromeda, the first women's team in Washington D.C. in 1981, Squeeze, the second women's ultimate team in D.C., and the WAFC Summer League in 1983, now one of the largest in the world, and for which he still helps organize. He was one of the first men to coach, full-time, a women's team. During his playing career, he was voted as alternate to the WFC All-Star game in 1976, to be on the Mid-Atlantic all-star team in 1983, to play on the U.S. Masters Division teams at the World Championship in 1990, 1992 and 1994, and was one of the first players to compete at UPA Nationals in three different decades and three different divisions.
Contributions & Service
1980-1982:

UPA Sectional Coordinator

1982, 1984-1992:

UPA Regional Coordinator

1989-98:

UPA Board of Directors

1996-97 :

UPA Vice President of the Board of Directors

1991-92 :

UPA Executive Committee

1994-97 :

UPA Director of Competition

1985, 1989-93:

Senior UPA Official, UPA Nationals

990-98, member 1990-present :

Chair, UPA Standing Rules Committee

1984-95:

Member, College Eligibility Committee

1983-87:

Director, D.C. Area Summer Ultimate League

1988-90, 2003-present:

Director, D.C. Area Summer Ultimate League, Corporate Division

1998:

Co-Director, D.C. Area Summer Ultimate League, Corporate Division

1983-present:

Master Scheduler, D.C. Area Summer Ultimate League

1980-82, and 1987:

President, Washington Area Frisbee Club

1987-92 :

Treasurer, Washington Area Frisbee Club

1991 - present :

Board of Directors, Washington Area Frisbee Club

1996-2001:

Webmaster, Washington Area Frisbee Club
Championship Tournaments
U.S. National Championships
Interview
Please describe your major contributions to the growth and development of Ultimate?
My major contributions come in two different varieties. The first involves the spreading of Ultimate to wherever I lived and to whatever I was involved with. The other involves deeply getting involved in the infrastructure of Ultimate on various levels. Let me elaborate here:
As noted above, I started the Michigan State Ultimate team the day I arrived on campus (in September of 1975), and we had a game just nine days later. By 1979 we missed, by one point, a berth in the finals of the first UPA Nationals. Players that we produced in the early years include: Fred Pisacane, Tim Starr, Mark Orders, Ted Roach, Kelley Green, Tree Vandenberg, Ann Cohan, Bob Harding, Randy "Fly" Russell, and more. But more than the team, I was determined to build up the entire region and get the rest of the country to accept us. I encouraged other players at other schools in the Midwest to form teams, and then, along with them, I formed the first ever Ultimate "region." This was incredibly important at the time, because the so called "Nationals" at the time was an invitational tournament. At the December 1975 captains meeting I stunned the meeting by announcing that now that Ultimate had spread, a nationals couldn't be fair if it was "invitational" only, and proposed qualifying tournaments. (The year before, perhaps, Ultimate was at a state where everyone knew each other, and therefore an easy consensus could be formed about which teams deserved an invitation – this wasn't true anymore by the end of 1975). A compromise was reached: the "Midwest" could choose their own teams with a regional tournament, and three teams would qualify, but the rest of the tournament was invitational. In the Spring of 1976, the first ever Ultimate regional took place.
When I graduated and moved to the Washington D.C. area, I was determined to put it on the Ultimate map, too. I co-founded Ultimate Air and Space which became a semifinalist (regional) team in 1982, which merged with a UAS breakaway team in 1983, into Static. I was also heavily involved in women's Ultimate. I founded the first women's team in D.C., called Galaxie Ultimate, and was the sole coach and captain for a number of months. I then handed the reins to the women (not one of whom had played Ultimate before). They changed their name to Andromeda, and eventually made it to Nationals in 1983. Again, in the fall of 1985, along with my wife, Shana, we formed a second women's team (called, Squeeze, then Landsharks, then Lawn Party). Due to "politics" I left Static and coached full-time for a year and a half. By 1987 Lawn Party was the third best women's team in the region. (Was I the first full-time male coach of a women's team?) In 1988, seven players from Lawn Party and seven players from Andromeda's descendant, Cool Mama Seven, joined together to form Satori, a team that made it to semis at Nationals four consecutive years.
On a local level, the old Washington Area Frisbee Club, founded by Larry Schindel, had died. So in the summer of 1983 I formed a summer league. That first year, we had five teams. With dogged determination, relentless publicity (putting up flyers, etc.), we were up to 10 teams by the next year. Year after year, we kept growing. Shana and I put our experiences together, and co-wrote the UPA "How to Start a Summer League" manual. PADA (the Philly Area Disc Alliance) used the manual to start their team (Denver later did the same). The summer league kept growing: when some complained it got too competitive, I created a two-division setup (called "pro" and "rec" divisions), where players could play in either division or both. When groups wanted to play together, we started a "corporate division" – and I started a team at my office. I started a team at my synagogue and created an "ecumenical division." When non-club players wanted to play in the fall, we started a fall division, then a spring division –now we have two of each. Note that when I started the summer league, no club existed. The summer league for its first three seasons was simply me and my checkbook and whoever I could convince to volunteer. But I was compiling addresses, and – this is key – from the summer league I started an Ultimate Club in 1987. (We later decided to call it the Washington Area Frisbee Club, paying homage to the first club). The resulting organization is tremendous. Well over 10,000 players have played on our leagues over the years. This year we had two spring leagues, two fall leagues, and our summer league had 94 teams in five divisions. We've run many tournaments, including Nationals, Easterns, April Fools, many others, including countless UPA Sectionals and Regionals.
The other category of contributions related to the "infrastructure" of the UPA. These things don't quite sound as exciting as running tournaments or starting clubs, but they are quite necessary to the growth of the UPA. One of my passions, perhaps born at that 1975 East Coast Captains Meeting, and sharp debate over the fairness of having a Nationals that was "invitational," became fairness. To that end I was deeply involved in college eligibility issues (I conceived the "five-year" rule, and led the effort to compile college eligibility decisions to create a "book of precedents" so to speak"; I led the effort to create the red/yellow card system (at a time when some players were demanding that others get tossed from games and/or tournaments); the tournament format notebook, a huge undertaking (and one which I did, essentially, myself for two years), was the result of my hearing complaints from other sections and/or regions that their formats were unfair; and so on.
I could list many things (I helped mold and/or had a hand in every significant action the UPA took during those 16 years). Another example: I led the effort to stop the West Region from splitting into two at a time when I thought it was premature, but then later led the effort to create this split – I was the sole author of the (14-page) proposal to create the NW and SW regions. I helped Kate Bergeron shepherd through the proposal to create eight regions for the college division, and to separate dependencies on the club division), but the whole here is more than the some of the parts.
The bottom line, in this area, is that because of my long tenure at Regional Coordinator/Board Member (1982 to 1998), I was the unofficial holder of "institutional memory," and I gained a sense of what things were possible, which things weren't, while simultaneously keeping a keen ear to the desires of both the elite players and the "Joe SixPack" players. As Nob explained in a published interview about his own career, "While we didn't always agree on issues at first, Eric's perspective insured that we didn't reinvent the wheel every time an issue came up, and I think we, accordingly, came up with a better solution after each healthy debate." You will also note a number of accomplishments above that were based on suggestions from random players (calling "points" instead of forfeits, rules booklets, etc.).
I want to add a third aspect to this: on occasion, when the organization wasn't ready for a task or program, I simply did it myself. I want to cite a few examples: In 1985 there was no Washington Area Frisbee Club – and yet we hosted the best UPA Nationals until that date. Mostly unbeknownst to the UPA and to others, it was really a "Sholom Simon Production", although I stealthily gave credit to the non-existent WAFC. Certainly I had a lot of help from many volunteers, but there was no club to back it up. It was my checkbook that ran the tournament. This tournament, among other things, was the first to: provide medical insurance to every player, have a combined women's and men's captains meeting, finals in a stadium (with public tickets for sale), scoreboards at each field, scorekeepers for each game, and so forth. Yes, many of these are standard today, but, to help put things into perspective, let me point out that the 1984 Nationals did not even have lines on the field for the finals! Indeed, it was this aspect that inspired me to run the following Nationals. As is my want, instead of complaining about the crummy job in 1984, my thoughts were "if I think a better job can be done, I'll do it myself." Similarly, the UPA was not ready to run programs such as the "College Top 25" in 1986. And so, I ran it myself. This was not easy in pre-Internet days. For the first few years, college teams called scores to my home phone, at all hours of the day, and I compiled them. And I'm still running it (albeit with a much more efficient system!), and enjoying doing it immensely. Another example: instead of advocating for a standardized tournament format system, I went and wrote a 60-plus page manual on tournament formats before I submitted the idea to the UPA.
How did your contributions impact the sport and/or its organization?
This is truly hard to say. Like most colleges, Michigan State probably would have had an Ultimate team sooner or later. But starting when it did made a huge impact – it put the MidWest on the map, which in turn (along with me) spurred MidWest growth, the idea of regional qualifications, and so forth. When the UPA Started in 1979, the Central Region was on an equal footing (organizationally speaking) as the other regions — would that have happened had it still been the Ultimate wasteland it was four years prior? I don't know. I wrote up my experiences about starting teams, along with my wife, in a "How to Start a Team" manual. Countless number of teams have used the manual and benefited from it.
Similarly, I'm sure that there would have arisen a women's team in the D.C. area, but there wasn't one when I started Galaxie. It's doubtful Andromeda would have been at the 1983 Nationals. The players from the second team that I started (along with my wife) made up half of Satori; and so one might conclude that Satori, if it even existed, would not have been the powerhouse that it was. In the same way, I'm sure that some summer league and/or club would have developed in the DC area eventually. But starting when it did made a huge impact. Not only did other clubs copy our model (Philadelphia, Denver, etc.), but over 10,000 people have played in our summer league (further, many future stars, e.g., Liz Philips, discovered Ultimate through our league). I'm sure Philadelphia and Denver, and who knows how many other places, would have had a summer league – but using the manual my wife and I wrote certainly made it easier.
Likewise, I'm sure the college division in the UPA would be extentsive and strong. But a fair and logical set of eligibility rules and procedures were desperately needed when "ringers" were threatening to spoil college play, and I took the lead in developing those rules, conceiving the five-year rule, among other things. My involvement with the eligibility committee (no doubt enhanced by the law degree), including writing standardization documents, creating a paper trail of precedents, appeals processes, and so forth, helped a great deal to combat any perception that college eligibility was arbitrary. Likewise for those sanctions that we needed to hand down upon violations (including barring a team from Nationals). The College Rankings has certainly helped publicity (often giving teams press coverage in local sports sections) and increased interest amongst fans. Having eight regions has also helped college growth. And so forth. (Presumably, these are among the reasons the College Championship Trophy was named after me – on a resolution submitted by Kate Bergeron, the then College National Director – the only living person to have a UPA award so named.) I oversaw rules clarifications and amendments for nearly ten years, spanning the gap between the Ninth and Tenth Editions. The UPA would have gotten along without these improvements, but the improvements certainly made things easier (does anyone remember how long the rules part of captains meetings used to be?), and rules booklets have increased knowledge of the rules among the players.
Why did you do what you did?
This is going to sound awfully starry eyed, but it's the truth. There are five main reasons why I did what I did:
1. I guess the first reason might be called the "Ultimate as a Way of Life" reason. Part of what makes Ultimate special is the unique responsibility it puts on each player. Unlike other sports, where anything you can get away with is legal (because all calls are made by a third party), a player must be able to develop self-control under the most trying of circumstances, in the heat of competition. Another part of what makes Ultimate special is that you have to compete with your opponents and not against them. There must be some cooperation between the teams, or else the game will end up degenerating and falling apart. And, at the risk of sounding too lofty – this is a model for life. As a person moves through life, he or she has a unique responsibility – to him/herself and to the surrounding. Just as in another sport, there are certain "less than ideal things" that a player can "get away with" if the referee isn't looking, there are also a multitude of behaviors that a person in society can get away with if the effected people (whether it be "the law", "the boss", or a spouse or child) are unaware. Similarly, our lives must have a healthy balance between looking out for oneself and one's family, and looking out for society's welfare (in other words, competing with, and not against, other members of society). For this reason, and contrary to the saying, Ultimate not only reveals character, but it can help to strengthen character. For this reason, I see a societal benefit to spreading Ultimate – in it's non-referee form – to the world. As Eldridge Cleaver once said, "if you are not part of the solution, then you are part of the problem." I believe Ultimate to be a small part of the solution.
2. My passion for fairness. Many of the things I have done in Ultimate relate to giving players and/or teams a more fair shot at their goals, whatever their goals may have been. This is reflected through a variety of activities: from how teams qualify to nationals, to rules/roster regulations, college eligibility, and so forth.
3. The people. I've met a tremendous amount of really awesome people playing Ultimate. As the above lists indicate, I was a regional coordinator for the Mid-Atlantic for 10 years. Many people used to ask how I could do it for so long. My answer, in part, was that the position fit like an old comfortable shoe. Not only did I think I was good at it, but, because our region was small, I knew all the captains, they knew me, and we were friends. I liked them, and they liked me, and 99 percent of the time, being a regional coordinate was very pleasant and not stressful.
4. I thought I was good at it. My mother always taught me that when you are good at something, you owe it to society to use those skills for the good. To be frank, I thought I was pretty good at many of the positions I held, and so I thought I owed it to Ultimate to use them, since Ultimate had given so much to me.
5. I love to play! Yes, when I left high school and went to Michigan State I had a dream to put MidWest Ultimate, which didn't even exist, on the map – but even more basic, I wanted a team to play on and teams to play against. And so I had to start my own team and convince others at other schools to start a team. I founded Ultimate Air and Space because I wanted to be on a better team. I started the summer league here in DC in part because I wanted to play summer league. And my corporate team. And my synagogue team. And so and and so on.
During which years did you make your principal contributions? How much time did you typically spend in making your contributions during your peak years?
My peak years for principle contributions actually cover a full 23 years: from the fall of 1975 (when I founded the Michigan State team), until 1998 (when I left the UPA Board of Directors). During the years when I was a regional coordinator and/or a board member – if I had only been a regional coordinator and board member, my hours would have been smaller. But during that time I was involved in so many other things: College Top 20, running two nationals, a few April Fools, Rules Committees, Director of Competition, running WAFC and/or it's summer leagues, writing manuals, forming/coaching teams, it's hard to say. At times it was 15-20 hours per week. For years and years.
Why do you believe were inducted into the Ultimate Hall of Fame?
I guess the answer to that is a combination of depth (the number of important contributions), combined with breadth (my length of service), and my spirit and passion. I cut my Ultimate teeth on the original "Spirit of the Game," and I've never wavered. I still love promoting the game, and I find myself unable to stop. Even after 30 years of organizational work, I'm still at it. This past summer I directed WAFC's rather large "corporate league" (which is three divisions, 44 teams), compiled the master schedule for the 23rd year (not an easy task with 97 teams, five divisions, nine sites, and geographical restrictions that vary from team to team), and plan to head a task force to develop policies resulting from problems that arose this year. This past spring I completed my 20th year compiling the college rankings, and I still contribute to a variety of UPA committees. And so I can say that I am most proud of the combination of depth and breadth, with spirit and passion. I've been involved with a great many and varied huge and significant projects, both locally and nationally; I've been involved on that level for three decades and am still involved; and I've been involved in a spirited way, always upholding the Spirit of the Game – both on the field and off; and I've been involved for the purest of motives: I've wanted to make a contribution to the sport, and to society.
Have you organized Ultimate tournaments, leagues, teams, etc.?
• Sole founder of the Michigan State Ultimate team, September of 1975. At that time only one other person had heard of Ultimate. Formed the team, had practices, and had a game against another team within nine days of arriving in East Lansing, and qualifying for the first tournament ever called "Nationals" just seven months later. We were the dominant team in the Mid-West, winning every Centrals from 1977 through 1981, well after I graduated.
• Co-creator, in Spring 1976, of the first "Region" (the Central Region), a few years before the UPA existed, and helped organize the first ever regional qualifier for a Nationals (at a time when all other teams were chosen by invitation only).
• Co-founded Ultimate Air and Space, in Washington, D.C., 1980 We reached the quarters of 1982 Mid-Atlantic Regionals in 1980-81, and semis in 1982. Sole founder of Galaxie Ultimate, the first women's team in Washington, D.C., in 1981. (In 1982 they changed their name to Andromeda). I was also the coach and captain of the team for the first three months. (Andromeda went on to compete at Nationals in 1983).
• Co-founder, along with my wife Shana Wallace, of the second women's team in D.C., Squeeze (later called Land Sharks, then Lawn Party), in 1985. I gave up playing competitive Ultimate to be the full-time captain and coach of the team for their first two years. Later, seven Lawn Party players joined with seven other players to form Satori, a top national team that made UPA Semis four straight years).
• Founder and director of the D.C. summer league. It started in 1983 with five coed teams. In 1987 I started the corporate division, in 1989? I created a "pro" and "rec" division, and in 1992 I started an ecumenical division. In 2005 there were five divisions and 97 teams. I still run the three Corporate Divisions.
• "Re-founded," in a way, the Washington Area Frisbee Club. Founded in 1976 by Larry Schindel, it died (and/or went into hibernation) in 1982. In 1987, I, with a few others (out of the summer league I had started), started a new frisbee club and/or restarted the old one. After some discussion, we decided to continue to use the WAFC name.
What are your other contributions to the development of Ultimate?
• College Eligibility – conceived and authored the "five-year eligibility rule", along with its two major revisions, at a time when the UPA wanted to tighten the rules and was considering an age limitation rule.
• Developed the standard double elimination format for 16-team Regional Championship tournaments.
• Developed the "Yellow Card/Red Card" rules, at a time when there was increased pressure to deal with unspirited play (and renewed calls for more active observers and/or refs).
• On a suggestion from a player in my region, I implemented the first "calling points" rule, instead of a forfeit, at a tournament (1985 Mid-Atlantic Regionals), and won approval for it at the 1985 Nationals (after an 8-7 vote). It's been standard ever since.
• Created the first "Region" in the country. At a time when the National Championships were decided by an "invitational tournament", I formed a Mid-West "Region" and secured regional spots to the Championships. We were the only area of the country treated that way until the formation of the UPA.
• Heavily involved in the Seventh, Eighth, Ninth, and Tenth Edition of the UPA Rules. On a suggestion from a player, pushed for the creation of a rules booklet (it took three years!). Directly oversaw the 1991, 1992, and 1995 Rules Amendments.
• Conceived of, developed algorithms for, and have produced the College Top 25— every week during each college season since March of 1986. This is still ongoing.
• Authored and shepherded through the 14-page proposal that (finally) split the West Region into two regions.
• Conceived of and authored the five-star rating system for UPA Sanctioned Tournaments, after the UPA had been trying, unsuccessfully for eight years, to draw up tournament standards.
• Conceived of, and wrote up plans for, the UPA Club Affiliate program.
• Conceived of, and helped implement, the UPA move toward E-mail. My proposal for the UPA to get involved with Compuserve and pay for accounts was adopted in 1992, and in 1994 I, along with Chuck Brunson and Loring Holden, developed the UPA E-mail Alias system. This system was important, and used heavily for a number of years – but with the advent of the Web and the UPA's Website, yahoogroups, and the popularity of rec.sport.disc, the system eventually became superfluous.
• Conceived of, and implemented, the weekly Internet Tourney List. I maintained this list and posted it to the Internet weekly or bi-weekly for nine years; from 1994 thru the end of 2002.
• Analysis and report of each UPA Questionnaire since 1989 until it ceased in 1995?
• Promoted the institution of Division II and III at major tourneys, which was implemented under my direction at Easterns 1986. Implemented the same at April Fools when WAFC took over direction of that tourney in 1989.
• How to Start an Ultimate Team, (Co-author, along with Shana Wallace)
• How to Start and Run a Summer League. (Co-author, along with Sue Wallace)
• The Tournament Notebook. (Co-author, along with Kathy Pufahl)
• The Stargazer's Guide. (Co-author, along with Kathy Pufahl, of the first edition). It was recently renamed the UPA Staff Guide.
• The UPA Tournament Format Notebook.