Class of 2018
Allan "Al Bob" Nichols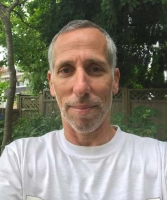 Allan "Al Bob" Nichols
Hometown: Vancouver, BC, Canada
Born: October 12, 1964 (Age 58)
U.S. National Championships
3x U.S. Club Champion (2002, 2003, 2005)
2x U.S. Club Runner Up (2000, 2006)
World Championships
6x World Champion (1991, 1993, 1998, 2001, 2004, 2012)
1x World Runner Up (1992)
Allan "Al-Bob" Nichols was an exceptional all-around player who was regarded as the hidden glue of the highly successful Vancouver Furious George teams of the late 1990s and mid-2000s, teams that won three UPA National Championships in the club open division and two WFDF World Championships. Al was an elite shut-down defender who matched up against the opponent's top cutters. But he was also an elite offensive player with a full range of throwing skills and the ability to play either behind the disc or downfield. Given his versatility and high ultimate IQ, Al was regarded as the most consistent big-game player on Furious. While a fierce competitor, Al played with integrity and sportsmanship, earning the respect of his opponents and teammates.
Contributions & Service
1992:

Vancouver Ultimate League director

2009-2012:

High school ultimate team coach

2018:

Nighthawks assistant coach
Championship Tournaments
U.S. National Championships
World Championships
Year
Tournament
Team
Placement
1990
WUGC

Oslo, Norway

Team Canada

Club Men

5th
1991
WUCC

Toronto, ON

Volunteers

Club Men

1st
1992
WUGC

Utsunomiya, Japan

Team Canada

Club Men

2nd
1993
WUCC

Madison, Wisconsin

Vertigogh

Club Men

1st
1994
WUGC

Colchester, UK

Team Canada

Club Men

3rd
1996
WUGC

Jonkoping, Sweden

Team Canada

Club Men

5th
1997
WUCC

Vancouver, BC, Canada

Furious George

Club Men

3rd
1998
WUGC

Blaine, MN

Team Canada

Club Men

1st
2000
WUGC

Heilbronn, Germany

Team Canada

Club Men

3rd
2001
World Games

Akita, Japan

Team Canada

Club Men

1st
2002
WUCC

Honolulu, Hawaii

Furious George

Club Men

4th
2004
WUGC

Turku, Finland

Team Canada

Club Men

1st
2012
WUGC

Sakai, Japan

Team Canada

Club Men

1st
Interview
What position(s) (e.g., handler, deep cutter, middle middle) did you usually play?
For most of my career, and, in particular, by the time our team developed into a top-level team, I played as a handler. Most of those years I played as a d-line handler and came over to handle on the o-line whenever they struggled or if we had any big points at the end of close games. In 2002, we felt that our team depth was so depleted due to injury and retirement that we stacked our o-line with all our best talent, and I played as an o-line handler during our first UPA championship. In the semifinal of 2005 UPA's, Andrew Lugsdin (one of our top lane cutters) injured his shoulder, so I played as a offensive lane cutter in the 2005 UPA final and finished with five goals and two assists.
Please describe your major accomplishments - both as a teammate and individual.
I think starting and playing my entire career in Vancouver was a little different experience than that most American players. In 1989, when I began playing ultimate, there were only five co-ed teams in the entire city. I almost think of my career as being composed of two halves. From 1989-96, we were slowly developing depth and talent, but we were routinely easily handled by more experienced American teams. We were, at the time, a power in Canada, though, so I got the privilege of playing at worlds frequently. Then, starting in 1997 and continuing until I retired, we were one of the top teams in the world. In the early years we weren't even allowed to play at UPA's, so our team goal was to win Canadian Nationals and qualify to compete at worlds. Placing third at worlds in Vancouver was a real eye-opener to the strength of the Northwest Region and how hard it was to qualify from there relative to other regions at the time. It was the first time I think we raised our goals to winning UPA's. So, the two big achievements were winning the world championships for the first time, especially since we had to beat DOG twice to do it, and then winning UPA's the first time, especially since it felt, at the time, like we had blown our best chance in the 2000 final and the team was getting weaker rather than stronger in 2002. As an individual, I think I take the greatest pride in contributing to the whole developmental curve as a player and in serving as one of the main captains and coaches for most of my tenure.
Please explain why you stood out among the elite players of your time. What was it that you did best, or were known for?
I feel that the I had four facets that made me an elite player. I think I was one of the best defensive man to man coverage players of my era. First, I feel that I never played against anyone that I couldn't cover better than they could cover me. Second, on offense, I touched the disc a lot and rarely turned it over (creative and accurate but had less range than the really big huckers). Third, I consistently played at a very high level, and I can't remember having any bad games in a big tournament. Last, I made big plays at big times in big games.
What year was the peak of your career? During which years were you playing as the "stud" of your team? If you continued playing after your peak years, how did your role change? In what year did you stop playing at the top competitive level?
I think I was an elite level defender pretty quickly by 1992 and remained elite until the end (losing some elevation in the last few years). Offensively, I think my skills were fully developed by 1996 and were still strong at the end. My role really never changed from about 1997 onward when we arrived with so much depth that we started playing consistent o- and d-lines at tournaments. I played mostly d-line handler and was on for every important point regardless if we were on offense or defense. I suppose I was the stud of the team in the mid 90's, but I became one of the five or six players that made our team shine during our championship years. I finished playing at the open level in 2006, playing the entire game as an o-line handler in the UPA final at age 42. I had a great defensive tournament, in particular, at worlds in 2012 in the masters division, playing as a d-line handler at age 47.
Have you served in an official capacity as an officer, committee member, coordinator, or volunteer for USA Ultimate/UPA or other recognized ultimate or disc sports organization, or as a coach of a team? Describe role and dates served.
I ran the Vancouver Ultimate League for one season back in 1992, coached a high school team part time from 2009-2012 and was an assistant coach for the Nighthawks in the MLU this season. My job in the film industry requires unpredictable hours and scheduling, so, regretfully, I cannot commit to any team as a full-time coach.
Have you made other contributions to the development of ultimate?
I've worked at clinics too numerous to count.
Why do you believe you are worthy of being inducted into the Ultimate Hall of Fame?
I feel that I was one of the best defensive players of my era and all my other skills were far above average. I played and coached in Vancouver for 18 years despite not starting to play until I was already 24. Our team had great success at worlds and UPA's, and I was one of the key players on a team that was the best in the world for a few years and consistently great for almost a decade.
Allan "Al Bob"'s Teammates