Class of 2016
Andrew Lugsdin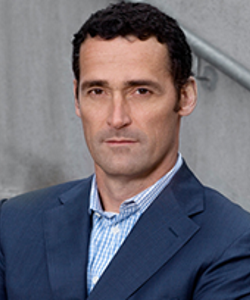 Andrew Lugsdin
Hometown: Vancouver, BC, Canada
Born: January 19, 1969 (Age 54)
U.S. National Championships
3x U.S. Club Champion (2002, 2003, 2005)
3x U.S. Club Runner Up (1996, 2000, 2006)
World Championships
3x World Champion (1998, 2004, 2008)
Andrew has the distinction of being the first Canadian player to be inducted into the Ultimate Hall of Fame. Andrew was part of a core group of players and leaders that built Furious George (and Team Canada) into two of the most dominant forces in the sport for over a decade. During this time, Andrew's teams captured three UPA/USA Ultimate Nationals titles (2002, 2003, 2005) and three WFDF World Ultimate Championships titles (1998, 2004, 2008). From the late '90s through the 2005, Andrew was widely regarded as one of the best all-around players in the game. He made an immediate impression as one of the most complete and unstoppable offensive cutters to ever play the position. Despite regularly drawing the other team's toughest lane defender, Andrew was always able to get open at will.
Andrew's overall game had no weaknesses, and that is what separated him; he could do everything. With his powerful 6'5″ frame, he would handle, take defenders long, cut underneath and catch the goal, often doing all on the same point. Andrew was also an elite defender who would switch lines when needed. Anyone who watched Furious George knew who led the team; Andrew stood out as an elite leader. As the main captain for Furious George during most of his tenure, Andrew proved to be an exceptional strategist and tactician. He was a key contributor to conceiving Furious George's innovative offense and excelled at making in-game adjustments. He was also an exceptional motivator, capable of willing his teammates to play their best when nothing less would do. It's hard to imagine Vancouver ultimate evolving the way it did without Andrew's spectacular play, motivational leadership and constant drive for excellence.
Championship Tournaments
U.S. National Championships
World Championships
Year
Tournament
Team
Placement
1994
WUGC

Colchester, UK

Team Canada

Club Men

3rd
1996
WUGC

Jonkoping, Sweden

Team Canada

Club Men

5th
1997
WUCC

Vancouver, BC, Canada

Furious George

Club Men

3rd
1998
WUGC

Blaine, MN

Team Canada

Club Men

1st
2000
WUGC

Heilbronn, Germany

Team Canada

Club Men

3rd
2002
WUCC

Honolulu, Hawaii

Furious George

Club Men

4th
2004
WUGC

Turku, Finland

Team Canada

Club Men

1st
2008
WUGC

Vancouver, BC, Canada

Team Canada

Club Men

1st
Interview
What position(s) (e.g., handler, deep cutter, middle middle) did you usually play?
I mostly played as a primary lane cutter on our offensive line (O line). On Furious, we typically ran our offense through two main lane cutters, I was one of these two main lane cutters. While my primary role was on our O line, I would also double up on our defensive line (D line) as much as possible, especially in important games. My usual role there was to cover either the other team's main handler or main lane cutter. In some games, because of matchups or circumstances, I would play most of the game on the D line and double up on the O line.
Please describe your major accomplishments - both as a teammate and individual?
My main accomplishment was being part of a core group of players and leaders that built Furious George (and Team Canada) up to being one of the top teams in the world. I'm also proud that we were able to sustain this level for a relatively long period of time. This resulted in winning the UPA championships three times (2002, 2003, 2005) and the World Ultimate Championships three times (1998, 2004, 2008). Beyond those championships, we made the finals or semifinals a number of other times.
Please explain why you stood out among the elite players of your time. What was it that you did best, or were known for?
I suppose that I am most known for being a strong offensive player, specifically getting open for big yards, starting our offense, throwing the disc upfield and scoring goals. Personally, I took just as much pride in my defense and always wanted the most difficult matchup. Whatever the role that was required, I was a very competitive player who tried to win every individual battle. I think that both my teammates and my opponents recognized this and respected how hard I played the game.
What role did you play on the best (or most overachieving team) that you played on?
In addition to the playing roles mentioned above, I was the captain for both Furious George and Team Canada, including when they were considered amongst the top teams in the world.
What year was the peak of your career? During which years were you playing as the "stud" of your team? If you continued playing after your peak years, how did your role change? In what year did you stop playing at the top competitive level?
I think I was at my most athletic during the early years of my career ('92-'99); however, I feel that I was at my most impactful level from 2002-2006. I was the "stud" (or one of a few "studs") for my teams from the early '90s until I retired in 2010 from open ultimate, but my level of play declined somewhat the last couple of years (2008-2010) due to injuries and declining athleticism. I still played much of the same roles, but I was just less effective than before. Specifically, I became more of a goal scorer and less of a thrower (due to a shoulder injury), and, defensively, I spent more time covering handlers and less on lane cutters. My last year playing open competitive ultimate was 2010.
Has the candidate served in an official capacity as an officer, committee member, coordinator, or volunteer for USA Ultimate/UPA or other recognized ultimate or disc sports organization, or as a coach of a team? Describe role and dates served.
When I retired from Furious, I returned to coach the team for a few years. I was also the coach for the first three seasons of the Vancouver Nighthawks of the MLU.
Have you made other contributions to the development of ultimate?
I was involved in the early organization of the Canadian Ultimate Players Association (CUPA). I have organized and run a number of clinics in different cities for both youth and adult players. In addition to the coaching the teams that I was on, I also helped coach other competitive, youth or recreational teams. I have been asked on a number of occasions to participate (and did so) in think tank or planning sessions at both the international, national (Canadian) and local levels on various topics.
Why do you believe you are worthy of being inducted into the Ultimate Hall of Fame?
I don't think of it in those terms, I believe that it is up to others to determine if I'm worthy of being in the Hall of Fame. It would be an honor that I would very much appreciate. When I do look back on my career, I feel that I gave everything that I had to the teams that I was a part of.