Class of 2021
David Boardman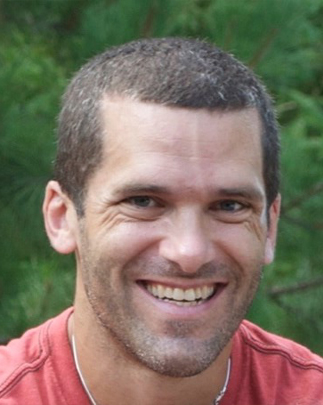 David Boardman
Hometown: Minneapolis, Minnesota
Born: February 2, 1972 (Age 51)
U.S. National Championships
5x U.S. Masters Champion (2008, 2010, 2011, 2012, 2013)
2x U.S. Grandmasters Champion (2012, 2017)
1x U.S. Grandmasters Runner Up (2016)
World Championships
1x World Runner Up (2010)
Dave Boardman was instrumental throughout his career in helping his teams reach a higher level of success. An All-American track athlete in college with a 36-inch vertical, Dave's physical attributes, combined with his ultimate skills (excellent field sense, timing, hands and a potent backhand), allowed him to excel as a cutter, deep threat, and defender. Despite all these innate gifts, Dave was renowned for his rigorous training; he took pride in outworking his opponents' preparation, enabling him to be a dominating player in the sport at all levels. Dave's enduring legacy is his involvement in building top level programs at Carleton College, as well as the Sub Zero and Surly club teams in Minneapolis.
At Carleton, Dave was part of an initial wave of top varsity athlete recruiting that helped propel the team from one that just qualified for UPA College Nationals into the most storied college team in the nation. As a starter on O and D and team captain, Dave helped to establish a team culture of high expectations, year-round training, recruiting, tactics, and athleticism, which created the foundation at this small school that has enabled CUT to become an elite college program. Advancing into Open Club competition, Dave made an immediate impact for Chicago Z as an unguardable receiver and lock-down defender, helping that team reach consecutive semi-final appearances in 1996 and 1997 at UPA Nationals. Dave's tenure on Sub Zero spanned two generations of players, bringing the team from success to rebuilding to success again. Joining the team in 1999, Dave's experience and defensive skillset helped Sub Zero reach the semi-finals at Nationals for the first time. But once the core of that team departed, Dave also took on the role of O line cutter and captain to lead the second generation of Sub Zero during a rebuilding period from 2003 to 2006. Dave was the guy in the huddle that young teammates looked to for calm and confidence in big moments, and who made game changing plays on the field. He successfully guided the team that climbed from losing nearly all its starters in 2003 to a 6th place finish at Nationals in 2005, regaining its elite level that continues today.
Dave is respected as a person of honor, integrity, and a wide-open heart, both on and off the field. It's impossible to fully describe the impact Dave has had on upper Midwest Ultimate. Dave ran community-wide track workouts for all the Minneapolis teams for over a decade and helped train players from teams across Open, Women's and Mixed divisions. Dave was a cofounder, captain, and fixture of Surly Ultimate, leading the team on and off the field to become the most steady and successful Masters team in America, later a Grandmasters team, and now an Ultimate program encompassing five teams competing in four USAU divisions and routinely winning Championships and Spirit Awards. Dave is now applying his love and knowledge of ultimate as a coach for his sons middle and high school teams.
Championship Tournaments
U.S. National Championships
Interview
Tell us about your life outside of disc.
I grew up in Northfield, Minnesota with my mom (Jean), my dad (Shelby) and my brother (Steve). I attended college at Carleton College where I majored in Geology and played ultimate for CUT. Most importantly, I met my wife (Michelle) at school. We travelled to Chicago and then back to Minneapolis over the 4 years after we graduated, pursuing work and ultimate dreams. In 2005, we had our first son, Abe, and in 2008 we had our second son, Isaac. After a short stint as an environmental geologist, I became a software engineer moving steadily to smaller and smaller companies. In 2012, a friend and I founded our own company (Cedar Labs), a software company focused on data integration between school systems; that company is still going strong. In general, I like to spend time with my family both indoors and out. I also enjoy cooking, exercising, eating, playing games, watching TV and watching my kids participate in whatever has grabbed their interest.
What position(s) (e.g., handler, deep cutter, middle middle) did you usually play?
Deep, mid, cutter, and defender.
Please describe your major accomplishments - both as a teammate and individual?
Throughout my career at all levels (College, Open, Masters), I played an instrumental role on and off the field helping my teams reach a higher level.
At Carleton, I was part of a wave of recruiting top varsity athletes that helped propel the team to be a contender at Nationals. My first year on the team, we made our initial appearance in semi-finals and we repeated that feat the next year. The team was trending upward and as a starter on O and D and team captain, I was a part of continuing to build a winning tradition of high-expectations, year-round work, recruiting, tactics, and athleticism that led to the CUT powerhouse.
In 1996, I moved to Chicago and played for Z; a team attempting to re-build a national presence after Windy City. On Z, I was lucky to play with and learn from a group of amazing veterans like Mike Glass, Joe Cesario, Mark Enright, and Rich Hollingsworth, to name a few. When I arrived, our roster was short both in stature and depth and our best players were all handlers. I was able to immediately provide an imposing deep presence on offense and defense that complimented those other players and was critical to Z's national success. It was on Z that I learned the level of intensity, conditioning, and focus necessary to compete against the best in the world.
After years of topping out at regionals, Minneapolis ultimate came into its own with the formation of Sub Zero in 1997. The team made its first National's appearance in 1998 and in 1999, my first year back from Chicago, we were able to ride our incredible talent and athleticism to a semi-finals finish, losing to the Condors in an epic game. In two years, the team had risen from not qualifying for the show, to being a contender at National's and is still considered an elite team 22 years later.
The first few years on Sub Zero, I played mostly on the D-line. Although I was a veteran and a leader on the field, I didn't captain the team. In 2003, most of the players who had carried the team from 1997-2002 had either retired or moved on and we were left with only 3 or 4 players from the group that competed in semi-finals and only a couple of the starters. The team easily could have failed to qualify for Nationals or totally collapsed in 2003 but, in my first year as captain, we took a scrappy bunch of rookies and fought our way to Nationals finishing 16th. Our reaction was to work harder and improve the next year and the year after that until we became a contender again. As captain, my responsibilities extended beyond excelling on the field to recruiting new talent, organizing and strategizing on offense and defense, and re-instituting a culture of winning ultimate. I'm proud that I was able to help a team that lost nearly all its starters in 2003 to a 6th place finish in 2005. The drive and ethic of that second arc, beginning in 2003, is still seen in Sub Zero's success today.
From 2007 and 2013, I played in all 7 Open Master's division finals with Surly, of which we were champions 5 times. In 2007, I was one of the players who took the reins of the Surly Masters team and rebuilt it with a sense of purpose that was unique in the division at that time. With regular practices, off-season workouts, conditioning programs, and a focus on more complex offensive and defensive strategies, we strove to perform more like an Open team than a Masters team had
in the past. This led to the creation of the winningest Masters team in USAU history. I was a leader on and off the field on 5 championship teams from 2008 to 2013 and also won National Championships with the Surly Grandmasters in 2014 and 2017. Surly was also known as an incredibly spirited team. We won the Spirit award at Nationals in 2007, 2011, and 2013, pulling off the rare double of winning both a championship and spirit award in 2011 and 2013.
Individually, there are a couple of achievements I'm particularly proud of. The first is winning the Spirit of the Game award in 2013. I have always thought ultimate to be just as fiercely competitive as any sport. But ultimate requires players to hold themselves to a higher standard and rise above the emotions of the game to play fairly and with respect despite the circumstance. I think that Spirit of the Game embodies this duality of respecting others while trying to compete with them, and I was honored that my personal effort to play this way was recognized. Secondly, my longevity and consistent performance at the highest level stands out. I have played in 25 National Championships and 22 straight Nationals between 1996 and 2017. In 14 of the 25 Nationals I attended, my team placed as a semi-finalist or better.
Please explain why you stood out among the elite players of your time. What was it that you did best, or were known for?
I was known as an extraordinary deep cutter/defender throughout my career. A combination of having exceptional raw physical attributes (I had a 36 inch vertical and was an All-American track athlete in college) and ultimate skills (excellent field sense, timing, hands, and a potent backhand) allowed me to excel as a receiver against the best players in ultimate. I worked extremely hard on my conditioning in and out of practice and often played both on offense and defense, guarding the opposing team's best deep with little need for a break.
What role did you play on the best (or most overachieving team) that you played on?
Surly was the team that most exceeded my initial expectations. I was one of a group of outstanding players who contributed on the field, but I think the most important role I played on Surly was to help instill a new approach to the season as a Masters team. We built a culture where we were all expected to condition in the off-season, learn the playbook, practice multiple times a week, and commit to attendance. We broadened our vision and expected contributions on the field from all our players. We rejoiced in every teammates personal victories and accomplishments. Although I played a substantial role on the field for Surly, I think promoting these values and helping to define the Surly culture were my most important contributions to the team's championship dynasty.
What year was the peak of your career? During which years were you playing as the "stud" of your team? If you continued playing after your peak years, how did your role change? In what year did you stop playing at the top competitive level?
I was the best receiver on Z for both of our semi-finals appearances in 1996 and 1997; playing both offense and defense and controlling the deep part of the field despite being matched up against the other teams' best big men. In those years, not only was I at my physical peak, but being new to the team, I was also able to focus solely on my play and training. These were my best years as a pure player.
When I moved back to Minneapolis to play with Sub Zero, I started as a defender and on-field leader during my first 3 years, but once the core of that team departed, I also took on the role as captain and helped guide the team back to an elite level that continues today.
Finally, with Surly (beginning in 2007), I had similar leadership responsibilities to what I had with Sub Zero, except now we were attempting to build and run a team in a way that hadn't been done before at the Masters level. We accomplished our plan and built Surly into a perennial power and I think changed the way teams now approach their season in order to win a Master's championship.
Why do you believe you are worthy of being inducted into the Ultimate Hall of Fame?
I played at a sustained level of excellence for 25 years and was widely known as one of the best deep receivers and defenders within any division in which I played, all while upholding the ideal of Spirit of the Game. Although my Open and College teams never won a championship, I played a critical role in helping each of them (CUT, Z, Sub Zero) jump from participants at Nationals to semi-finalists.
As an Open player, I demonstrated an ability to excel in a variety of critical roles; D-line starter on a top team, O-line starter of a top team, captain of a rebuilding team, and captain of a top team. I was also co-founder of the current Surly Masters team and helped bring an approach to the Masters level that allowed Surly to become the dominant Masters program of the last decade.
Have you made other contributions to the development of Ultimate?
I ran community-wide track workouts for all the Minneapolis teams for over a decade. I helped train players from teams across Open, Women's and Mixed divisions. Even years after I stopped leading the track sessions, the workouts I developed are still in use by players in Minneapolis today.