Class of 2022
Downtown Brown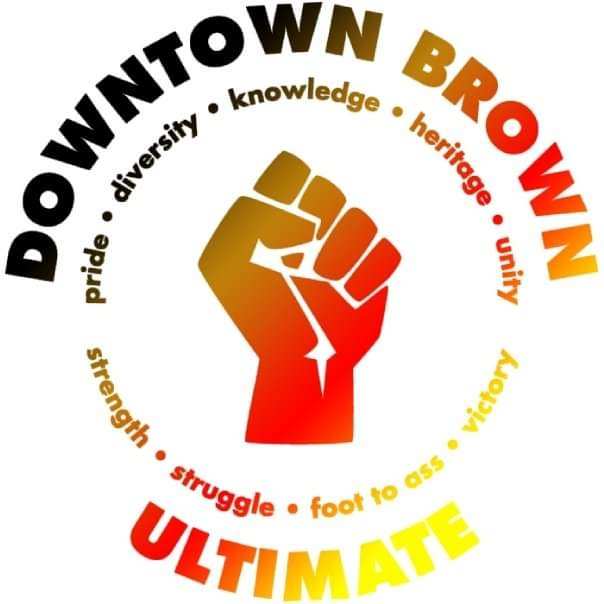 Downtown Brown began as a pickup team of players of color in 1997, and has since evolved and endured as a communal space for players of color to witness, acknowledge, honor, value, celebrate, and elevate each other on and off the field. DTB found its roots on the West Coast as an Open team, then expanded to the Women's, and then Mixed divisions in the late 2000s. In over two decades of its existence, DTB has connected hundreds of players of color all over the world.
Perhaps best known for the infamous Circle, DTB has made room for players of color to discuss and address subjects such as culture, family, sexual identity, and numerous other topics that have been brought into its sphere. Each iteration of the Circle is unique in its impact and ability to provoke and inspire. By allowing its members to speak and be heard, DTB empowers each other to do the same in all aspects of their lives.
This Special Merit induction includes DTB's founders and team leaders, but we must also recognize the many others who have continued the legacy of DTB, as well as the hundreds of brown sisters and brothers who contributed to the DTB movement.
Downtown Brown team headshots by Henrik Meng Photography.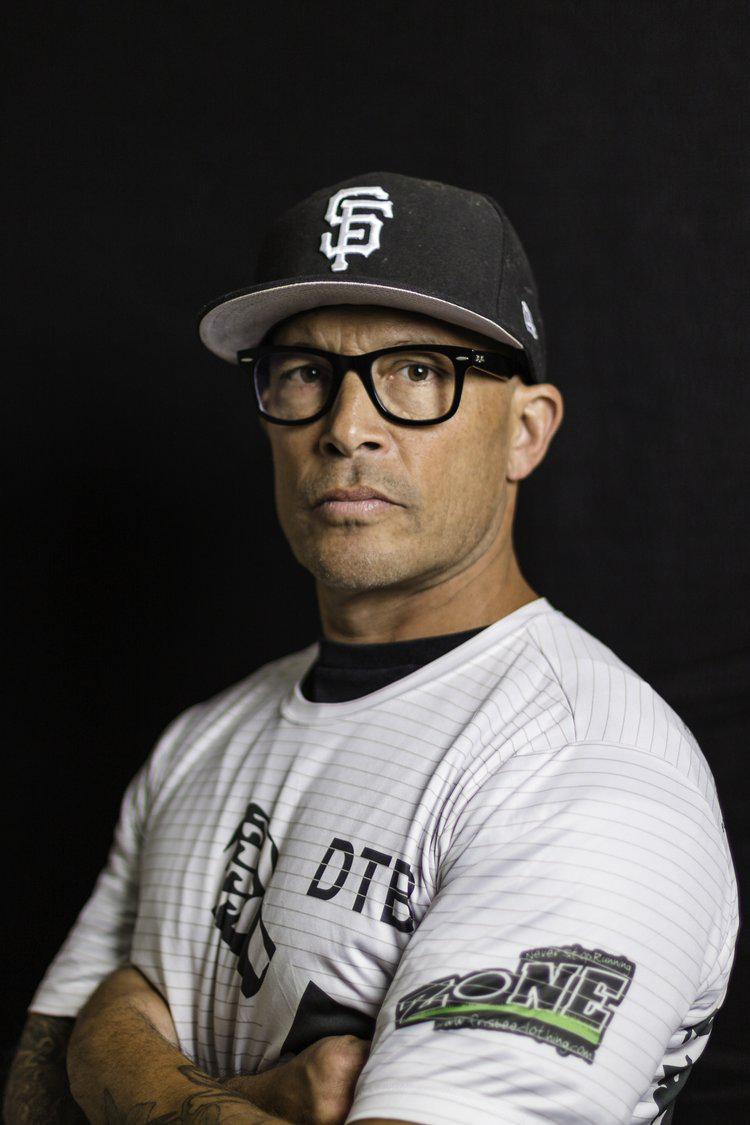 Damon "Damo" Adlao
Born: June 30, 1969 (Age 54)
Damon Adlao, also known as Damo, began playing ultimate at the University of California at Santa Cruz (UCSC) from 1992-94 and in 1997, became one of the founders of Downtown Brown (DTB)  In addition to DTB, Damon played on numerous Bay Area open teams from 1994-2003.
Damon helped introduce ultimate to kids in San Francisco's Mission District in the late 1990's.
Currently living in Santa Cruz, California with his wife Jessica, daughter Naima, and son Cypress; Damon is a licensed landscape architect and works as a project manager for the County of Santa Cruz. Surfing and mountain biking fill Damon's sporting life when he's not coaching baseball.
Among Damon's greatest moments in ultimate was playing at College Nationals with UCSC in 1993, playing with Saucy Jack and beating Double Happiness at NW Regionals in Las Vegas in 1996 to earn a Club Nationals bid, and every time he had the fortune to step on the field with DTB!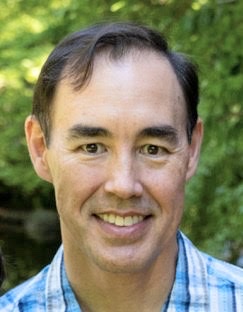 Ken "Slicer" Leiserson
Born: September 28, 1968 (Age 55)
Through ultimate, Ken Leiserson discovered the beauty of teamwork. After skateboarding avidly in high school, once Ken found ultimate, he was hooked on team sports. The Santa Cruz community and the ultimate club at University of California at Santa Cruz (UCSC) was the perfect place to learn and develop this appreciation. Kevin "Skippy Jammer" Givens and Bob Pallares were his primary influences, though Ken's understanding of leadership was anchored by his college roommate, David Pilliod, who recruited Ken, and Seth Blacher, his college co-captain. 
After winning the 1991 College National championship in their senior year, sights were set on Club Nationals. Achieving the same level of cohesion and talent in the club scene was far more difficult. After making the cut only to warm the bench for top Bay Area teams Tsunami and Firestorm, it was time to put some of the fun back into his game. The idea for Downtown Brown (DTB) came along at the perfect time. 
Kaimana Klassik memories can be hazy, but Damon Adlao and Clarence Ting had the brainstorm in the winter of 1997, shared the idea, and Ken and a few others pulled together the beginnings of DTB. There were so few "minorities" playing at the time that a wide West Coast net was cast to field a full team. The funny part to the newly formed team was that they all knew each other because they all stood out so much back then! Future Hall of Famer, Jennifer Donnelly, was running April Fools that year (1997) and instantly agreed to the late entry, seeing the beauty of what DTB was trying to do. The team was grateful and gave Jennifer one of the 22 multicolored shirts Ken stitched together with his mom's old sewing machine.
Because DTB only formed once a year during their beginnings, it took a while to find the team's purpose; there were ups and downs as some Caucasian friends were upset about DTB cheers and perceived racial combativeness. They had a point but DTB was having too much fun. For DTB, it was about celebrating their backgrounds rather than shaming others. Ken learned two lessons during this time: "never alienate natural allies; and inflicting the pain of exclusion will not fix yours." Eventually, DTB settled on aiming for ultimate excellence as the primary goal. This made it easier to restrict the roster and gain visibility for the DTB "brand" by playing into quarters and semis. The additional benefit was that the closing circle was so much better on Sunday than after pool play Saturday! 
Ken's quest for a Club National Championship continued to elude him, despite playing for top west coast teams (Double Happiness, Jam, Condors, Brass Monkey, and Magic Bus) from the mid '90's until retiring in 2006 with the arrival of his children and before the massive Revolver run. Opponents and eventual teammates that Ken learned the most from over his career include Hall of Fame members Steve Dugan, Andy Crews, and Greg Husak. 
The nearly 10 years Ken spent helping to run DTB, beginning with the first team at April Fools West in 1997, plus a few DTB teams after retiring, are among the fondest of Ken's ultimate memories. "Bless the mixed versions of DTB and their leaders, and special love to Gata, Dr. Rainbow, Mustafa, Frank "Frankus" Flores, and DJ Dave.", he added.
In addition to Ken's ultimate career, he also managed and ran the following tournaments;  April Fools West from 1987 through 1989, the Santa Cruz Holiday Classic in 1989 and 1990, the Santa Cruz Presidents Cup in 1990 and 1991, and Club Sectionals in 1990. Ken also worked alongside DTB teammate and 2022 Hall of Famer, Michael Namkung, as a volunteer youth coach at the Helms Middle School in Richmond, CA in 2001 and 2002. He was also treasurer of the Ashland Soccer Club from 2017 to 2021.
Happily married to Heidi Binder (Fury 2002-2004), they have two high school boys who also love sports. When Ken coached youth soccer in the Fall and Spring from 2016 to 2022 (12 seasons) as his boys were growing up, he tried to impart more than technical skills. As always, teamwork and cooperation are what feeds his flame. Ken and Heidi moved from the Bay Area in 2010 to their current hometown of Ashland, OR. 
Short bio:
Engineer, Environmental Defense Fund 1995-2000

Founder, GetActive Software 2000-2007

VP Business Operations, Convio 2007-2010

General Partner, Reflective Capital 2011-present
Thank you for the opportunity to answer these questions. You remind me of the foundations that brought me so many of the best things in my life, and I am grateful.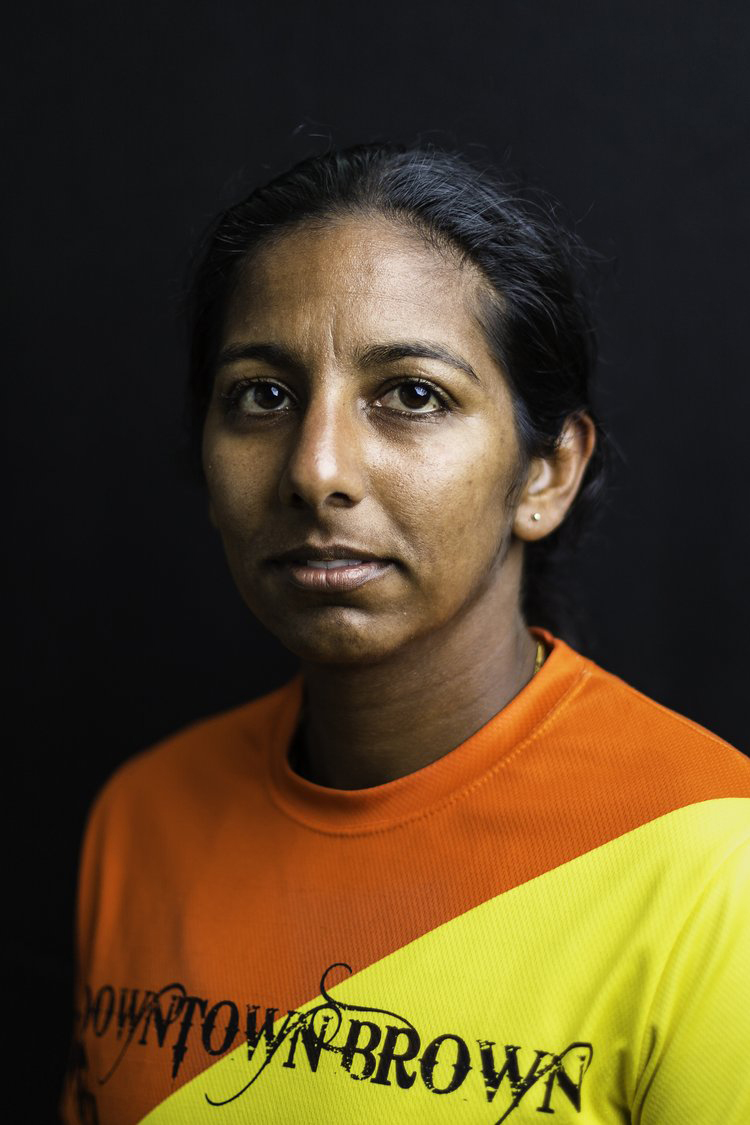 Manisha "Slap" Daryani
Born: May 17, 1983 (Age 40)
Manisha Daryani started playing ultimate in college in 2002 at the University of California at San Diego. She went on to play in the club division for 17 years from 2003-2019, attending Club Nationals every year with Safari, Fury, Mischief, and then Nightlock.  
Manisha was first invited to play on Downtown Brown (DTB) in 2007 at the tournament now known as Sunbreak. The team then went to Lei Out for the first time in 2008 and also expanded to Fools Fest – West. In 2008, Manisha began assisting with organizing the teams and eventually became one of the primary organizers beginning in 2009 and continued to be involved in organizing almost every DTB team between 2009 and 2019. 
Manisha has served various disc organizations since 2011 including being a member of the Board of Directors for Bay Area Disc Association from 2011 to 2018. Her work also included participation with USAU's Spirit of the Game Working Group from 2018 to 2022 and, in 2021, she started a youth organization, the Bay Ultimate Youth Affiliate (BUYA).
As the eldest child of immigrant parents, and the first to be born in the US, Manisha was raised in the Bay Area and has resided in California her entire life. Currently, Manisha works as a criminal defense attorney and continues to coach ultimate at the club level.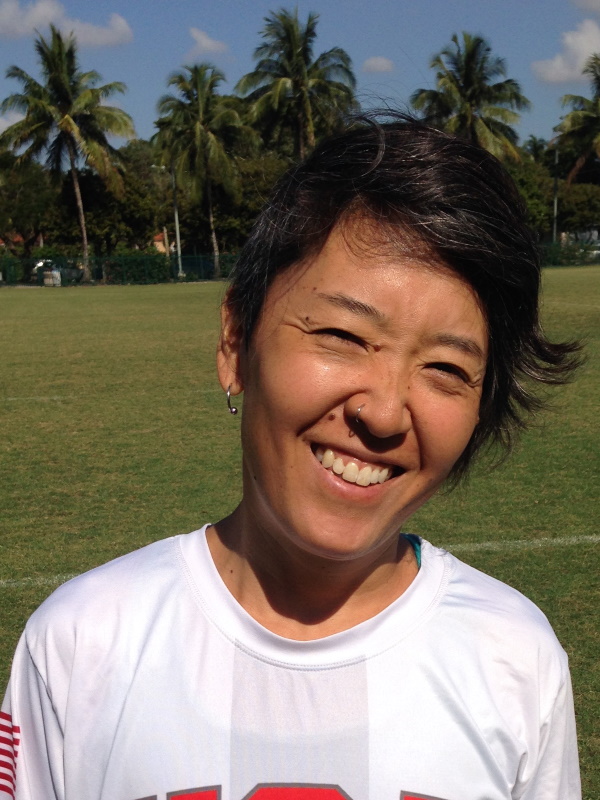 Jody Dozono
Born: March 19, 1972 (Age 51)
Jody Dozono is a 2020 Ultimate Hall of Fame member inducted in the Women's division. They attended and competed with the University of Oregon in 1995, and 1997-1999, and was the 1999 Callahan recipient. Jody competed with Portland Schwa in 1998 and 1999, and thereafter played with Fury from 2000 to 2011, where they won 6 National Championships and 1 World Championship. In 2006, Jody and 2022 Ultimate Hall of Fame member, Michael Namkung, assembled the first Downtown Brown (DTB) coed team that competed in Potlatch (now known as Sunbreak). With the help of Frank "Frankus" Flores,, D'Arcy Gholston, and later Manisha Daryani and Michael "Bob" Liu, they continued to organize and lead DTB teams at Lei-out, Fools Fest, and subsequent Potlatch tournaments. In 2008, Jody organized and led the 2nd all women's DTB team at Fools Fest in Santa Cruz, CA. The first all women's DTB team was led and organized by Alita Sanchez in 2000, also at Fools Fest.
Jody lives in Portland, OR with their two kids, Iris and Clyde, and partner, Jade. They work as a geriatric and palliative care Physical Therapist.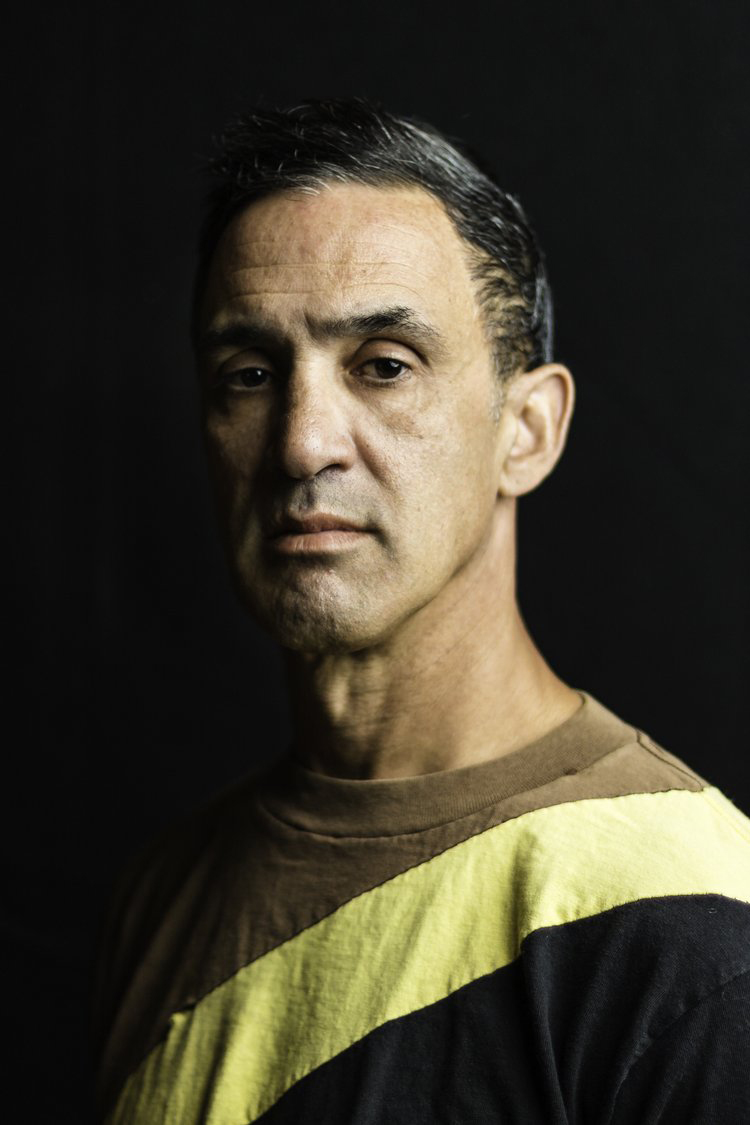 Frank "Frankus" Flores
Born: December 16, 1968 (Age 54)
Frank Flores, known as Frankus, started playing in high school in the early '80's in the Boston suburb of Wellesley. Boston-area teams, the Rude Boys and Godiva, would practice on the Wellesley fields from time to time and this is where he learned the frisbee basics with Heidi Pomfret and Bobby Stoddard. From there, Frank played at the University of Massachusetts and University of Vermont before coming West and settling into a 4 year degree at Humboldt where he completed his college career. After graduation in 1997, Frank helped to form Downtown Brown (DTB) which competed mainly at April Fools West, Potlatch (now known as Sunbreak), and later LeiOut. 
Over the years, Frank played for various open and mixed teams and had the good fortune of winning National and Worlds titles in Masters with the KegWorkers of America in 2001 and Mixed with Donner Party in 2002 & 2003, all while having the time of his life.
During his college years, Frank served as the NW College Sectional Coordinator from 1993-96, ran some high school clinics, and served as the Tournament Director for the Humboldt Harvest for more years than he can count.
Born and raised in Massachusetts and Pennsylvania until coming West in 1992. Frank, known as Frankus, has lived up and down the West Coast from LA that first year to Seattle in 1999. Settled in Oakland in 2000 after attending graduate school at Berkeley, Frank has been part of an incredible East Bay Community that includes many past players from across the country; he wouldn't have it any other way.
Thank you to the Hall for recognizing DTB.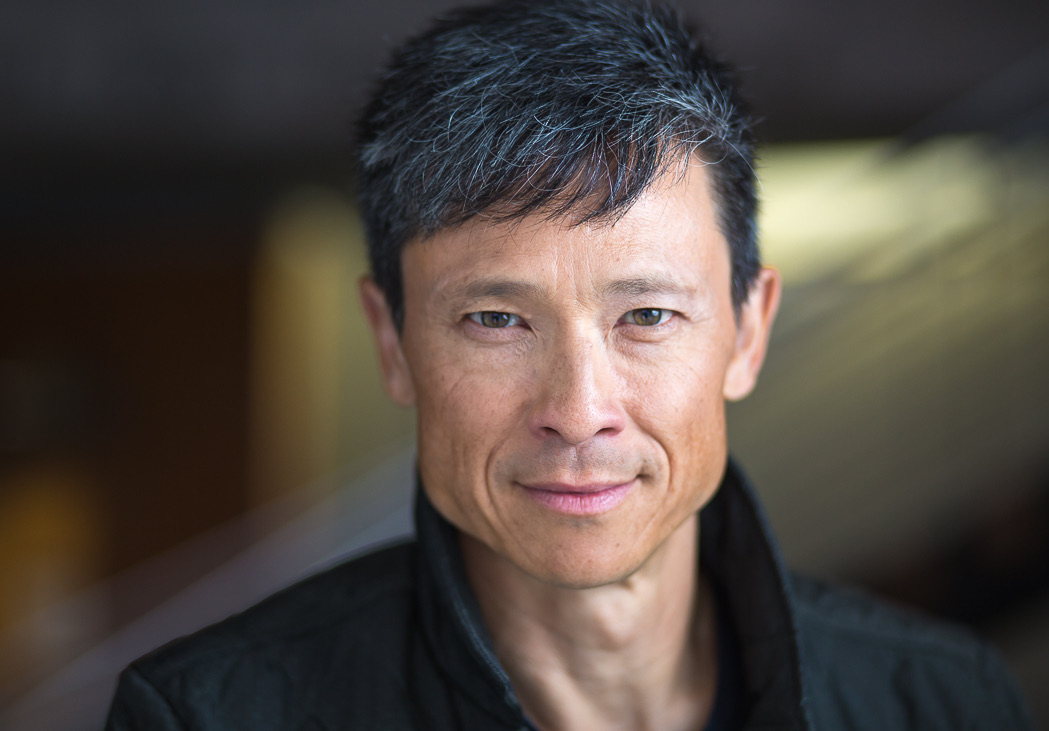 Mike Namkung
Main highlights in Michael Namkung's competitive ultimate career includes playing in the college divisions with the University of California at Santa Barbara Black Tide in 1993, 1994, and 1996; competing in the Open division with the Santa Barbara Condors from 1994-95 and 1997, was a member of San Francisco Jam in 1998, returned to the Santa Barbara Condors from 1999 to 2005, and again played with San Francisco Jam from 2007 to 2009. Other significant competitive highlights included Team USA at WUCC 2004, Team USA at the World Games in 2005, and Team USA Beach Grand Masters 2017. Michael joined Downtown Brown (DTB)  in 1998 and played for many years after. In 2006, he helped create the first DTB mixed team with Jody Dozono. In 2022, Michael was inducted into the Ultimate Hall of Fame in the Open division. 
From 2002-2005, Alita Sanchez (who organized and led the first DTB women's team in 2001) and Michael formed and co-coached a youth Ultimate team at Helms Middle School in San Pablo, CA. In 2006, Michael coached at Hercules High School in Hercules, CA.
Michael is an artist, writer, and teacher and lives in Portland, Oregon with his two children. Visit michaelnamkung.com for more information.